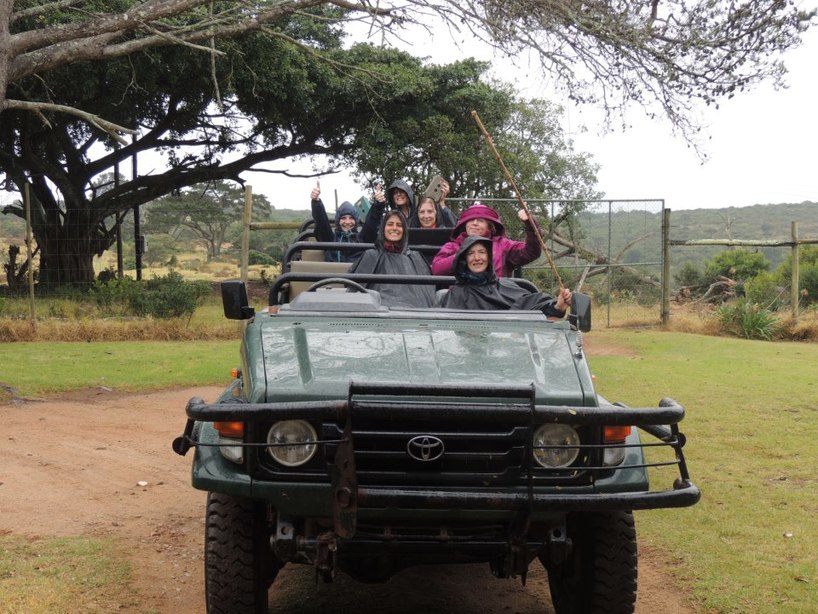 Experiencing the African bush at Kariega Game Reserve
Living in the African bush is definitely something you can't compare to anything on earth. The experiences, wildlife encounters and breath-taking views are things that one can never get used to. With this said, even though we are surrounded by the 'same' animals all the time, nature will continue to take its course and we can never prepare for the next moment and what it'll bring. Wildlife encounters are always different and the more time you spend with the animals the more you learn by just sitting in silence and watching them go about their 'business'. No book can ever teach you the ways of the bush.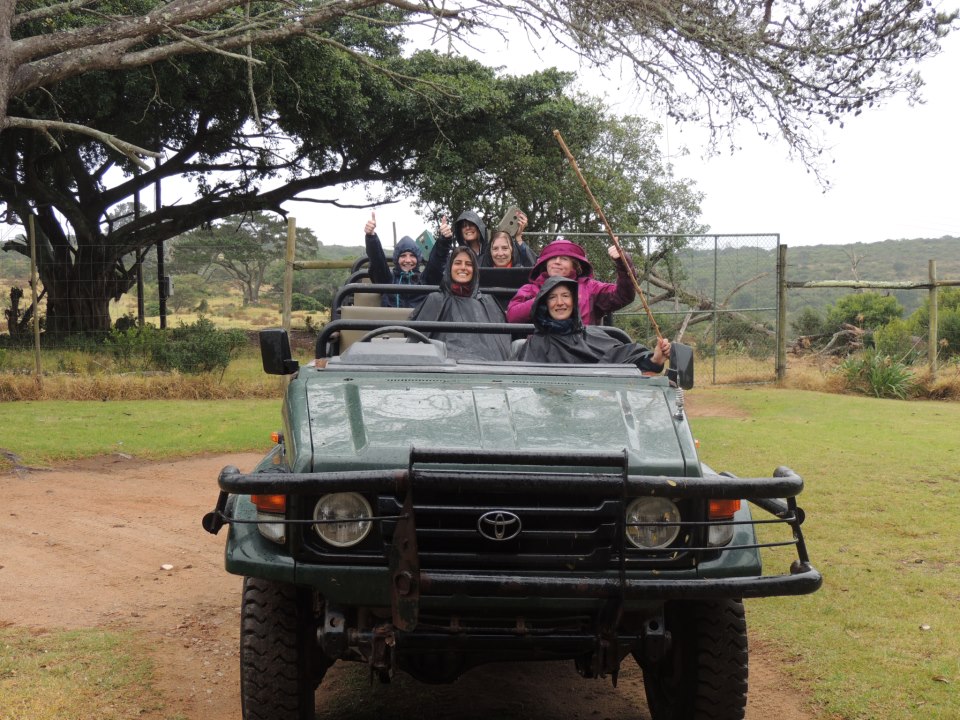 Elephant mourning lost calf - the harsh realities of the African wild
Kariega Game Reserve volunteers learned this when one morning we found the elephant herd on our way to do alien vegetation clearing. It was the first morning out in the field for 3 new volunteers of which one's favourite animal was the elephant. She burst into tears of joy when our impressive Big Bull elephant came right up to our car, smelled us and spent a while leaning against our car with his massive tusks staring us in the face. With feelings of awe, respect and excitement filling the car we headed off to work when suddenly we stumbled upon an elephant mother standing around the next corner. We were almost excited again before seeing the absolute sadness in her eyes. At her feet was a baby elephant that passed away. No book could have prepared us for what we experienced next to the mother. Again all the volunteers on the car were in tears but this time for our compassion for the mother. We drove away feeling heartbroken, but soon realised that this is life – it gives and it takes, we were very fortunate to have experienced and shared such an emotional filled wildlife encounter with an elephant. These creatures are absolutely incredible and we are so blessed to have them surround us so very often here at Kariega. Since the baby elephant encounter we have seen and been surrounded by hundreds of babies of all the other species – which include all the antelope species, a brand new baby elephant (Lancie), a baby rhino (from Thandi's female companion) and last but not least…4 lion cubs!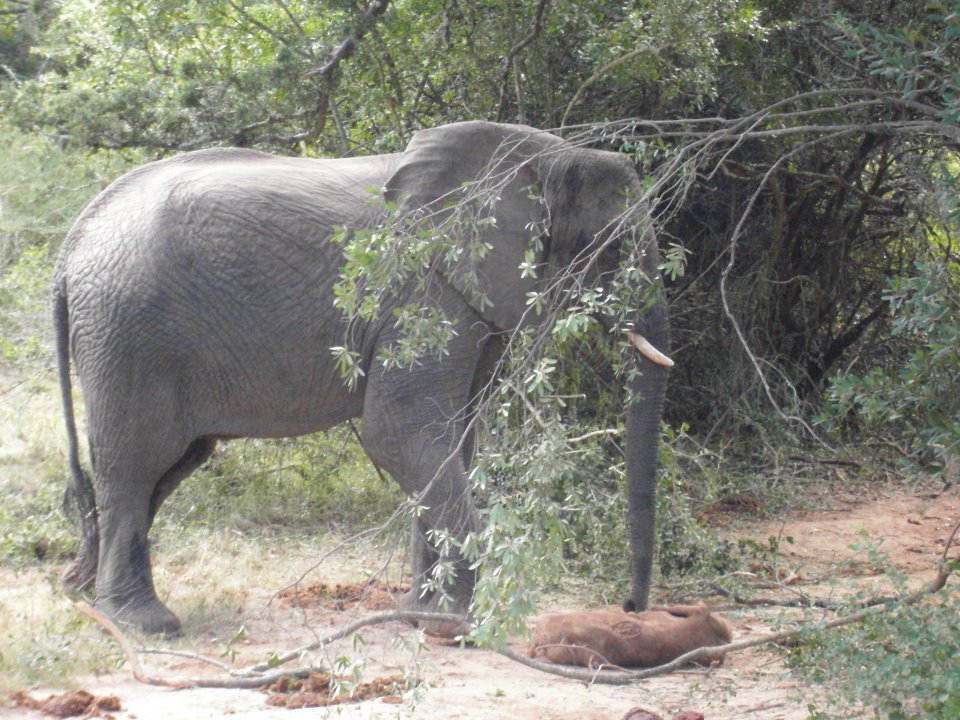 Remembering Themba - brave rhino lost to poaching last year
Kariega hosted the one year memorial of our poached rhino male, Themba, in the last week. People of all walks of life were part of this event, from local clubs, schools and reserves to NGO's, corporate companies, banks, the police, conservationists and just your average South African that's trying to help with rhino conservation in their immediate community. Even though the event was based on a tragic incident, management of Kariega Game Reserve tried to make it about the positives around the whole poaching drama currently going on in the country. The morning was filled with people speaking about success stories and telling us about what they are doing to help raise awareness not only in South Africa but across the globe. The volunteers walked away feeling inspired and encouraged to do whatever we can to help in this war against our animals.
African cat conservation - introducing serval onto the game reserve
The reserve has recently bought 2 female servals. They are currently in temporary holding bomas which will help make the release into the wild more successful - seeing that they now have the chance to acclimatise to the area and get used to all the animals on the reserve that pop in for a visit. Kariega already has 2 male servals roaming freely and hopefully we'll have several babies in the year to come. The volunteers are in charge of 'spicing' up their bomas with hollow tree stumps and things for these cats to climb in and under. We are also trying to catch live bait for them which will encourage them to hunt seeing that they were kept in enclosures from birth. These females are only a few months old so we are positive that their natural instincts will take over once they are released and hunting will be no problem for them. We have also put up some camera traps around their bomas to see if the reserve's males are popping by for a visit.
Maintaining and conserving the natural environment of the Eastern Cape
Alien vegetation clearing on Kariega has kept us busy and has provided some very comical moments with an all-girls house for two weeks now. The women feel more empowered with every fall of an alien tree and helping us improve the reserve's ecosystem one alien at a time.
The first rains have arrived in the area and all the burnt areas that were part of Kariega's prescribed burning plan has been soaked with water and green, lush grass will soon sprout from these areas. Burning is absolutely essential in any game reserve's management plan and plays a major role in removing moribund and/or unacceptable grass material and to eradicate and/or prevent the encroachment of undesired plants. Not burning a reserve will lead to a decrease in the diversity of plant species and thus the animal species that the reserve is able to provide a home for.
Big game viewing from the comfort of the conservation volunteer house
Our most amazing wildlife encounters have oddly enough not been from the vehicle, but from inside our house's fences. The elephant herd and especially our Big Bull have been visiting our house so often we have almost adopted him as a volunteer. Apart from breaking our fence with one of the massive falling branches he broke off the tree outside our house, the herd's visits are an absolute highlight of any volunteer's stay here at Kariega. Other wildlife encounters from our yard included a male lion hunting a warthog right in front of our house – what a thrilling and humbling experience! This is what makes volunteering in Africa so much different from being on a safari – as a volunteer at Kariega you don't only get actively involved in conservation on the reserve but you are always surrounded by the wildlife and what better way is there to learn the ways of the bush than by seeing and experiencing these things.
We can't wait to see what each new day brings and we know that life in the bush is all but predictable! Come share in our special experiences as a volunteer here at Kariega Game Reserve…it's an experience like no other.
Azél Crous
Kariega Game Reserve: Volunteer Coordinator