How do you fit all of the June action into one newsletter? All I can say is...darting, captures, releases. In only the month of June, volunteers were part of six amazing wildlife captures on the reserve. 
In order to avoid inbreeding amongst the reserve's lions, Kariega had to administer a contraceptive to all the lionesses on the reserve. What made these captures so exciting is all the responsibility that rested on us as volunteers. We were given the tasks of firstly finding the lions, then getting the team ready and to the location and finally to block other pride members from the darted lioness using our vehicle so that the team can load her and treat her in a safer location. It was absolutely unreal being so close to these massive lions and being able to touch them. 
The females are injected with a capsule that will release the contraceptive drug over a period of 18 months. This will ensure that we have the luxury of time to look for new lions elsewhere in the country which will bring new genes into our lion population.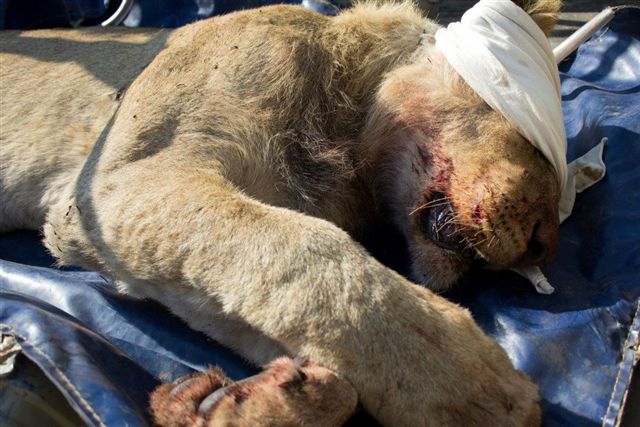 Our next capture was even more exciting and special when we joined the team with darting our matriarch elephant in order to remove her collar. Kariega used a helicopter for this particular operation, and while the vet and team were busy with the matriarch, our Big Bull elephant showed some serious concern for the matriarch's safety and health and decided to come have a closer look. The helicopter and elephant were in a proper stand off and neither seemed to give way. Finally, Big Bull decided that it is better not to interfere and moved off. 
Volunteers could not believe how warm an elephant is and how hard their skins are. What a privilege to be able to get so close and even touch this animal that we see so often. 
Our final captures were on our dear rhino, Thandi. We were devastated to find that her wound had opened up again. This capture was not at all exciting or even a pleasure to watch. We were absolutely sickened by the sight and felt such sadness and empathy for her. Dr William Fowlds had to properly clean the wound and this left her with a big open wound again.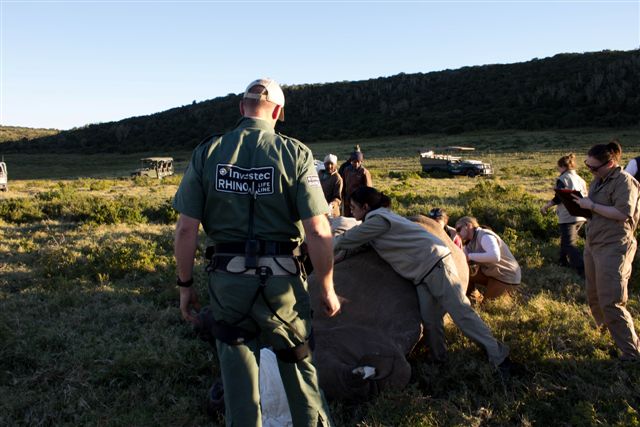 Once again this brave rhino paved the way for poached survivors and gave doctors and vets across the world a chance to do some ground breaking surgery on her. This entailed employing 3 different techniques of skin grafts on her wound in order to establish which method is most successful and can be employed on other rhinos. It will also answer many questions we have concerning the viability of these grafts on rhinos. We let Thandi be for a few weeks until the follow up will reveal the results. If any rhino can endure this, it is Thandi. We are all hoping and praying for her.
Other than captures, wildlife sightings on the reserve were as incredible and special as always. Having our massive Big Bull graze past the car, getting within 2m from a black rhino and seeing the lions hunt are just some of the highlights.
Visits to the volunteer house include the whole herd of elephants actually blocking us from going into the yard for at least two hours until we were left under the Milky Way. Not many people can say this after a hard day's work.
We can't wait for the new month and all the incredible and special experiences it will bring.
See you soon
Azél Crous
Kariega Game Reserve: Volunteer Coordinator