Kariega Conservation Volunteer Program – July 2013 Newsletter
Let's start off with the most important thing that happened this month: the follow-up procedure of our dear rhino, Thandi. Thandi was part of a ground-breaking operation performed by vets and plastic surgeons from around the country, with additional help from advisors and researchers across the globe. The operation's aim was to establish which skin graft technique would work on a poached rhino's facial injury in order to help the wound heal quicker. The surgeons made use of 3 different skin graft techniques and after a few weeks that she was left to freely roam the reserve, she was darted again to assess the results.
After much anticipation from the Kariega team and general public, the check-up procedure revealed that one of the techniques was very successful in helping the wound heal and recover. Thandi has once again paved the way for other poached survivors like herself. We are keeping a close eye on her and believe that she will once again make a full recovery and live in harmony with our other rhinos on the reserve.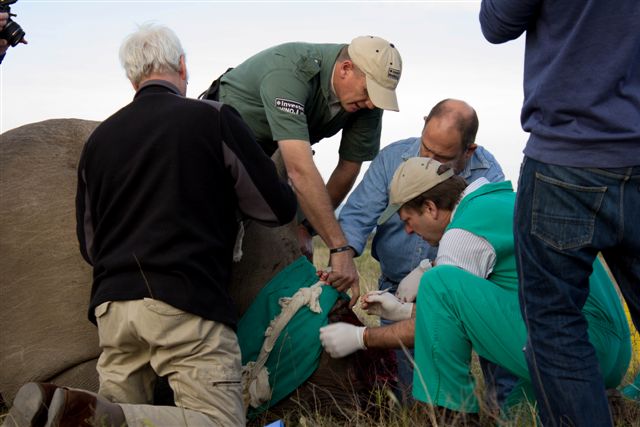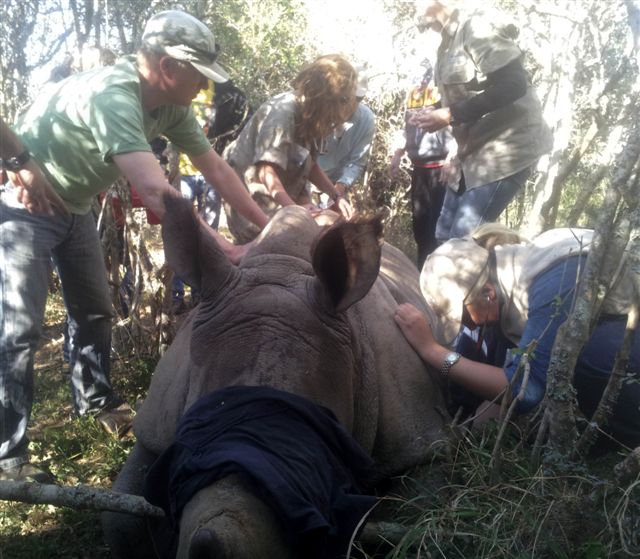 We have been monitoring our two servals on a regular basis this month. These servals were rehabilitated and released on the reserve a few months ago and we are thrilled to say that they are looking healthy and right at home on the Kariega plains. They are very relaxed with the game viewing vehicles and provide guests with some breath-taking sightings.
On international Mandela day volunteers spent their day giving back to the community by painting the national flag as well as classrooms at the local school where we teach. The pupils were very appreciative and even got involved with the job. Happy faces were all around, which is essentially the reason giving to others is so worthwhile.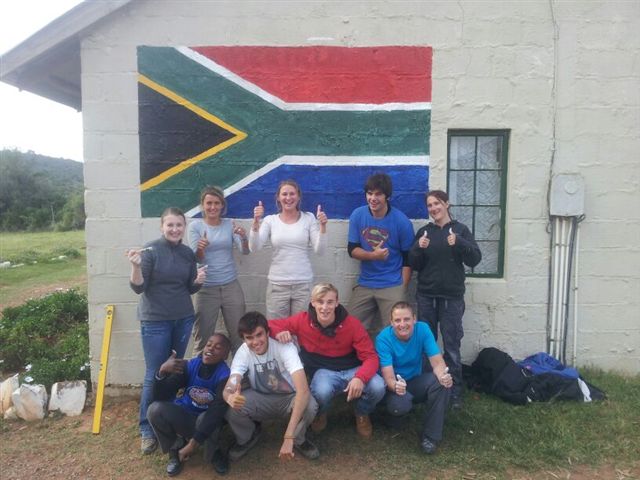 To make Mandela day even better, we were surprised by a new-born elephant on the reserve on that specific day. Volunteers appropriately named the baby Madiba. What a wonderful sight to see a loving mother protecting a new-born and still feel comfortable enough to show us the baby by bringing it right up to the vehicle.
Volunteers were once again part of a lion darting and capture procedure. We were given the tasks of finding the reserve's 3 sub-adult lions; staying with them until the vet and his team arrives; luring them with bait; giving the vet a clear shot from our vehicle; carrying of the lions on stretchers and finally saying goodbye to them in the transportation crates. How more involved do you want to be? It was an exhilarating experience and adrenaline was pulsing through every volunteer's body!
We were very sad to say goodbye to our 2 sub-adult male lions. Those of you who have joined us on the volunteer programme would know that these 2 brothers and their sister were like the 3 musketeers – inseparable and always up to something. They were always exciting and entertaining to watch.
Kariega had to sell the 2 brothers in order to avoid the risk of inbreeding amongst the reserve's lions. Inbreeding amongst any species of wildlife generally leads to genetic defects, reduced fertility and physical defects. Inbreeding threatens the very survival of these species as it leaves little genetic diversity.
These issues all need to be dealt with by a reserve's wildlife manager. It is a vital role that these individuals play in ensuring optimum health and fitness of our wildlife and also our environment. Volunteers at Kariega can be seen as assistant wildlife managers, as we get involved in all areas and disciplines of managing a Big 5 game reserve.
If you want to learn more about the African bush and its management plus have fun while doing it, come join our never-ending adventures at Kariega Game Reserve.
Stay tuned for an August adventure update.
Azél Crous
Kariega Game Reserve: Volunteer Coordinator