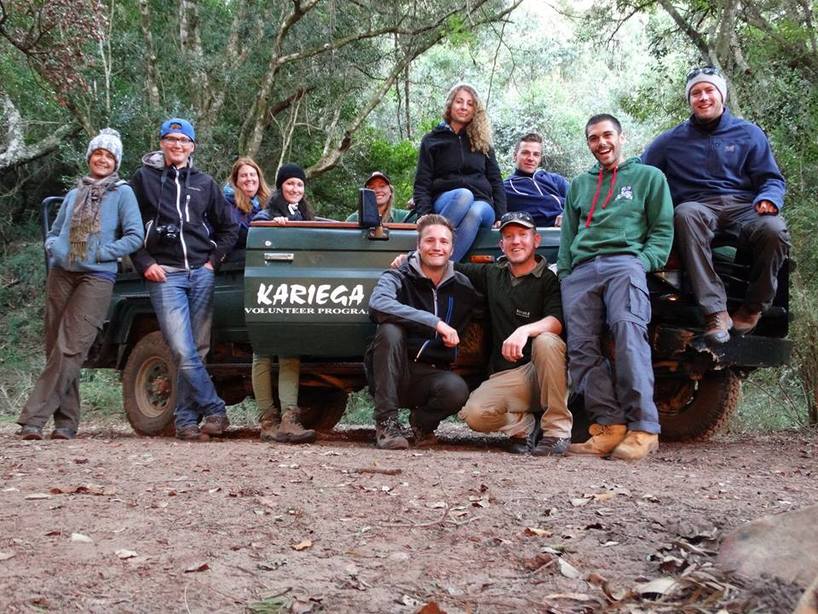 "Nature the teacher, Man the student" – Walter Rinder
The Kariega volunteer programme has had a busy few months being involved with a number of interesting projects and activities both on and off the reserve. Although the colder weather has had a limiting impact on some activities like bush sleep outs and outdoor braais (barbecues) and fires at the volunteer house, it has brought many pleasant seasonal surprises in its place, such as fire management and game capturing.
The volunteers have shown great passion and effort and have added meaningful contributions to conservation and community outreach during their stay at Kariega. We are very grateful for their hard work and assistance. 
This is what the Kariega volunteers have been up to over the past three months.
GAME COUNTS
This quarter saw the volunteers carry out two game counts. Games counts are used to estimate the size of animal populations on Kariega and provide a baseline for management to consider when making conservation decisions. The volunteers were organised into groups of eight to ten people. Each group drove a different predetermined route and recorded data on the species, sex and age of all animals they encountered. Their findings are then collated and shared.
BIRDS IN RESERVES PROJECT (BIRP)
This project give volunteers the opportunity to contribute to 'citizen science' and have fun in the process as they discover the wonderful world of birding. Many volunteers, who had previously shown little interest in birds, left with a fascination and new insight into of this intriguing world. Seven BIRP surveys were conducted (approximately 30 hours). A variety of 100 different species were identified (about 36% of the Kariega bird species list of 280 birds). 
RHINOCEROS RESEARCH
Volunteers have spent many hours at rhinoceros sightings collecting data and monitoring habituation and simply enjoying being in the presence of these amazing animals in the wild. The volunteers assist in recording spatial and behavioural data for both black and white rhinoceros (rhino). The data collected contributes to the detailed and ongoing database. 
A very interesting territorial fight between black and white rhino bulls occurred in April which the volunteers were very fortunate to observe. The volunteers have also continued anti-poaching night drives during periods of increased risk and continutally assist in rhino protection by means of observation and reporting back.
ELEPHANT RESEARCH
The volunteer programme has invested increased effort in monitoring elephant diet and vegetation impact to assist a young researcher/volunteer, Ms. L. Stracquiano with her dissertation research. In addition to the normal data collected, plant identification of unimpacted plant species has been recorded too. Furthermore, 20 control plots of ten by ten metres have been marked out to compare the browse impact with and without the presence of elephants. The volunteers eagerly await the report findings once complete. This has familiarised volunteers with more plant species on the reserve.
The volunteers were privileged to see a new male calf only a few days after birth. Volunteers are also afforded the wondrous opportunity to spend many hours observing the social behaviour and individual interactions within the herd.
LION RESEARCH
The volunteer programme has continued collecting behavioural and spatial data on lions as well as preferred prey species. The data collected is being used by Miss Orla McEvoy from Rhodes University, who is investigating the dilemma of managing lion populations in private reserves. The introduction of blesbok, impala and blue wildebeest has resulted in some changes in the behaviour of the lions with an increased number of carcasses found. The planned introduction of new lionesses later this year may result in further interesting changes in predator/prey dynamics. 
GAME CAPTURE
The team were delighted to assist in capturing nyala and waterbuck bulls and impala rams. This was the group's first exposure to game capture. Volunteers assisted in tracking desirable bulls and rams and recording data such as number of animals captured and the length of their horns. Volunteers were encouraged to assist in the loading and unloading of animals after they had been darted so as to get the chance to touch these animals and see them up close while they were immobilised. This was very enjoyable and exciting as most volunteers had never been privileged enough to get so close to wildlife before. 
The volunteers were also part of an attempted relocation of an elephant bull to another area of the reserve. The elephant was driven by the helicopter towards a temporarily unfenced crossing, but to no avail, as the perceived boundary seemed set in the bulls mind and he refused to leave.
Mass game capture has also been carried out this quarter. After an informal yet informative lecture on mass game capture, the volunteers were ready to assist the mass capture team. The capture boma funnel setup and capture procedures were explained so as to equip them in assisting with the activities involved. Volunteers assisted in the mass capture of wildebeest, impala and blesbuck. The volunteers assisted by running curtains to enclose animals led into the funnel by the helicopter. Other volunteers assisted in counting the animals loaded into each crate on the trucks. This activity was very popular with the volunteers and all took turns, ensuring each got exposed to the different roles involved. 
FIELD SKILLS AND SURVIVAL
Numerou guided walks were undertaken which provided a wonderful opportunity to see many smaller details that can be missed from the vehicle and also allows volunteers to experience the bush from the wildlife's perspective. This has proven to be a thrilling and fun activity and is combined with a lecture on tracking and signs as well as reacting to dangerous game encounters. 
DAWN/NIGHT DRIVES
Dawn drives have been conducted to expose the volunteers to crepuscular wildlife as well as to get them up to witness an African sunrise. This has proved to be hugely popular with the volunteers despite the early morning chills of the winter season. Night drives are carried out to expose volunteers to nocturnal wildlife and to give them practical experience in scouting out for animals using a spotlight correctly and ethically. Night drives and dawn drives have also provided the volunteers opportunities learn about the stars and constellations as the co-ordinator shares his knowledge on the subject.
ALIEN INVASIVE PLANT CONTROL
This quarter the volunteer team has focussed primarily on the eradication of Acacia mearnsii (black wattle) and Acacia cyclops (rooikranz). Pinus pinaster (cluster pine) has also been targeted to a lesser degree. 
NURSERY AND REHABILITATION PROJECTS
This quarter saw the establishment of the Ocean View nursery. It has primarily been stocked with pork bush (portulacara afra) so as to allow these plants to establish in the protection of the nursery for two months. The volunteers have planted out 100 nursery raised pork bush plants alongside 200 offcuts planted directly from the veld. The volunteers will be monitoring these two groups to determine if there is difference in growth rate which will help determine the most effective replanting strategy for this highly palatable and highly effective carbon sequestration plant.
ROAD MANAGEMENT
Road clearing is an important physical task to maintain the accessibility of roads by preventing vegetation from encroaching on the reserve's roads. This practice is particularly important in woodland thicket type habitats where roads are prone to bush encroachment. Prior to a road clearing session volunteers are briefed on safety and the importance of such maintenance work on a game reserve.
FIRE MANAGEMENT
It is beneficial to burn sourveld during winter months as it offers a variety of ecological benefits. Fire prevents bush encroachment by killing off younger woody plants giving the faster recovering grass species a chance to establish and maintain a grass to woody vegetation balance. It also assists in burning away moribund unpalatable organic material, returning nutrients to the soil and stimulating new more nutritious growth which sustains herbivorous wildlife. The volunteer team assisted with two major burns on the reserve this quarter. After being briefed, volunteers assisted by monitoring the fireline as it was ignited, ensuring the fire did not jump into an unintended area. This was achieved by beating out any embers carried over to such areas using fire beaters and branches of leafy vegetation. Witnessing the intense heat and destructive power of a veld fire has been an unforgettable experience to those volunteers involved in helping out.
COMMUNITY OUTREACH
The volunteers have thoroughly enjoyed interacting with the children at the Ekuphumleni soup kitchen. Apart from assisting to cook meals and serve food, the volunteers have interacted with these children through a variety of activities such as educational drawing, colouring, soccer, netball, frisbee, cricket and skipping, ensuring that the children are provided with both physical and creative stimulation. The volunteer visits also provide these children with love and attention which is essential in assisting these children to have a happy childhood. The volunteers have also donated a variety of useful stationery, accessories and clothes to the soup kitchen. The volunteers really enjoy community outreach and love giving back to those less privileged than themselves.
CONCLUSION
The Kariega volunteer programme has had yet another great quarter. This has not only been in research, monitoring and maintenance around the reserve but also through the growth and experience of individuals volunteering at Kariega have gained. Feedback from volunteers as recorded in the testimonial book is very positive, indicative of an unforgettable and remarkable experience.
We look forward to the second half of 2016, excited to give our all and truly contribute to conservation in a meaningful manner.