Kariega Game Reserve Eastern Cape Conservation Volunteer Testimonials 
The Kariega Conservation Volunteer Programme is the ultimate Big 5 experience, where volunteers from across the world, get the opportunity to get hands-on involved in conservation management on the reserve. Read the feedback by some of the latest group of conservation enthusiasts.
The volunteers continue to make valuable contributions to both conservation and community development projects. Below are comments from volunteers who stayed with us in June and July 2014.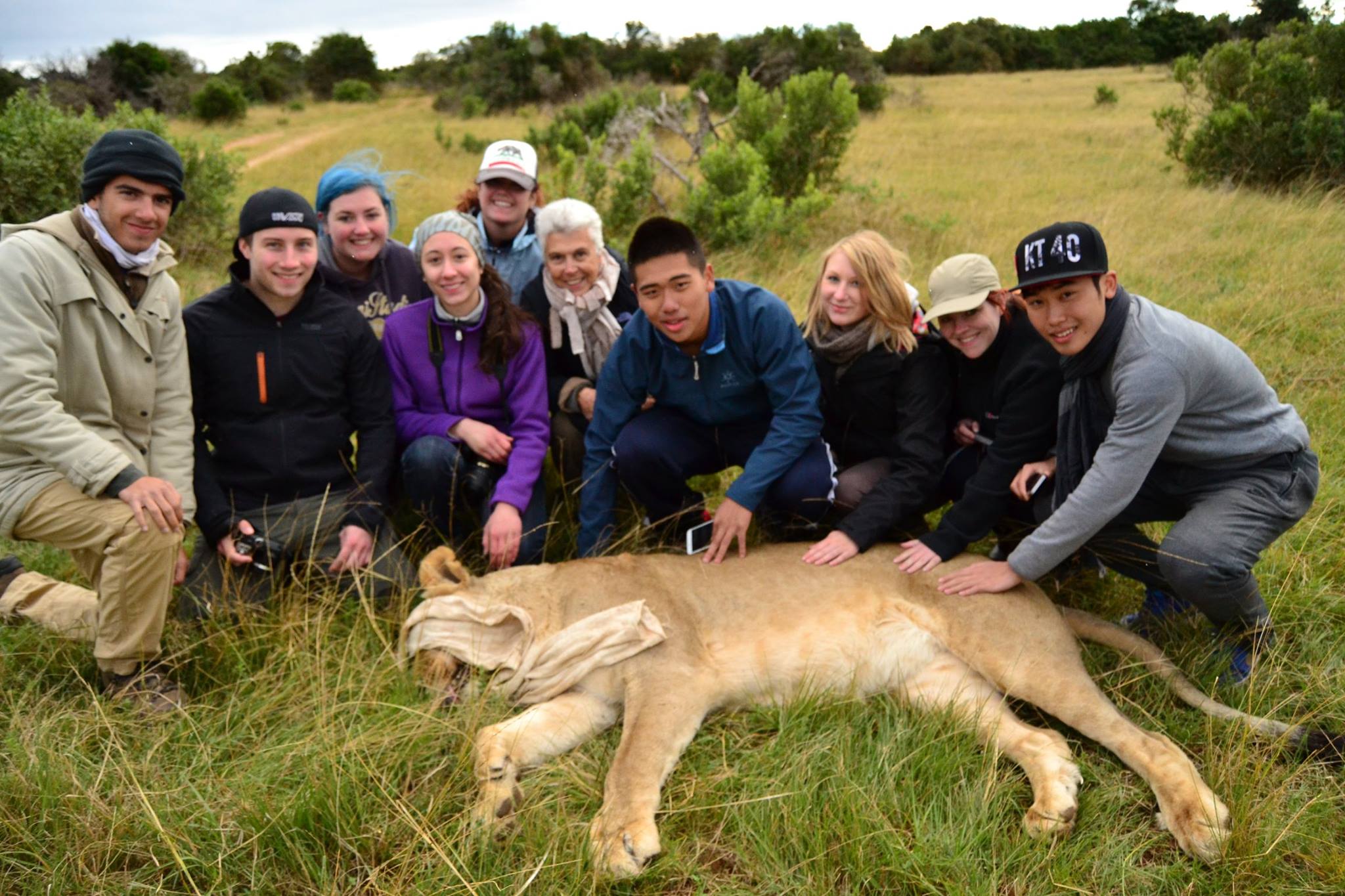 "I was not sure what to expect when I got here, but it was more than I ever could or hoped for. The things I've seen – from the spectacular nomad lion (my favourite), to helping the rhino's has just been incredible. Everyone here, from the rangers to the amazing, Frances, has made this a trip of a lifetime. It's changed my whole perspective on life and what I want to do with it. I've found my calling in life after volunteering at Kariega Game Reserve. Thanks you so much for what you've given me." Joseph Garrod, UK, 08/06/2014 – 21/06/2014
---
"Normal everyday stuff is hard to come across in Kariega – especially with Frances as your coordinator! It's an exquisite way of experiencing South Africa … from having tea at a picturesque river to watching a rhino being darted – such an experience and adventure. The Kariega staff is friendly and inviting with stories to always keep the mood light hearted and breath-taking. Thank you or an incredible time. I will cherish the journey I've had with you and the knowledge I've learnt. I will be back!" Tom Elliott, UK, 08/06/2014 – 21/06/2014
---
"When choosing where to come and volunteer in South Africa it took us a while to find Kariega, but I am so thankful we did. The game reserve itself is stunning, with views which were literally breathtaking and cannot be captured in a picture. The experiences I have been fortunate enough to have with the animals are some which will most definitely stay with me forever. There are so many, waking up to lions near the garden, being surrounded by an elephant herd, watching an exciting game capture and even touching a rhino while helping it after it had been darted. Frances is literally amazing, she knows everything! The other volunteers during my stay were also awesome and made my trip even better. Thank you for all the experiences and memories I have made here." Stephanie Coates, Scotland, 01/06/2014 – 01/07/2014
---
"I have been here 6 weeks and the beginning feels so far away as so much has happened. On multiple times we would see at least 3 of the Big 5 on the way back to our accommodation. One of the best drives was when the whole pride of lions were walking towards us as we rounded a corner and they all lined up for us. One of my funniest and best days was the rhino darting day. The highlight being Frances's face as a big bull charged our vehicle from 10m away! It was great to be able to touch and lift the rhinos, but also sad to see them being dehorned. Thanks for an incredible experience Kariega!" Harry Sayer, UK, 19/05/2014 – 30/06/2014
---
"Kariega is a hard place to leave. Every day was an adventure and you never knew what was going to happen or what would be around the next corner. There were many "once in a life time moments" that I will not forget. Frances adds an immeasurable benefit to the program, and was a pleasure to be around daily. Thank you for the experiences and memories. My only regret is that I cannot stay longer." Kent Riddle, USA, 16/06/2014 – 04/07/2014
---
"Kariega feels like home to me now. I met loads of nice people, saw so many different animals and had many amazing days and nights – it felt like paradise. If I can choose again, two weeks are not nearly enough time to join this project – book for longer! I can still remember how exciting I was when I took the first glance at a rhino, how breathtaking the moment was touching lions (we were involved in lion capture). Sometimes something only happens once in a lifetime. Well that 'something', happens here. Kariega is where amazing and happy happens!" Chengyan Tang, China, 30/06/2014 – 14/07/2014
---
"How to describe these last two weeks … awesome, amazing, wonderful, fantastic, stunning! You cannot describe this experience with enough words – you have to experience it for yourself. Staying in the house with the other volunteers was so much fun and Frances also contributes a great deal to the atmosphere at Kariega. For me, this was one of the best experiences in my lifetime." Alina Bechtoldt, Germany, 07/07/2014 – 21/07/2014
---
Find out more information about the Kariega Conservation Volunteer Programme on our website and visit our Conservation Volunteer Facebook page.