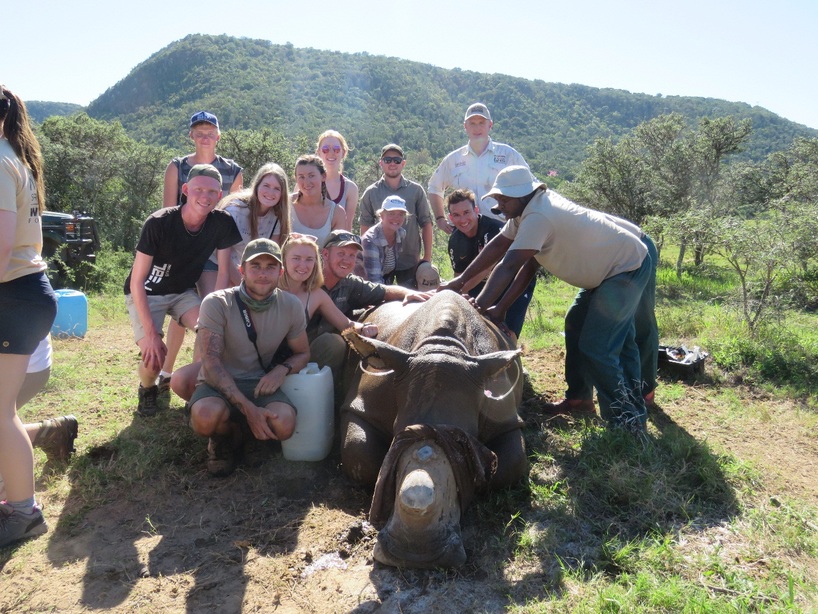 The Kariega Conservation Volunteer Programme is the ultimate Big 5 experience where volunteers from across the world get the opportunity to get hands-on involved in conservation management on the reserve.
Read the testimonials from some of the latest group of conservation enthusiasts. The volunteers continue to make valuable contributions to both conservation and community development projects. Below are comments from volunteers who stayed with us between February and July 2017.
"Wow. I can't believe how fast 4 weeks go by on Kariega as a volunteer. There aren't proper words to describe how incredible this experience has been. From research game drives to spontaneous road clearing and data collecting to Paradise lagoon (and everything in between). I feel like I've learned so much. Jarrett, our wonderful coordinator, taught us so much about conservation and even the stars. I'm so glad that we went bungee jumping – an experience that I will never forget. I've met so many amazing people on Kariega who I know that I will be friends with for life." Julia Neulight, 20 years old, from Pennsylvania, USA. 26 June – 24 July 2017.
"They told me I'd fall in love with Africa and I did. This continent is so magic, full of music, good food, beautiful animals and incredible people. I'll come back as soon as I can, ready for another adventure full of adrenaline. I loved being woken up by the monkeys running on our volunteer house roof. And I loved that we didn't know what we were going to do the next day, it was all so thrilling! Thank you for making this possible for me" Virginia Rossi, 17 years old, from Switzerland. 3 July – 24 July 2017.
"Thank you, thank you, thank you for making this the most incredible experience for us. We knew we were coming to a game reserve in South Africa , but we did not know that the experience would be this inspiring. Our volunteer coordinator shared all his knowledge with us and we have learnt so much. All those night and dawn drives were simply magical. We found that the programme had a perfect balance between adventuring in the jeep, digging up plants, going to the soup kitchen, socializing and relaxing and so many more activities. Our coordinator made every volunteer feel special and so included. See you again in the future!" Alice and Sophie Moniz, 19 years old, from Bermuda. 10 July – 24 July 2017.
"Two weeks as a volunteer on Kariega Game Reserve was definitely not enough and I wish that I could spend the rest of my summer here. I feel like I've only touched the surface of this amazing experience – however I will definitely never forget it and will be telling stories of how close you drive to rhinos for years to come. I've learned so much here that I feel like my head is stuffed to the brim with exciting facts. You really go above and beyond for all the volunteers. The volunteer coordinator's knowledge is amazing and really makes this experience memorable. If I ever come back to South Africa, I'll come back to Kariega to refresh and expand my knowledge. Thank you so much for a wonderful time." Lucy Poynter, 20 years old, from the UK. 3 July – 17 July 2017.
"The saying 'time flies when you are having fun' is true. I can't believe that four weeks could go by so fast. I can't thank our volunteer coordinator enough for being such an amazing leader and great friend. It takes an extraordinary person to make someone thousands of miles away from their own country feel right at home. I learned so many things over the course of these four weeks. I loved the surprise every morning as we were told what that day's adventures would entail. Everything from finding elephants to running around the African grasslands hunting the mighty Black Wattle with machetes. Besides all the information and new skills that I gained, it was really fun making so many new friends. Everyone made me feel part of this one big happy family. Thank you so much for everything."  J.D. Sterbens, 18 years old, from the USA, 12 June – 10 July 2017.
"I will never forget my time as a volunteer on Kariega Game Reserve. Not only have the experiences on and off the reserve been some of the best I've ever had, but also the people I have met and the beauty of South Africa have meant I've had the time of my life! I have fallen in love with this country and if I could, I would never leave this reserve. I have been so fortunate to partake in rhino dehorning as well as darting lions. My last memory on the reserve is spending hours looking for elephants, only to find them right at our volunteer house. Above everything else, the volunteer coordinator made my time here so special. He puts all of his energy into ensuring everyone learns so much about nature and themselves. We were taught so much – from star constellations to animal and plant facts. My time here has passed way too quickly." Anastasia Cooke, 22 years old, from the UK, 13 March – 10 April 2017.
"Time passed too quickly the last five weeks! I've met the most amazing people who taught me so much about myself, the rest of the world and the animals. The volunteer coordinator is so inspiring and his passion is contagious. I will never forget these moments; seeing the lions attacking a warthog, a hippo out of the water while we did a night drive, elephants very close passing our open vehicle, the buffalos one morning whilst doing a dawn drive and the first time in 'Paradise'. Not to forget all the neverending views on the reserve. It's impossible to get bored here and it feels so good to have worked hard every day. I'm sure everyone who comes here must love it. Thank you so much for everything. I'm very grateful for every moment here." Marian Hopman, 19 years, from the Netherlands, 20 February – 26 March 2017.