Kariega Volunteer Testimonials: Aug - Sept 2014
Kariega Game Reserve Eastern Cape Conservation Volunteer Testimonials
The Kariega Conservation Volunteer Programme is the ultimate South African Big 5 experience. Volunteers from across the world, get the opportunity to get hands-on involved in conservation management on the reserve. Here are the testimonials from the latest group of conservation enthusiasts. 
The volunteers continue to make valuable contributions to both conservation and community development projects. Below are comments from volunteers who stayed with us in August and September 2014.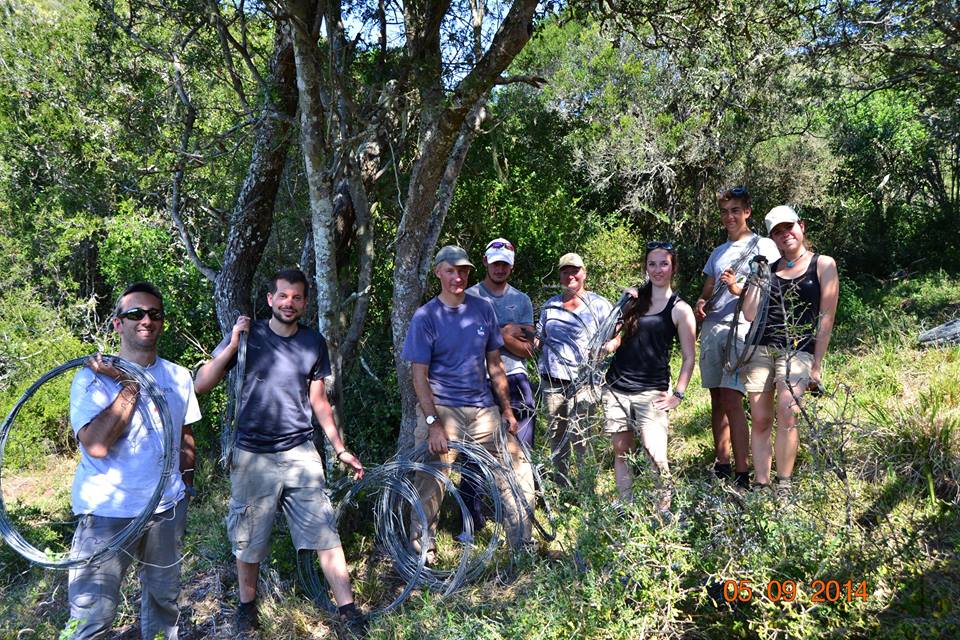 "How can you even begin to write a testimonial about the best six weeks of your life? No words, photo or film would do justice to the incredible, life changing experience I've had whilst at Kariega Game Reserve. I think it's safe to say that my six weeks here at Kariega has not been long enough – no length of time ever would be. The Kariega Volunteer Programme makes you feel like being home … its beautiful wildlife and stunning views certainly help this. There is nothing quite like sitting under the stars around the braai and listening to lions roaring, or sitting outside at night and being surrounded by the sounds of elephants just outside the fence of the volunteer house – it's a magical, unforgettable experience. The six weeks I've spend at Kariega have been so much more than I expected. I am leaving a better-person – a teacher, a painter, a lumber-jack, a builder, a fire fighter, a near professional horse rider. Kariega is a hard place to leave. I've made so many friends whilst here – the 25 other volunteers I've met during my time here are too numerous to name but they became like a second family to me. And this testimonial would not be complete without mention of Frances, the volunteer coordinator. She works tirelessly to ensure everyone has the best stay possible and that they have the opportunity to do and see everything they want to. Best six weeks of my life!" - Hannah Jackson, UK, 21/07/2014 – 01/09/2014
---
"Living on Kariega Game Reserve has been one of the most amazing experiences of my life. I really had no specific expectations, but all my wishes became true. I've seen everything I wanted to see. To see Mandora and his girls so many times and so close was brilliant. Catching nyalas and assisting the vets with antibiotic treatments was amazing. Also the arrival of the new elephant herd on Harvestvale was one of my highlights. Thank you to all the volunteers and the many funny nights together and thank you Frances for everything you did for us." - Dinah Schramn, 08/09/2014 – 22/09/2014
---
"I don't know how to start writing this – it's crazy that I'm leaving tomorrow. These two weeks have been the best two weeks of my life for sure. I have been in other countries, but South Africa took my heart. From the minute I entered the reserve, I was blown away. Kariega isn't only a beautiful place full of nature, wild animals and great people, but it does really offer you the time of your life. Kariega changed my life totally. I learnt how to cook and I also matured as a person (this was my first time travelling alone) and too many other things to mention. I cannot recommend this experience enough." - Carla Munoz, Spain, 25/08/2014 – 08/09/2014
---
"And so the time I've been dreading has come when it's my turn to write a message in this book about my experience here. These last four weeks at Kariega have been some of the best of my life and I'm really sorry to be leaving. I've had some amazing experiences, including:
Animal captures. In my time here I was lucky enough to assist with three different species. Firstly we moved the rhino calves to their new home – I helped with the bandage over their eyes and leading them into the trailor. Being up close and personal with such magnificent animals exceeded all of my expectations. Secondly we released 3 cow elephants and their 7 babies onto Harvestvale. And lastly we helped dart and capture Nyalas which was amazing. Even the 'normal' days on the reserve always had something new to offer. And where to begin with Frances, our volunteer coordinator? She is a fountain of knowledge when it comes to anything to do with animals or the reserve and will answer any question you throw at her. She's funny and ever-positive – thanks for being awesome Frances! Kariega has been one of the best experiences of my life and I'll never forget it." - Iris van Rosenburgh, UK, 01/09/2014 – 29/09/2014
---
"The volunteering programme hasn't been just a 'working holiday' for me – it gave me a chance to experience what I'm most passionate about: conservation and wildlife. Kariega was just perfect for me. Being here has made me realize that this is what I really want to do – I could not have asked for a better experience. Everything we did had a purpose and an explanation. Every landscape and animal took my breath away and we experienced so many amazing things. We saw baby rhino and even and elephant-rhino encounter – what are the chances of that!? Very special to view an elephant/rhino stand-off in the wild. There are so much more that I could mention. Frances (our coordinator) – thank you so much for everything. I've learnt so much, this is exactly what I wanted to experience when I booked this placement!" - Alison Govaerts, Belgium, 21/08/2014 – 04/09/2014
---
Find out more information about the Kariega Conservation Volunteer Programme on our website and visit our Volunteer Facebook page.