Kariega rhino conservation
Eastern Cape Rhino Conservation Horn Removal
Wildlife Vet Dr William Fowlds and the team at Kariega have been busy over the past week with various rhino conservation activities. The photo below shows a rhino which was darted in preparation for the removal of its horn and the fitting of a tracking collar. The collar is infact fitted onto the foot of the rhino, so should rather be called a bracelet rather than a collar.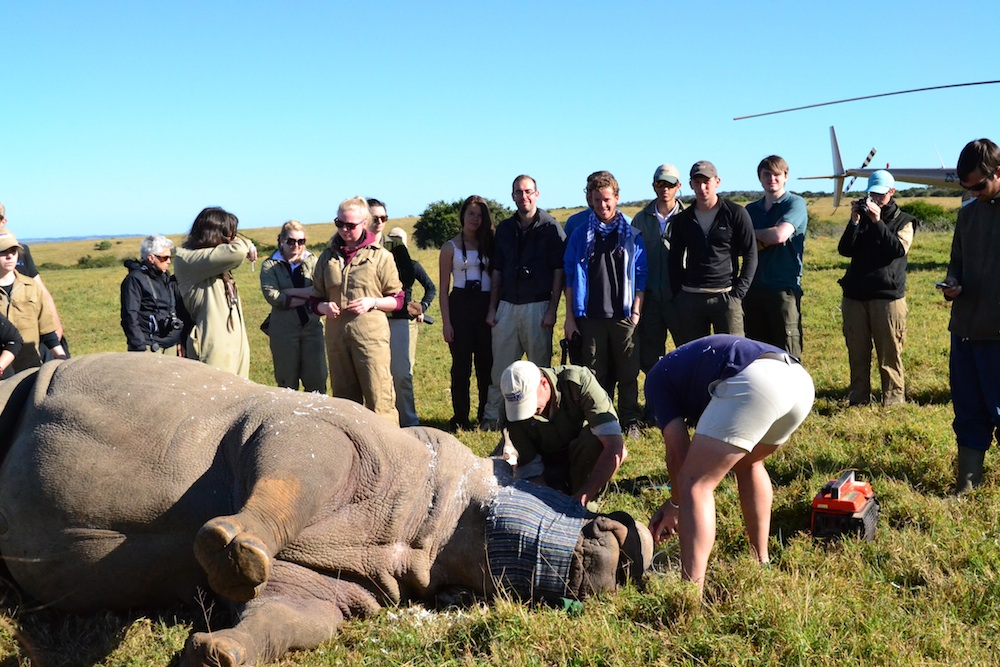 The number of rhinos killed for their horns continues to increase in 2014. Figures released by the South African Department of Environmental Affairs on 6 June report that 442 rhinos have already been killed in South Africa this year. We will continue to work with guests, local reserves, conservation organisations and supporters to protect our rhino. Please read more about our Save the Rhino Project, a part of the Kariega Foundation, including information about the horrific poaching incident that occurred in March 2012 at Kariega.
We were pleased with the good news that the Vietnam's Ministry of Health and the Traditional Medicine Association publicly announced in May 2014 that there is absolutely no evidence that rhino horn can cure cancer (or any other ailment). We think that this is big breakthrough for the conservation of our rhinos. The next step is to quickly ensure that this message is spread this to the people who consume rhino horn throughout Vietnam and neighbouring countries.
Thank you to the Kariega Conservation Volunteers for taking the photo and assisting with various Kariega rhino conservation activities. Find out more about volunteering at Kariega Game Reserve for a fantastic hands-on South Africa safari experience.