Where did July go to? Apologies that our July newsletter is a bit late, but this month has been a very busy volunteering month!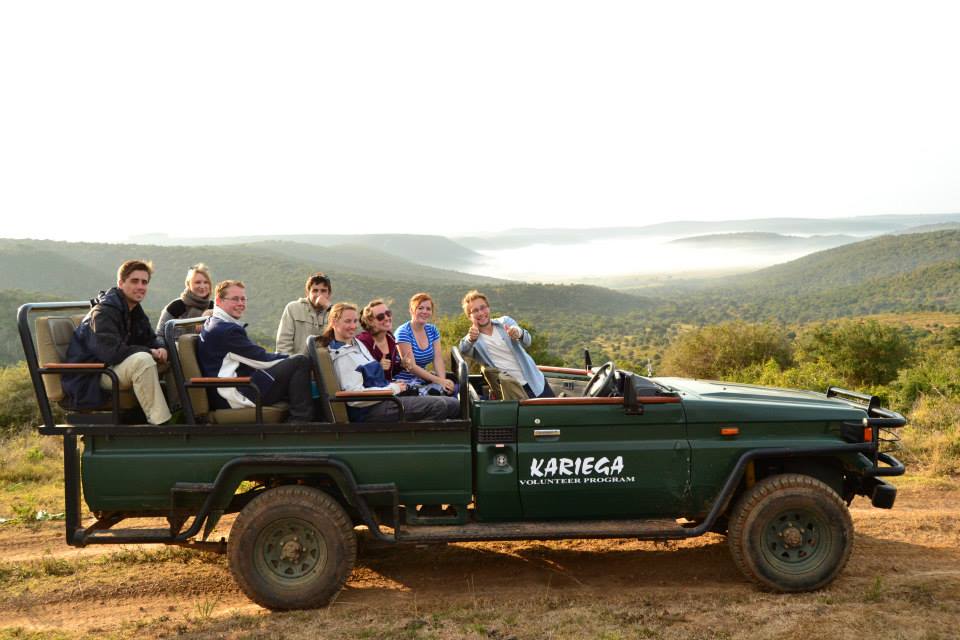 Research Projects
Lions' Prey Study
The Kariega Conservation Volunteers noted that the lions on the reserve mostly hunted impala during the month of July.  
On the 9 July, the volunteered assisted with the darting of two of Kariega's lions. This was definitely the highlight of the month.
Early in the morning the volunteers went out in search of the nomad lioness. This proved to be quite a task as she has no tracking collar and moves around on her own. Luckily we found her quickly and lured her out to the plains where wildlife vet, Dr. William Fowlds, could dart her and do a check-up on her health and physical condition. The volunteers were hands-on and helped carry the lioness into her transport crate. She was a large animal for her age and was doing extremely well on her own (bearing in mind that lions are very social animals).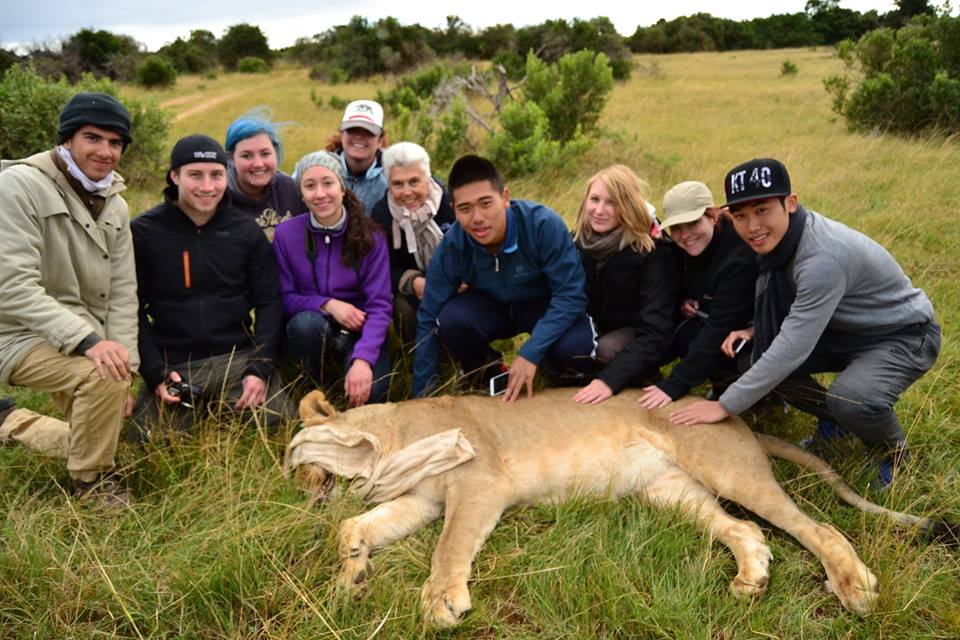 Dr. Fowlds also had to dart a young sub-adult male lion. The pride was located easily, but to dart one lion and remove it from the pride can be quite tricky. The capture team once again did a great job. They darted the male and after chasing the rest of the pride off, they quickly loaded the male and examined him.
The lions were relocated to a reserve in the northern part of South Africa and we believe that the they will be very happy in their new home.
Elephant Impact Study
We were fortunate to have several lovely elephant sightings this month. We took our time and observed the elephants browsing and taking mud baths. Figure 1 below shows an estimate of what the elephants on Kariega Game Reserve consumed during the month. The elephants concentrate on the bark of trees during the winter months. This is probably because the bark of a tree contains much more nutrients than the leaves for example, and is therefore more sought after. As the figure illustrates, a big portion of the elephants' diet still consists of grass.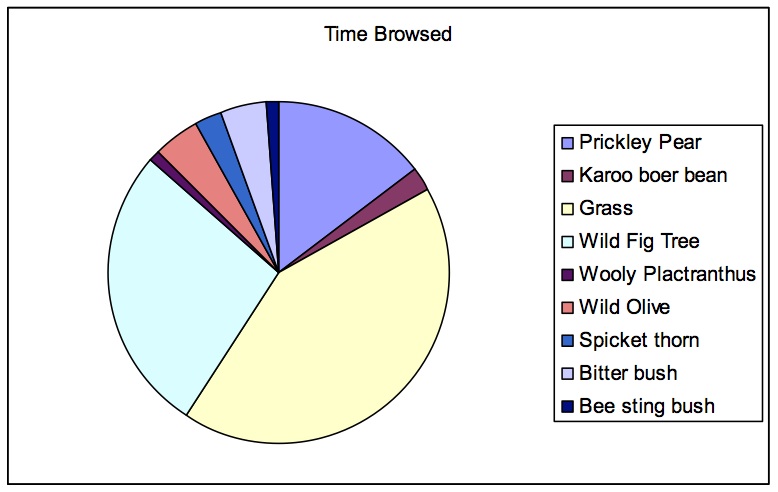 Figure 1: An estimate of the vegetation consumed by Kariega Game Reserve elephants during July 2014.
Rhino Spatial Movement Study
The rhinos on Kariega Game Reserve are all doing really well. The volunteers helped to track them as well as note their position and the location of their dung middens to establish their territories and home ranges. This information can not be made public for safety reasons.
Camera Traps
Our volunteers were really fortunate to get more photos of the same brown hyena as the previous month. We don't want to get our hopes up, but it could mean that there is a den on Kariega Game Reserve (everyone keep fingers crossed!). We also downloaded photos of a small spotted genet, black backed jackal, warthog, several antelope species, porcupine and caracal. The bait and chum (sardine oil, water and blood mixture) that we put in front of the camera traps has been really successful in attracting a lot of different species who curiously sniff around the camera.
Other Activities
Alien Invasive Species Control and Vegetation Management
The Kariega Conservation Volunteers chopped down 91 Pine trees, 6 Red Wattle and 122 Black Wattle trees this month. These invasive tree species tend to use more water than our indigenous trees, grasses and shrubs and thus the overall water use by the vegetation increases, leaving less water for the streams and rivers. Alien vegetation species have no natural enemies to control them, and this is regarded as the second largest threat to biodiversity after direct habitat destruction.
On the positive side of things, the volunteers continued to plant Pork bush (Portulacaria afra) cuttings on the reserve. In July we planted 645 Pork bush cuttings. Pork bush is a leafy succulent plant with the ability to store more than four tons of carbon per hectare per year according to an article in the SANparks times, June 2014. This is more than any other plant, even more significant than some rainforests. It is a great plant to help rehabilitate damaged areas as it grows so easily here in our Albany thicket biome.
During the last week of July the volunteers helped a great deal with controlled fires on Kariega Game Reserve. We use fire as a management tool when we want to get rid of moribund grass material and to eradicate and/or prevent bush encroachment. Fire is an important natural driving force in savanna systems. It is preferred to burn just before the first spring rains, when the grass sward is still dormant. This gets rid of the moribund grass but prevents too much damage to the veld.
Community Projects
On the 18 July South Africa celebrates Nelson Mandela day. To honour him and what he did for South Africa, every South African is encouraged to spend 67 minutes of their time helping someone or a community in need. The 67 minutes is a symbol of the 67 years that Madiba served South Africa. Our volunteers spent the day painting the Age-in-Action centre. This is where the elderly people of Ekuphumleni get together to do arts, crafts and exercise. We painted with primer on the first day and after two weeks we went back again and added the first colour coat in Aqua Marine. It is a nice bright colour to lighten everyones day! After we finished the primer, the Age-in-Action centre provided a delicious soup and fresh bread for all the helpers. It was a very satisfying and rewarding day for all involved.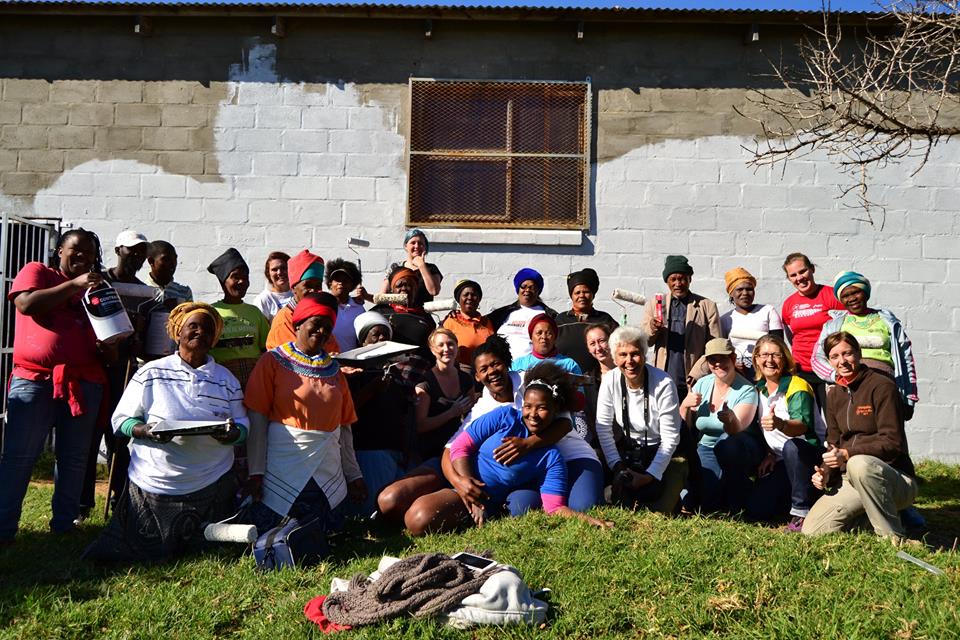 Maintenance Projects on Kariega Game Reserve
The Kariega Conservation Volunteers finished up the main entrance gate after several weeks of hard work. We believe it is strong enough now so that it will endure the strong August winds.
The volunteers also helped with the construction of the Anti-Poaching Unit's accommodation. This is almost complete. The deck is looking really good and we are busy putting up the shade cloth. It is very satisfying to see ones hard work taking shape. We started with bush clearing where the building needed to be erected, mixed the cement and dug holes for poles and helped with general development of the structure on a weekly basis. Keep an eye on the Kariega Volunteers Facebook page for the end result.
Weekend Activities
July was not just all about working hard but also about having loads of fun. We let our hair down a bit by exploring the National Arts Festival in Grahamstown. This festival runs for ten days and celebrates all forms of South African art. The second weekend the volunteers went horse riding on the beach at Kenton-on-Sea. The ride is always such a hit with all our volunteers – white sandy beaches and breathtaking views. Volunteers also went to a nearby elephant sanctuary where they interacted with the elephants and also rode on them. The only problem is that we have so many great options for weekend activities that it can sometimes be difficult to choose what to do!
That's all from us for this month. Like our Kariega Volunteers Facebook page for regular bush updates - or even better come and join us and see for yourself!
Yours in Conservation
Frances van Pletzen
Volunteer Coordinator: Kariega Game Reserve