Introducing Eastern Cape Safari Lodge Managers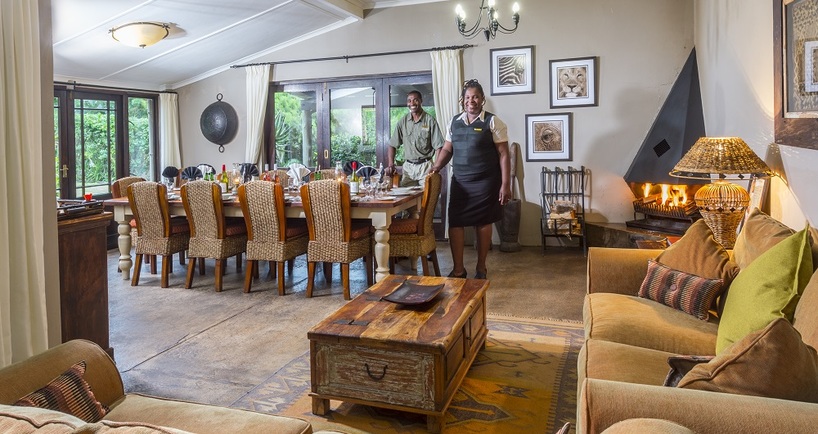 Themba and Lingani are joint Lodge and Ranger managers at The Homestead Safari Lodge. They extend genuine warmth to each and every guest they welcome to this private, sole-use safari lodge in the Eastern Cape wilderness. They have risen through our ranks and are now infusing The Homestead with their special blend of African hospitality.
As valuable and well-loved members of the Kariega family, we are extremely proud of Themba and Lingani. Their story is an inspiring one and a testament to the character and commitment of this remarkable couple.
Themba's Quest to See the Ocean
Themba and Lingani hail from Victoria Falls in Zimbabwe, where Themba worked as a ranger and Lingani as a preschool teacher. In 2007, with Lingani's blessing, Themba took annual leave to travel to South Africa on a quest to see the ocean! He describes how he arrived at the bus terminal in Johannesburg hoping to travel to either Durban or Cape Town, but (luckily for Kariega) the only bus available was to Port Elizabeth!
"It was so BIG," says Themba when describing the ocean. His hands expand out from his heart as his way of explaining that the word 'big' doesn't only describe the expanse of water, but also the enormity of the experience and his reaction to it. 
Doors Open for Themba in the Eastern Cape
Employment opportunities began to open up for Themba in the Eastern Cape and he accepted a position as a ranger at the Elephant Sanctuary in Plettenberg Bay. A number of months later that he applied for a ranging position at Kariega Game Reserve. He has been a loyal and committed member of our team ever since, enchanting our guests with his remarkable knowledge, gentle demeanor and charming wit.
Lingani Joins Eastern Cape Safari Team
Lingani joined our Eastern Cape Safari team at a waitressing casual at Main Lodge after visiting Themba in 2008. She explains how she had to humble herself and start at the very bottom, washing dishes and floors. It was her eagerness to learn, using her initiative and always delivering more than was expected that fueled her career path from casual waitress, to permanent waitress as Ukhozi Lodge and eventually Main Lodge trainee manager, before reaching her current position as Lodge manager at The Homestead.
Themba and Lingani's Secret for Success
"You have to love what you do!" says Lingani. She and Themba are living proof that if you love your work and see value in it, you will be motivated, do an exceptional job and inspire the same in others. We recently posted a blog on the top 5 things to do at The Homestead, and would like to add enjoying Themba and Lingani's wonderful hospitality to the top of the list!
Email lindy@kariega.co.za if you have had the pleasure of being hosted by Themba and Lingani at The Homestead and would like to share your experience.