Inspiring Eastern Cape Rhino Story Appears in SA Magazines
The amazing story of rhino mum Thandi and her calf Thembi were featured in the South African You and Huisgenoot magazines in August 2015. Journalist Pieter van Zyl visited Kariega wildlife reserve and was able to meet the inspiring pair.
Pieter tells how rhino Thandi survived the horrific poaching incident in 2012. "Poachers hacked off her horns and left her for dead, but this plucky rhino survived – and she had another surprise in store." says Van Zyl. Read more about the story of Thandi and Themba.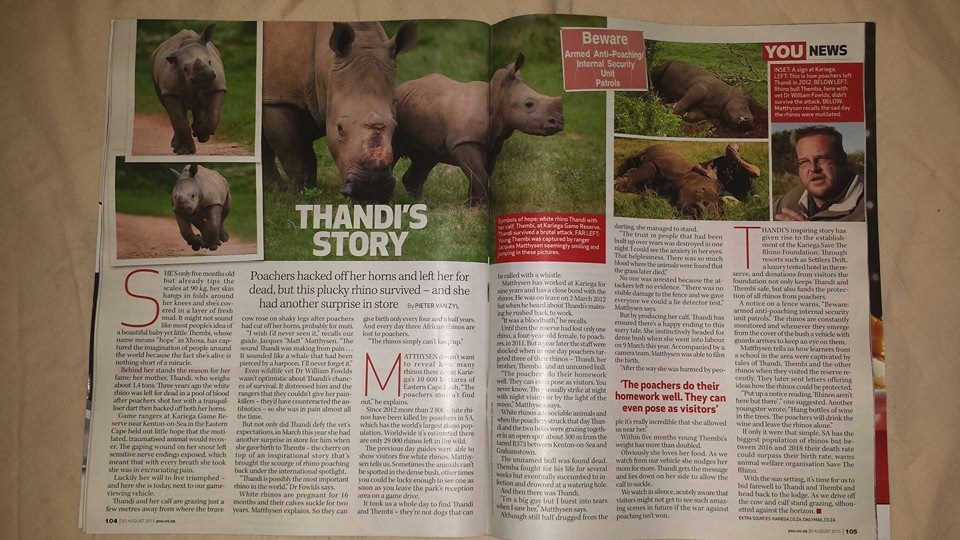 Ranger Jacques Matthysen (pictured above) has worked at Kariega Game Reserve for nine years and recalls the dreadful day of the poaching with great emotion. Wildlife vet Dr William Fowlds is pictured alongside the rhino bull Themba who did not survive the horrific attack.
"What a amazing feeling and honour to have my images in the popular South African magazines Huisgenoot and You. Thank you all, not only for your support, but for sharing the hope for our rhino. We all need to stand together by promoting this cause - STOP RHINO POACHING." says Kariega ranger Jacques Matthysen.
Bouncing Rhino Calf on our Eastern Cape Game Reserve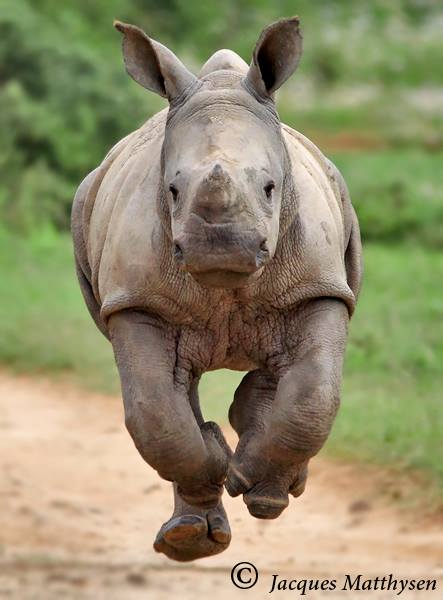 This picture of Thembi taken by ranger Jacques shows why all the hard work is worthwhile! A happy healthy rhino calf enjoying the freedom of our beautiful Eastern Cape Game Reserve.
Were you fortunate enough to meet this happy pair while on safari at Kariega? We would love to see your pictures. You can share them with us by posting them onto our Facebook page.