Heritage Day 2015: Unique South African Food and Phrases

Heritage Day is a South African public holiday celebrated on 24 September each year. We enjoy a day to embrace our diversity and celebrate the rich cultural heritage of our country. The Eastern Cape area has a particularly rich biodiversity and cultural heritage which we love to share with guests. 
Try Uniquely South African Terms on your Safari Guide
Our language is peppered with phrases from our many native languages. You might hear a few new and uniquely South African words and phrases. We've listed some of our favourite South Africanisms which you might like to try out on your ranger.
Just now - sometime in the near future or the near past, not necessarily immediately. "Will ee will be leaving on our game drive just now?"
Lekker - nice, good or great. "This is a lekker place to stop for sundowners."
Howzit - derived from "How is it going?" More a greeting of hello. "Howzit. How are you doing today?"
Jislaaik – an expression of surprise, can be positive or negative. "Jislaaik! That is a big elephant."
Tekkies – sneakers. "Should we wear tekkies on the game drive?"
Cozzie – a swimsuit, short for swimming costume. "Is it warm enough to swim in my cozzie?"
Fundi – expert. "You are quite a fundi on local fauna and flora."
South African Heritage Reflected in our Food
Our South African heritage is also reflected in our food. Look out for the following during your Kariega stay.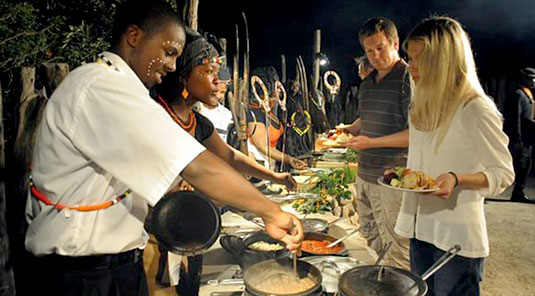 Biltong – dried meat similar to jerky. This is one of the snacks served on our sundowner stops. 
Boerewors – farmer-sausage (Afrikaans). Try it at a boma evenings or bush braai (barbeque). 
Potjiekos - small pot food (Afrikaans). Traditionally cooked in a round, black, three-legged, cast iron pot. You can see these in the picture above taken at one of our boma nights.
Naartjie – tangerine, mandarin, satsuma. From June - August this fruit is abundant in our area and you will most likely find somewhere at breakfast.
Melktert - milk tart (Afrikaans) is a South African dessert with a pastry crust and creamy milk filling. 
Koeksister - a syrup-coated doughnut. Be careful once you've tasted them they become difficult to resist.
Did you come across any other South African traditions that you enjoyed during your stay at Kariega? Tell us about your experiences and share your favourite safari pictures with us by posting them onto our Facebook page.