European Wildlife Photographer of the Year 2014
Living Rock Art photo wins European Wildlife Photographer of the Year 2014
We are very proud to announce that South African photographer Neil Aldridge has won the coveted title of 2014 European Wildlife Photographer of the Year with a photograph that he took at Kariega!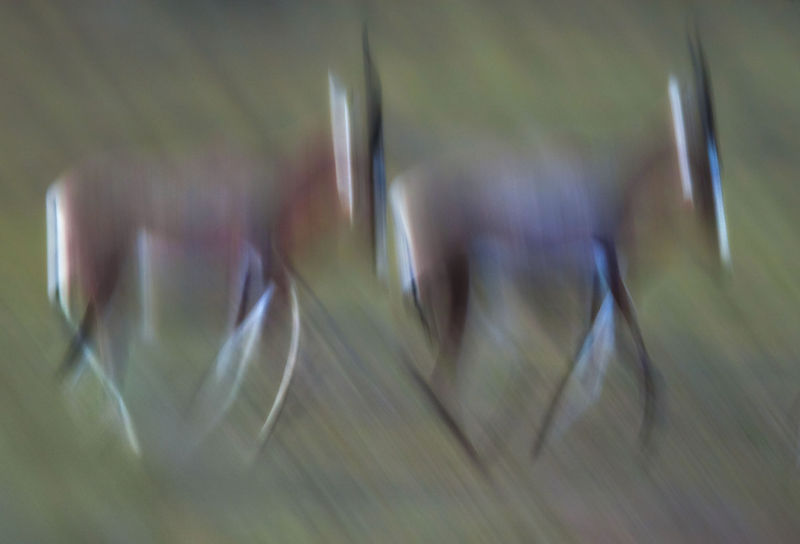 Neil's artistic image 'Living Rock Art' shows two blesbok antelope running over the grassy plains of our Eastern Cape Game Reserve. The photograph was selected as the winner of the competition's Nature's Studio category before being awarded the overall title by the panel of expert judges. 
Well-known documentary photographer of conservation issues
Neil is well-known for his documentary photography of conservation issues, and was in South Africa working on a story about the rhino poaching crisis for British-based magazine Wild Travel when he took his winning photo. "We had been following one particular female rhino (Thandi) that had survived a brutal attack by poachers," he says. "I think I had photographed her from every possible angle so we decided to take a break. That's when we found the herd of blesbok."
With the light on the open plains fading fast, Neil decided to shoot in a more artistic style than his usual candid documentary approach. "The result was no accident. I was working hard to capture their movement in a still photograph. What I hadn't banked on was that the shapes created by their striking markings would closely resemble Bushmen rock art, which influenced the title of the image."
All of the winning images can be seen on the competition's website www.gdtfoto.de. 
More of Neil's award-winning photographs, including many beautiful images taken at Kariega, and a preview of his new book 'Face to Face with Wild Africa' can be seen on his website www.conservationphotojournalism.com.
Congratulations Neil on this well-deserved award. We look forward to your next visit to Kariega.