Kariega Conservation Volunteer September 2014 update
The seasons have changed and we are now officially in spring! This means rain and warmer days. Whatever the weather, the conservation volunteers had an action-packed time at Kariega this month.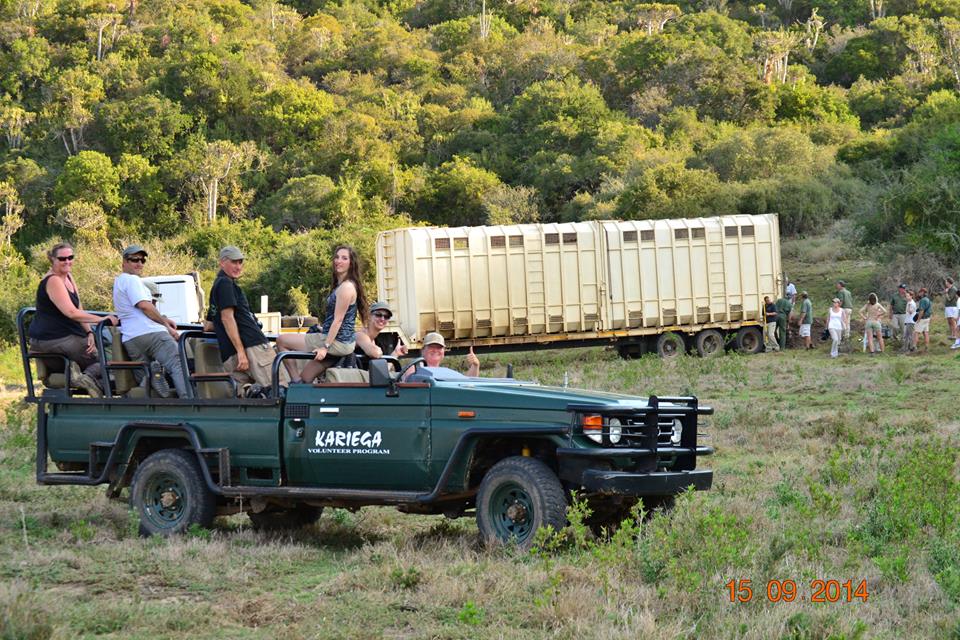 Research Projects
Lion Prey Study
Our volunteers enjoyed great lion sightings this month, including the pride feeding on black wildebeest and bushpig. We were also very lucky to see a male lion mating with a female twice. Fingers crossed, we hope there will be cubs soon. Lions have a gestation period of 3½ months. Mating for lions is a very intense affair. They will mate every 20 minutes for 4 days and nights with each lasting approximately one minute.
Elephant Impact on Vegetation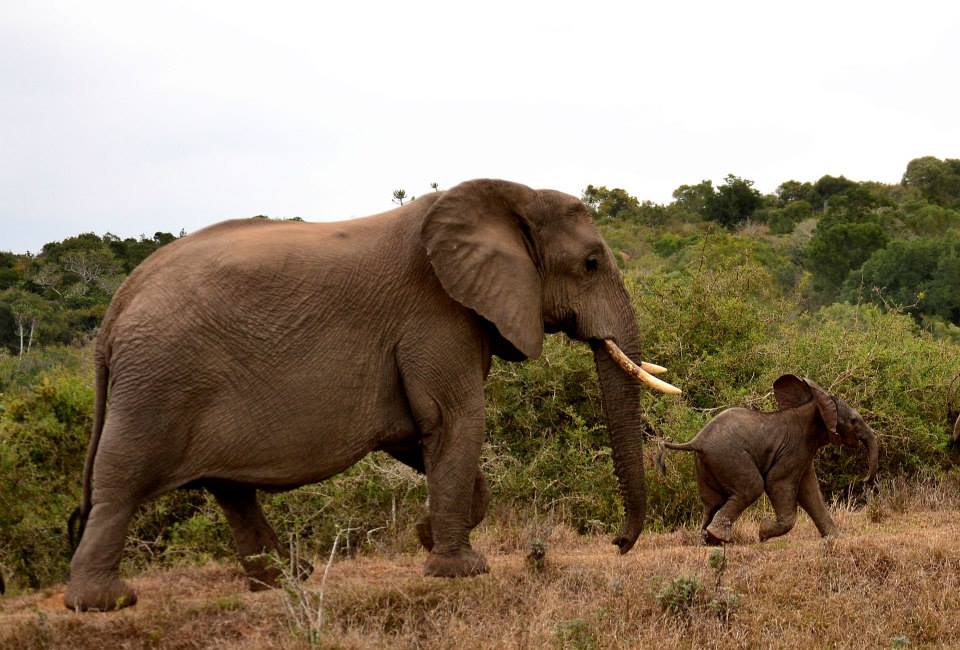 We were very excited to welcome two baby elephants at Kariega this month. Both our matriarch and another cow (who is part of the same herd) have newborns at the moment. It is always very special to see the little ones hiding and walking between the mothers' legs, with the mothers being so proud and protective.
During September the volunteers observed the elephants consuming the below vegetation: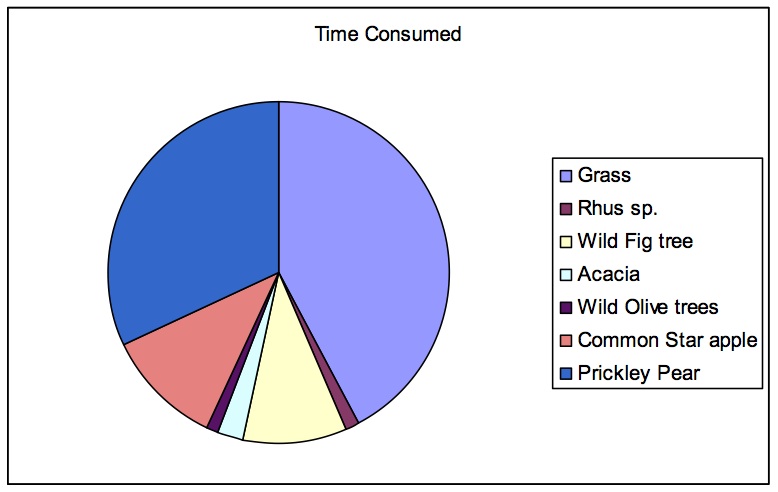 Rhino Spatial Movement
We were delighted to see yet another newborn – this time a baby white rhino! Almost a month after one of the white rhinoceros cow's calf was relocated, she gave birth to another calf. This is great news for all of us. As mentioned in previous newsletters, due to the constant danger of poaching attacks, we are unable to disclose more information about our rhino movement monitoring project. Just know that our volunteers are doing great work in this area!
Camera Traps
At this stage we have two working camera traps and we hope to be getting some more soon. We did come across some interesting footage including: two porcupines together in one photo, a small spotted genet, mongoose, caracal, black backed jackal, bushbuck, black and white rhino and brown hyena.
The volunteers were very excited to see a brown hyena on one of our night drives too. We followed it for some distance before it went into the thicket. They are very skittish and we were very lucky to have seen it.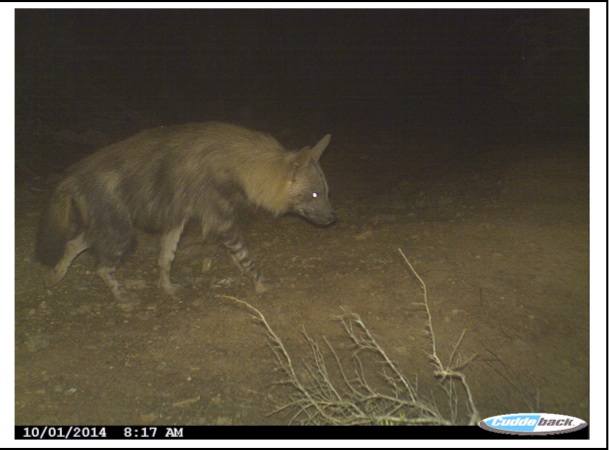 Other Activities
Alien Invasive Species and Vegetation Management
During September the Kariega Volunteers started a small plant nursery for the gardens around the Kariega lodges. This consists of indigenous plants from the reserve including Euphorbia, Pork bush, Arum lilies and other flower ball plants. The volunteers carefully dug up the plants and replanted them in nursery black bags.
We also planted about 359 Pork bush cuttings on the reserve in areas that need to be rehabilitated and where there is mostly bare soil.
The Kariega Volunteers also helped to get rid of more alien invasive species and chopped down 115 Pine trees of various sizes.
Maintenance on Kariega Game Reserve
The volunteers helped to remove old fence poles and fence pieces on the reserve, particularly in the Harvestvale section. This was no easy task, especially as the soil was really hard (spring rains had not yet arrived). It was a rewarding job and we enjoyed seeing the poles in a heap, ready to be loaded and used again for a different purpose.
We had some rain in late September which has caused the bush to grow fast again. The volunteers helped with road maintenance and clearing too this month.
Game Captures and Releases
The volunteers were really fortunate to participate in numerous game captures and releases during September. They also attended a rhino dart and relocation. Unfortunately we cannot elaborate further on this activity for safety reasons.
The highlight of the month was witnessing the introduction of elephants onto a remote section of the reserve called Harvestvale. It was extremely special for all of us to be part of this event. Harvestvale is a pristine piece of land which has had very limited human interference. Although elephants roamed freely in this area a long time ago there have been no elephants on this land for about 100 years. Previously the Eastern Cape had the highest concentration of elephants in Africa. One can therefore imagine what a goose-bump moment this was seeing elephants back on this piece of ground.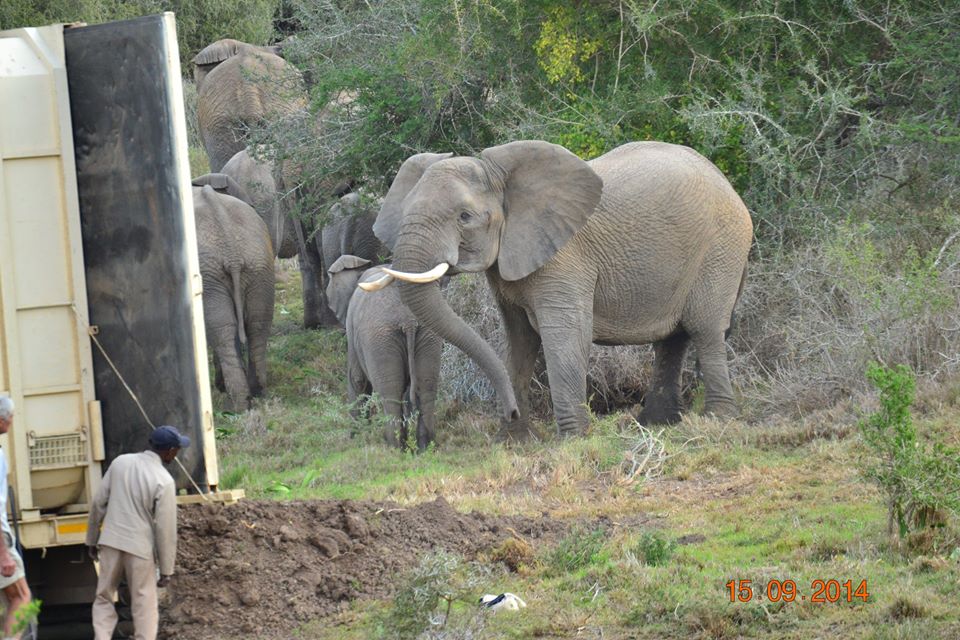 Another game capture activity that the volunteers assisted with was the capturing of Nyala ewes. The vet, Dr William Fowlds, darted the ewes with a tranquilizer which contained a little tracker as well. After the darting the ewes all ran away to hide in the thicket and the volunteers had to track them with telemetry. We carried the animals out of the thickets so that the assistant vets could give them a check-up and administer any necessary treatments. They were then loaded into a transport crate and translocated to a boma (animal enclosure).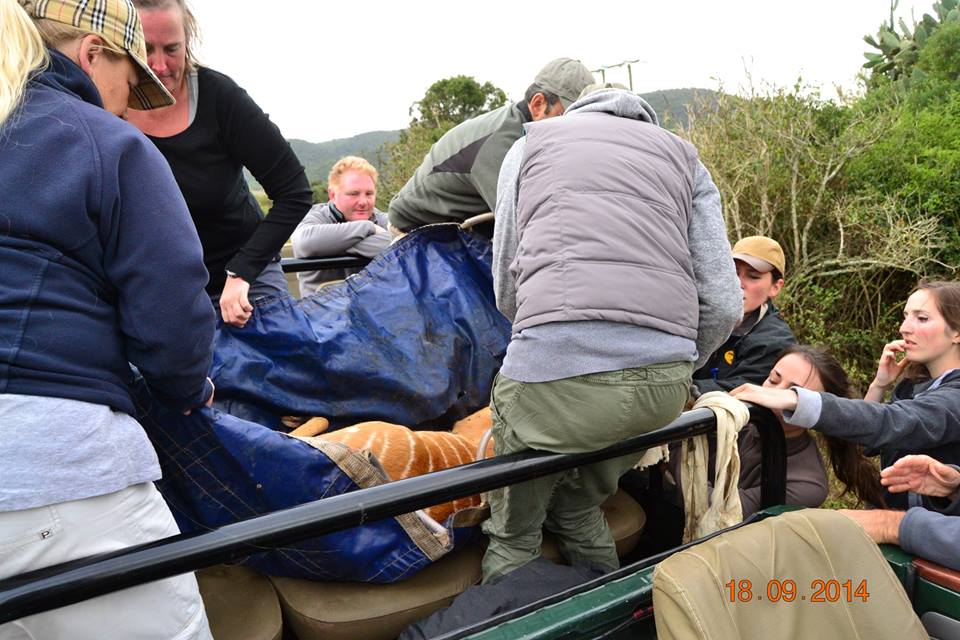 Weekend Activities
The weekends in September were full of adventure and action. The first weekend the volunteers went skydiving in the nearby town of Grahamstown. All the volunteers that did the jump said that it was something that they would like to go again! It is always entertaining watching everybodies skydiving dvds the night afterwards…
The second weekend the volunteers went to Addo Elephant National Park for the day. Two volunteers also went with Freewalker on a weekend to Plettenberg Bay. The volunteers who went to Plettenberg Bay participated in some adventurous activities like shark cage diving, bungee jumping and waterfall ziplining.
The third weekend the volunteers opted for a more relaxed weekend. They went horse back riding on the beach in our local town, Kenton-on-Sea. This is always a fun and relaxing activity and you can appreciate the quiet and peace of the beach. If you are lucky you could also see a whale blowing in the distance.
The last weekend of the month some of the volunteers enjoyed an adventure-packed weekend in Plettenberg Bay again with Freewalker and the rest of the volunteers went to Port Alfred for the day. We had a lovely lunch on the beach and used the rest of the day to explore the town.
If all of this sounds like fun to you, send us an email to volunteer@kariega.co.za and enquire about joining our programme. We are mostly fully booked already for the remainder of the year but there are plenty of spaces left for 2015. Take the plunge and come and volunteer with us next year.
The Kariega Volunteer Programme is taking a two week break from the 6-19 October to recharge and get ready for the last three months of 2014. Our next newsletter will be in November. Have a happy October everyone.
Yours in conservation
Frances van Pletzen
Kariega Volunteer Programme Coordinator