The Kariega Conservation Volunteer programme has had a very exciting term and volunteers have been immersed in the thick of things as far as conservation work is concerned. Highlights have included game counts, game captures, wildlife monitoring and habitat rehabilitation. The conservation volunteers have explored the African bush and learnt a great deal in the process. Our volunteers have gained not only deep insights and new skills in conservation,, but also a collection of new friends from around the world.
Lion Monitoring
Lion research has shown less periods of cohesion among the males and females, as opposed to earlier this year. Only one mating incident recorded this term between LS3 and the oldest male lion. Although cohesion is not plentiful, it is worth noting that periods of union have been very relaxed, showing no hostilities between the males and females. It is suspected that the lack of cohesion may be as a result of a lack of external pressure on the lions.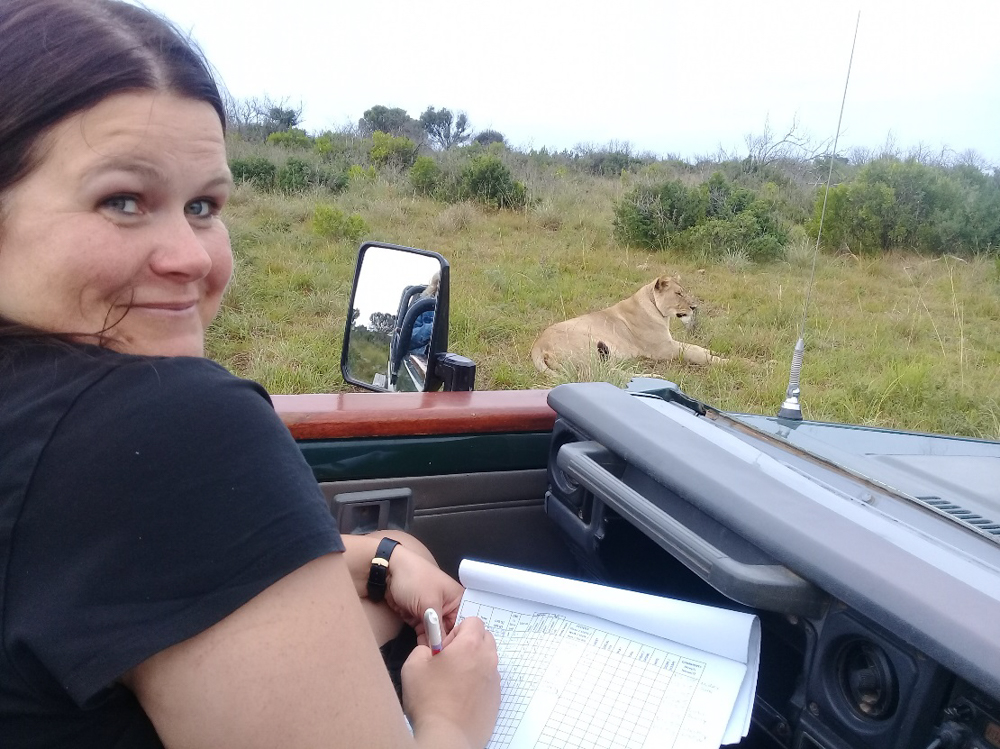 Rhino Monitoring
Rhino monitoring remains a top priority for our team. These animals have been located and observed, and collared individuals have had their collars tested. This has ensured that they can be safeguarded as efficiently as possible by the Kariega anti-poaching unit. Volunteers also assisted with the dehorning procedures for Thembi, the first calf of poaching survivor Thandi. It is unfortunate that such extremes are necessary to support her safety, but this offered an excellent opportunity for volunteers to learn about this important procedure and get up close and personal with one of nature's most incredible animals.
Elephant Monitoring
Volunteers have also monitored the elephants on the reserve and are happy to announce that all the new members born at the end of last year are healthy and strong. This is likely as a result of the excellent parental care they have received from their moms, as well as the support from the herd. Although the expanding population may require contraceptive control in the future, current feeding behaviour has shown minimal destruction to the overall vegetation, with the animals primarily feeding on the move, without excessive utilisation of individual plants and areas.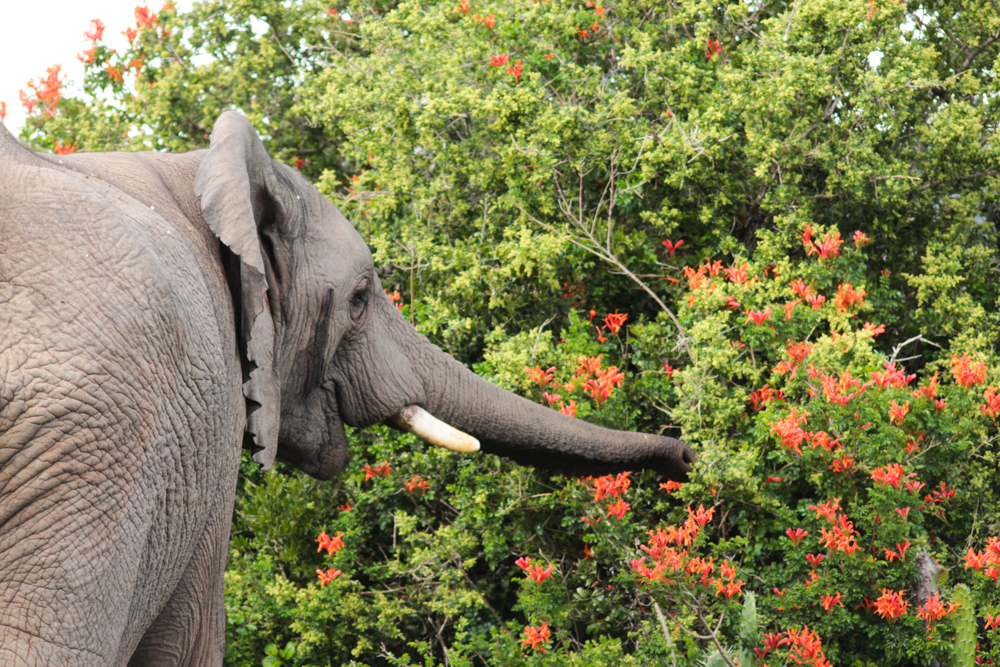 Serval Husbandry
The serval breeding programme has not yielded any new kittens this term. Volunteers continue to ensure the cats have a healthy and clean living space, free of waste and with clean water.  Items are also added to keep them mentally and physically active like higher platforms and boxes.
Alien Invasive Plant Eradication
Alien plant eradication has been hugely successful this term with volunteers removing 5,600 black wattle (Acacia mearnsii), 112 blue gum (Eucalyptus globulus), 54 cluster pine (Pinus pinaster) and 20 prickley pear plants (Opuntia ficus-indica). This important work has ensured that alien plant species are not allowed to form new homogeneous stands which restrict indigenous plant and animal biodiversity. Furthermore this work prevented established alien plants from expanding across the landscape. Thanks to these activities more water is made available for indigenous vegetation, which is critical considering the current dry conditions being experienced in the Eastern Cape and Kariega.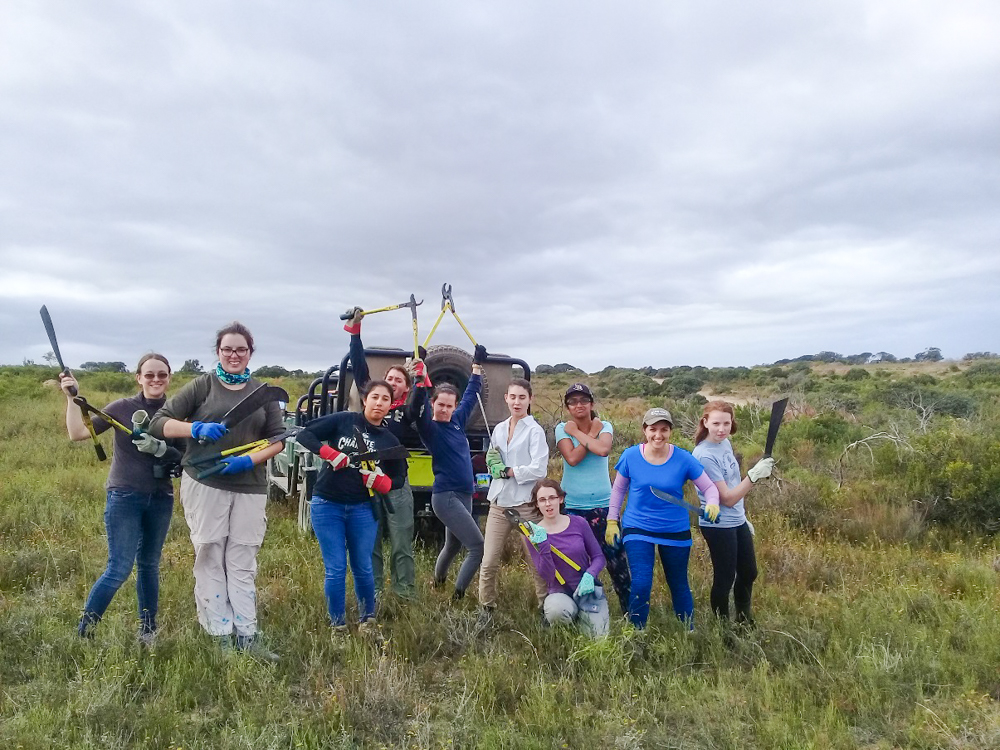 Community Outreach
Our community outreach has continued on Wednesdays with assistance at school programmes during the morning, and visiting the Helping Hands soup kitchens in the afternoon. School outreach to Farmerfield, Bushwillow and Ekuphumleni schools have been done where teaching environmental education is the main aim of the visit. Themes such as the importance of biodiversity, recycling and marine conservation has been taught to the school children. Visits to the Helping Hands soup kitchen has been a tremendous success. Over this term, volunteers have collectively donated 23 kilograms of clothes, supplies and toys to the kitchen and 24 kilograms of food. These contributions are immensely appreciated and go a long way to improving the quality of life for these wonderful children. A big thank you to all who so generously donated. Afternoons were spent teaching the children how to sew, talking about dental hygiene, assisting with homework and sharing love and attention are always memorable. Even an occasional party has also been a great tonic for all involved.
Fun Times
After all the hard work done by our team, we have also taken the time to enjoy our magical natural surroundings. Incredible stargazing, fun swims and cliff jumping into the water, canoe adventures and bush braais are but some of the many pleasures relished. But at the end of the day, it is the marvels of the African bush and the incredible friends made along the way, that remain with us all most vividly. A huge thank you to all the volunteers, whose contributions have made such a positive difference!
Yours in conservation, Jarrett Joubert, Kariega volunteer co-ordinator.