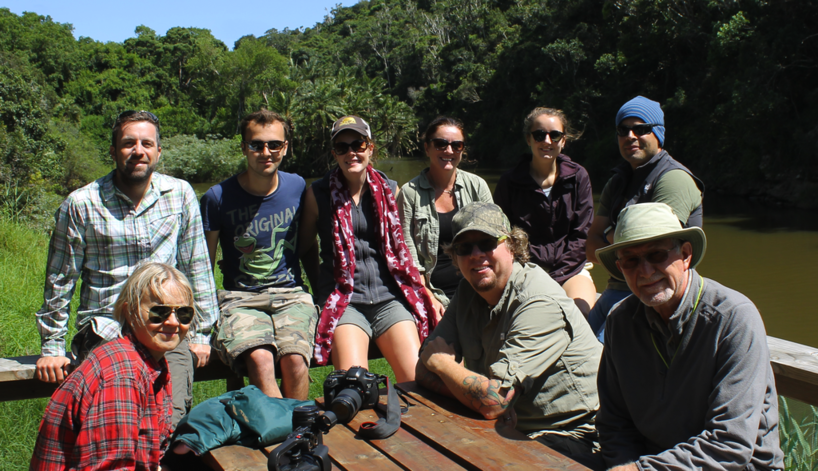 "The Kariega Conservation Volunteer Programme was the adventure of a lifetime, and I will carry the memories with me forever until I can return again and enjoy what I believe is one of the most beautiful places on earth." Trey Xander, USA.
Trey joined the Kariega Volunteer Programme for three weeks from 19 October to 9 November 2015. His group of fellow volunteers was incredibly diverse including people from the USA, Germany, Switzerland, Belgium, The Isle of Man, Ireland and South Africa with ages ranging from 20 to mid-60's and professions that spanned the creative, technical, scientific/biology, energy and engineering fields.
Over the course of three weeks Trey and his group, together with programme managers Frances and Helena, engaged in conservation and community projects and enjoyed many unforgettable experiences and interactions with the plentitude of game and wild animals at Kariega including elephant, lion and rhino.
Trey's informative and inspiring diary captures the highlights of his African adventure
19 October 2015: Upon our arrival at the main lodge, we were greeted by the warm hospitality of Frances and Helena before being transported in our open game-viewing vehicle to the volunteer house. We unpacked, got settled and were introduced to the tree house platform that overlooks a small waterhole, which we shared with a colony of vervet monkeys. It was from here that we watched our first African sunset as new volunteers.
Encountering the elephant herd - a spectacular experience
22 October 2015: We encountered the elephant herd - a spectacular experience! Not only did we come across multiple elephants in one location, but several of the elephants came right up to our vehicle and moved around us less than a meter away, grazing on prickly pear, grass and native vegetation. This was one of the most beautiful moments of my life - observing the elephants so closely, and listening to their low rumbles and interaction with each other. A small baby (only weeks old) was carefully guided and shielded by its mother and other adult females, as it reached for its mother's tail and imitated the actions of its adult family members. I feel so very lucky to have had such a close encounter with my favorite animal. This was also an opportunity to learn about elephant feeding patterns, and how to identify their affect on native and invasive species, vegetation and dispersal.
The release of two lionesses
23 October 2015: An experience to remember. We were invited by the reserve to witness the release of the two lionesses into the pride. One is a new female from a neighboring reserve; the other was already part of the Kariega pride but was placed in the boma with the new female for a month to assist her in her acclimation and socialization.
In the afternoon, we planted spekboom to help spread this highly beneficial and beautiful plant to two other areas where erosion control and vegetation were needed. On the way back to the compound we passed the elephant herd grazing and watering themselves.
26 October 2015: In the afternoon, our team cleaned up the nursery. We worked together re-planting seedlings into larger containers, removing fallen leaves and debris from the nursery pots, raking and re-organizing. When we were done, the nursery looked beautiful!
Meeting white rhinos Thandi and Thembi
27 October 2015:  We introduced the new volunteers to a field study of hippos in the Kariega river. We then went into rhino territory and were delighted to see three adult white rhinos, one of which was Thandi and her calf, Thembi. Frances shared the story of Thandi, the devastation and horrific impact of poaching, and the steps being taken to address this critical issue and promote awareness and education.
A deep respect for the kids at Farmfield School
28 October 2015: Frances picked us up for another day of teaching assistance at the nearby township school. When break came, one of the boys in the class pulled me over and invited me to join him and his classmates in football. We played, and I found myself accepted into the group. One thing that really stood out to me was the strong camaraderie between the boys. When one of the players hurt his shin while going in for the ball all of his teammates gathered around him in support, rubbing his leg, his shoulders and offering words of encouragement. After a couple minutes, the boy stood up, supported by his peers, and got back into the game. I don't think I've witnessed this type of support in my years of school growing up. Even though these kids have so little in terms of monetary value and possessions, they are rich with a bond of companionship and support that is worth so much more.
2 November 2015: In the afternoon we did a lion study of Mandora (adult male lion) and the sub-adult male. We located Mandora via his collars' tracking signal. Once we found him, we were surprised to see him working in close tandem with the sub-adult male and marking territory by spraying approximately every 300 meters, hardly slowing pace but to spray, for approximately 5km, at 4.5 km/h. The two males were testing the air regularly, tracking a scent. Frances had never seen this behavior before and I was fortunate to have caught it on video.
I am so happy – we found the elusive black rhino
3 November 2015: Went on a hunt for the black rhino, and finally were treated to a rare and close-up appearance! We enjoyed a few minutes of amazing viewing with the rhino only about 30 meters away. Am so happy! This bull was absolutely beautiful. One of the highlights of my entire volunteer experience here at Kariega.
5 November 2015: On the way back to the volunteer house after some hectic bush clearing, we encountered a family of elephants enjoying a mud bath along the side of the road at Yellow Wood Bend. Was one of the highlights of my whole experience with bulls, cows and matriarch, a young baby, and One Tusk having a joyful time bathing and playing in the cool mud. It was amazing to see the playful side of this herd. I will remember it for the rest of my life.
My last day at Kariega
6 November 2015: I started the morning by planting spekboom. I really enjoy this task, as I feel with each stem I plant, I'm leaving my mark here in this beautiful place. We then stopped to enjoy elephants on Zebra Plains, grazing grass. Big Bull was there - such a magnificent animal! How could a day go wrong when you have the chance to appreciate such an amazing and noble bull? I will miss the sight of him once I leave, but will always have a memory in the many photos and videos I've taken during my stay. We then encountered 3 white rhino making the morning perfect. After the rhino and elephant studies, Frances took us on a hike up to a waterfall, where we stopped for a half hour and refreshed ourselves in this spot of tranquil beauty.
When we got back to the house, we noticed that the group of vervet monkeys has returned to the trees out front. When the rest of the group went inside, I took my video camera up into the tree platform, where I was hidden from view, and had the wonderful privilege of filming a mother with her baby foraging along the ground below. I filmed her for about 15 minutes, and delighted in the interaction between mother and child. I was very lucky to have had this experience and it was the perfect end to my time as a Kariega volunteer.
To find out more about becoming a Conservation Volunteer at Kariega contact volunteer@kariega.co.za or visit the Conservation Volunteer page on our website.