Angie had a very busy time on the reserve in December 2014 before she returned to the United Kingdom for a short Christmas break. We look forward to welcoming her back in early February. She is looking forward to meeting Thandi's calf and assisting to monitor and protect them.
Turning Tables with the Kariega Conservation Volunteers
In 2012 I came to Kariega as a volunteer. My first "behind the scenes" wilderness experience changed my life forever. A few weeks ago I was asked if I would like to look after the Kariega Conservation Volunteers while the co-ordinator went on a weeklong first aid refresher course. I jumped at the chance! What a great opportunity to meet new people from all over the world and from different walks of life who share the same passion for wildlife, living in the bush and seeing wild animals on a daily basis. I had already met a few of the volunteers previously when I gave them talks about Thandi and the rhino poaching crisis, so it was nice to take them out and show them my role on the reserve and get them involved.
On one of the days we packed a pack lunch and headed to the furthest side of the reserve. We sat up on a high lookout point looking out over the Bushman's river watching the wildlife below us. On our way back we went in search of the black rhino.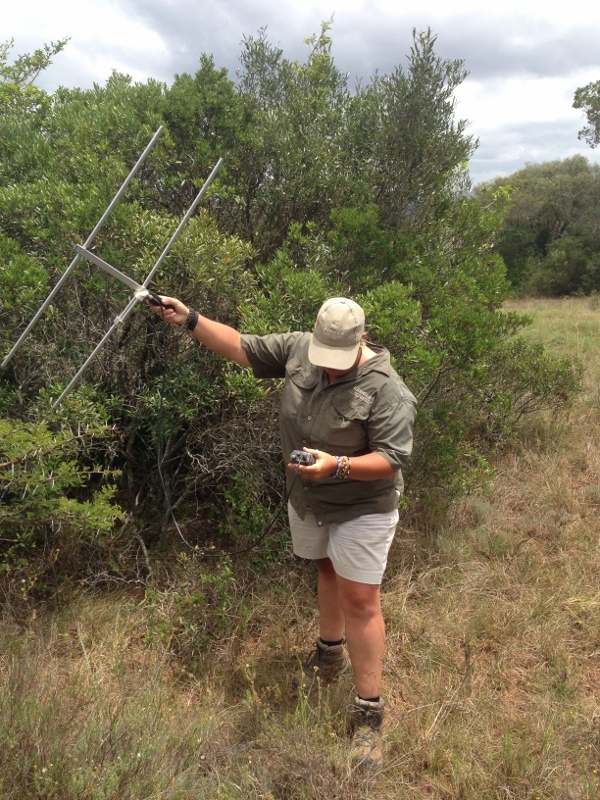 On another day I dropped a couple of the volunteers off for a massage at Main Lodge. The rest of us went to do some poisoning of an invasive alien plant that is taking over on some parts of the reserve. The afternoon was made more exciting by the herd of elephants, white rhino and her calf that we found on the way there! Fortunately the lions were a long way away but to have two out of the Big 5 in close proximity to you makes the afternoon very exciting.
Stuck in the Mud and a Kariega Rescue
After a good hour of poisoning we headed back to meet the others. From there we planned to go for for pizzas in the nearby beach village of Kenton followed by a night drive! Sounds like a plan? Hmmm, good plans don't always work out as you expect. Instead driving back through the valleys and me telling the guys this was perfect leopard country with over hanging trees and plenty of small antelope, we found ourselves grounded, stuck, completely up to our axels in a muddy rut! What could have turned out to be an epic fail actually turned out to be one of their highlights of their experience. I think we were pretty safe from any animals that may have been in the area due to the noise of laughter coming from everyone. 
The boys on board tried digging us out whilst the girls went through their bags to see what we had in the way of survival kits... Let's just say I am amazed what people take out on game drive in their bags! We would have had an interesting fun time that's for sure had we needed to of survived for any length of time! Anyway within less than an hour a few Kariega rangers came to our rescue and pulled us out. I had to wear the pink cap reserved for rangers who get their cruiser stuck. We did manage to get to Kenton for our pizza and we did manage to get out for our night drive. Wow what an interesting day!
We also spent time placing a camera trap out on a small hippo carcass, monitoring, boundary fence checking and enjoying a relaxing afternoon canoeing and swimming in the Kariega River.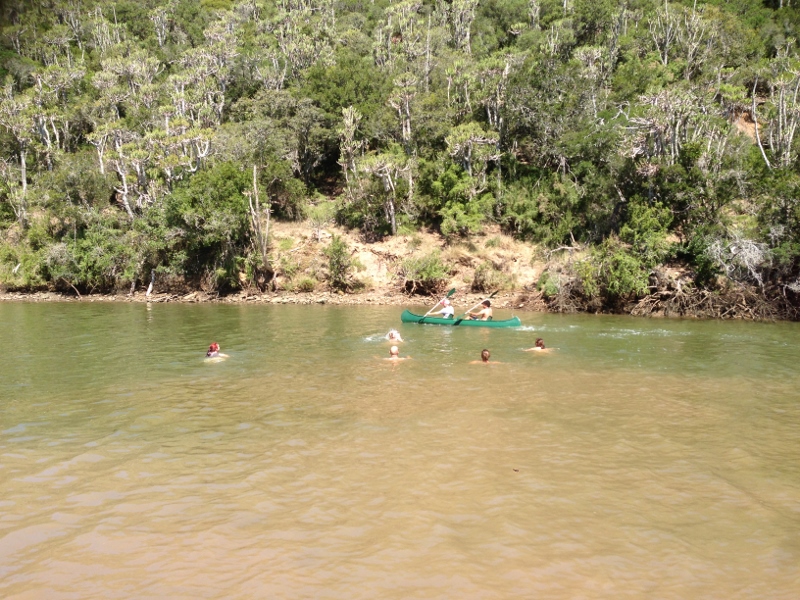 Walking with Dinosaurs
After a fun week with the volunteers it was back to normal for me and I continued to find the rhino every day. This particular day I headed out with Mirko, the head of our Anti-Poaching Unit. Mirko has had many years of experience working in the bush so when he suggested we that we go out to find a pair of rhino on foot I jumped at the chance.
The rhino we went looking for are younger and shyer than some and spent a lot of their time hidden in the thick bush. We headed off through the bushes, slowly and quietly to where the telemetry signal was strongest. Rhinos have poor eyesight but their hearing and sense of smell are excellent. The feeling you get when you are on foot on land that only animals walk on and knowing that there is a prehistoric giant behind the bush in front of you it sends your heart racing! I was honoured to have this opportunity. A few paces more and there they were 15 m away just chilling in the shade and totally oblivious to the fact that we were even there. I spent a few minutes looking at them and then quietly retreated back to the cruiser.
Christmas Celebrations at Kariega Game Reserve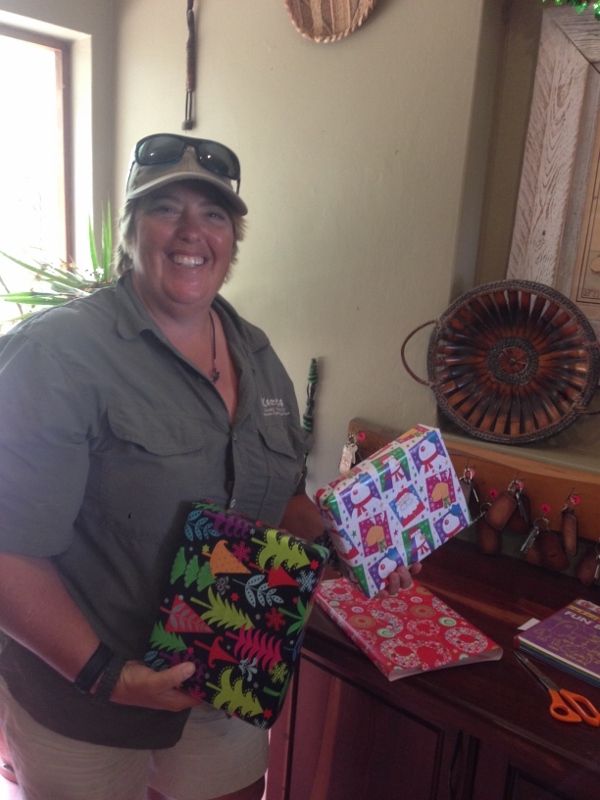 I am someone who is used to cold wintery weather around Christmas time so being in 27C and surrounded by people in shorts and t-shirts seemed quite surreal.
In early December the reserve started to transform, as tinsel, fairy lights and Christmas trees appeared everywhere you looked. The festive season is the busiest time of year for Kariega as many guests come to enjoy the wonderful warm summar weather. The children were so excited that Santa would know that they were staying at Kariega Game Reserve! Of course Santa knew they were there and he makes an extra special effort to make the children's stay a magical one. Every child staying on the reserve received a lovely Christmas present from Kariega and they saw Santa for themselves on Christmas Day!
A Break from my Kariega Internship
Due to commitments on the Isle of Man my internship is taking a bit of a break. It has been an amazing few months living my dream. I have learnt so much and although it's hard to leave I know I will be back very soon. In the meantime, the Kariega rangers will keep me informed and up to date with what Thandi is up to as well as the activities of the other rhinos.
I do hope everyone has enjoyed my blogs and have felt part of my life in the bush. Until the next time! Happy New Year.