Days and weeks have rolled into one! I have no idea where time has gone. It's been non-stop on the reserve and a lot has been happening.
Rhino Thandi Update
Thandi is doing just fine. She is still getting bigger, bless her, but there are no imminent signs that she will be calving just yet.
The relationship between the dominant bull and the other cow and calf has been quite fascinating. Thandi doesn't seem to like being in the big bulls company and will growl at him if he comes too close. The other day I witnessed an interaction that was really quite touching. I captured it in the photographs below.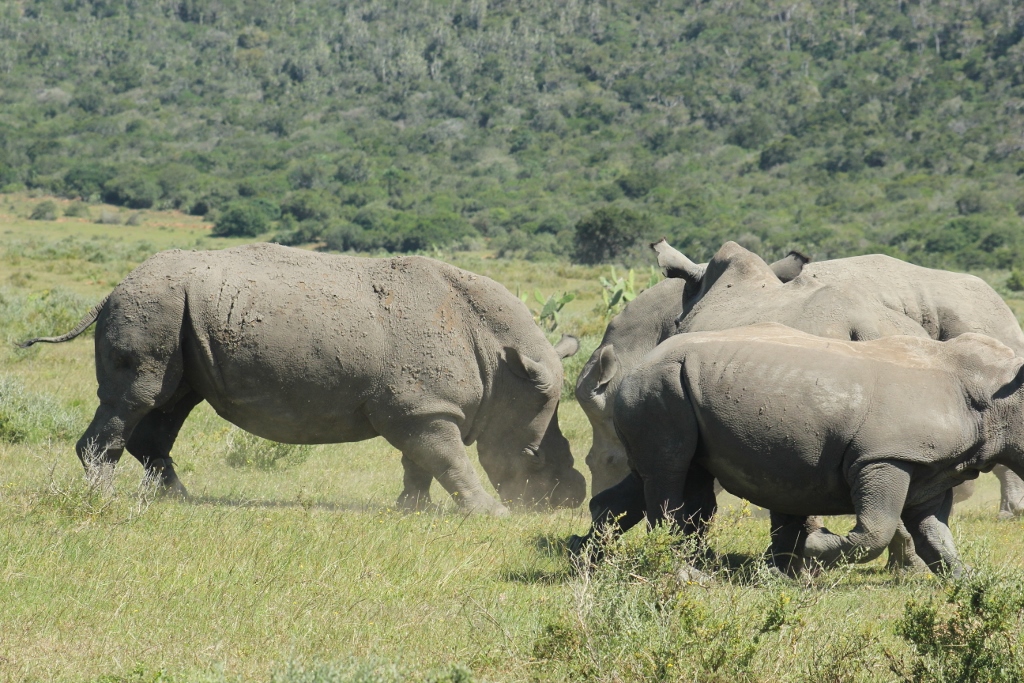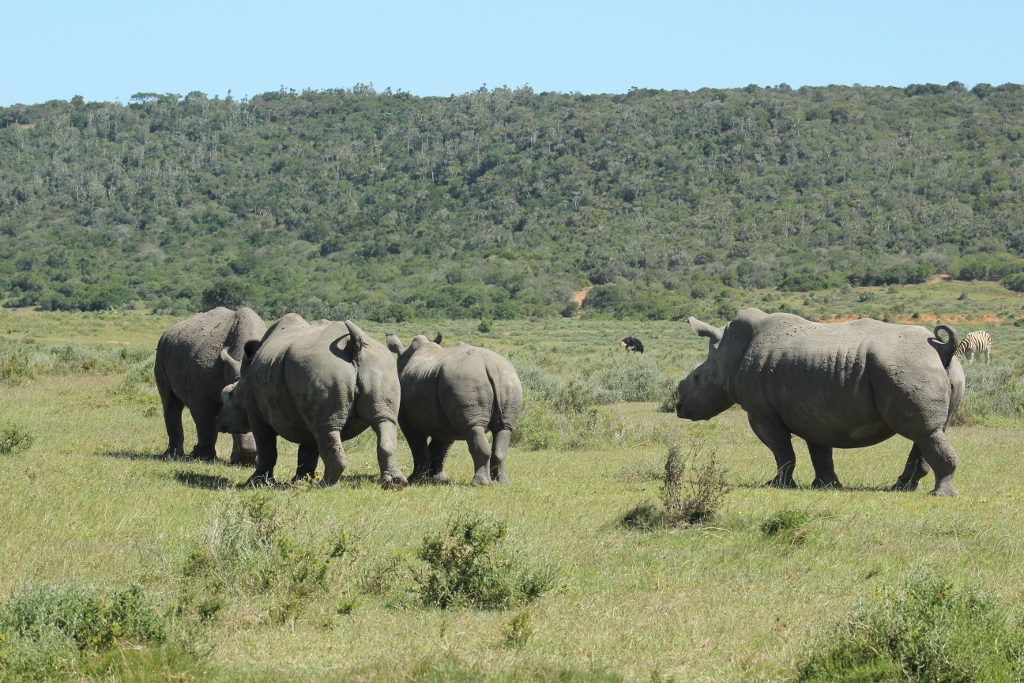 You will see that the bull went to go head to head with Thandi. The dust went flying, there was lots of noise and dancing back and forth and then all of a sudden the cow and calf came in between them and stood in front of Thandi to protect her. I would really love to know what those rhinos are thinking! Afterwards they came and chilled by the cruiser whilst the bull slowly moved off with his tail between his legs. I don't think the bull is necessarily being aggressive, this is just nature at its best where woman rule and a man does not like it!
Special Visitor – Rhino Conservation Warriors
It was a great pleasure to take some special visitors to see Thandi the other day. Jo Wilmot, Carol Harnwell and Rita Steyn are true rhino warriors and do a huge amount of work to raise awareness, educate people and help to save rhinos. As a little thank you for all their hard work they went on a short drive to see Thandi. Jo and Carol both donate a lot of their energy and time to the Chipembere Rhino Foundation. Rita was at Ohio University where she shared lab space with students from Larry Widmers laboratory. This is where parts of Themba, one of the male rhinos who died after being poached in 2012, went to help researchers better understand the bone and skin structure of rhinos and assist them to look at ways to help poaching survivors. Thandi was on super form and gave us an incredible sighting.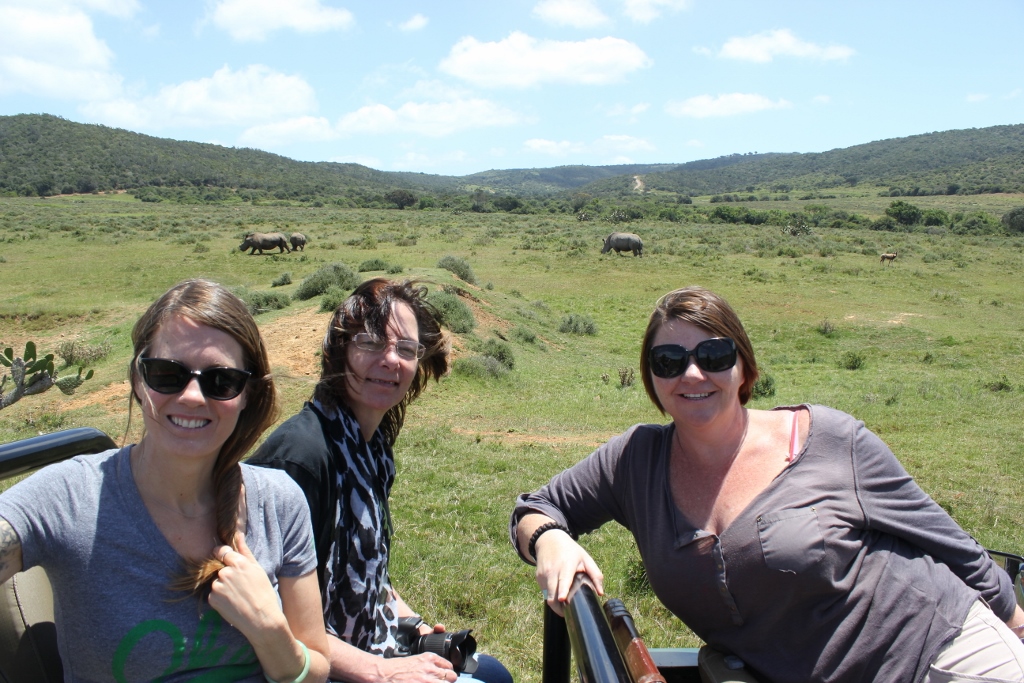 I also hosted the poet and editor Harry Owen. He dedicated his anthology, For Rhino in a Shrinking World, to Thandi back in 2012. This was only the second time in two years that Harry had actually got to see Thandi as on all previous visits she was hiding. Thankfully this time she gave Harry a great sighting. Harry's book is wonderful and available to purchase at the curio shops at Kariega.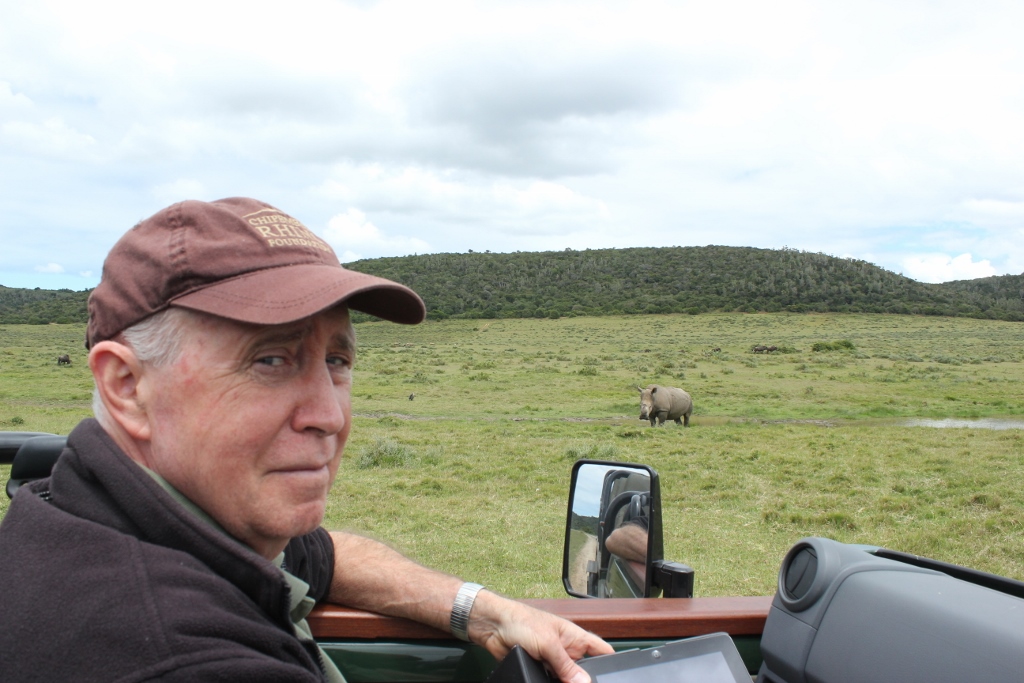 Reserve Protection Agency and the Arora Skate Unmanned Aerial Vehicle (UAV)
We welcomed Scott LB Williams, founder of the Reserve Protection Agency (RPA) and supplier of our Anti-Poaching patrol jeeps, and John Sullivan, director of the technology side for RPA, all the way from Texas USA to demonstrate the Arora Skate Unmanned Aerial Vehicle (UAV). This was the first time that I had seen this amazing technology in the air. LB ran through the technical side of things and explained how it all worked. He showed us the controls and did the pre-flight checks before it was all systems go and the Skate was powered up and launched from John's hands.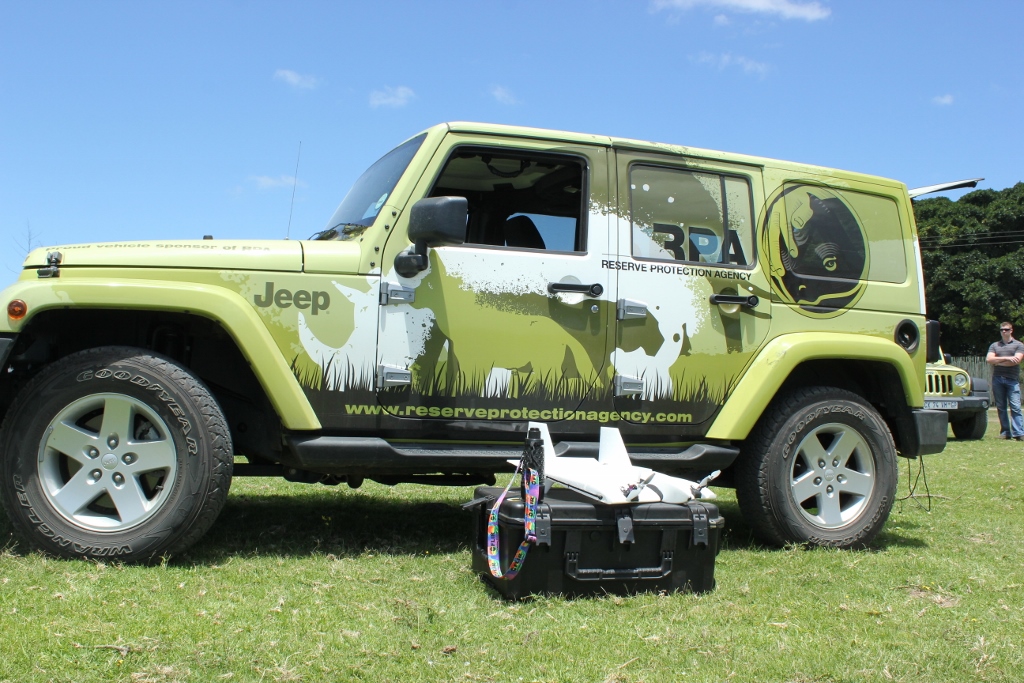 The skate is made from polystyrene and weighs only one kilogram once all of the three cameras are attached. It wasn't a windy day but once the Skate was 25-30m above ground it showed that there was 30 knots of wind. Despite this, it handled well and was flown over the animals to see what their reaction was. It didn't impact the animals one bit they were completely unaware that there was a UAV flying above their heads filming them.
This kind of technology could be used for reserve security and anti-poaching measures. You can fly it at night with the hi-tech night vision cameras. This can assist to detect unwanted people on your reserve to alert your anti-poaching ground team to intercept. We were joined by the Kariega Conservation Volunteer group who got to see this type of technology in action after we had discussed it last month.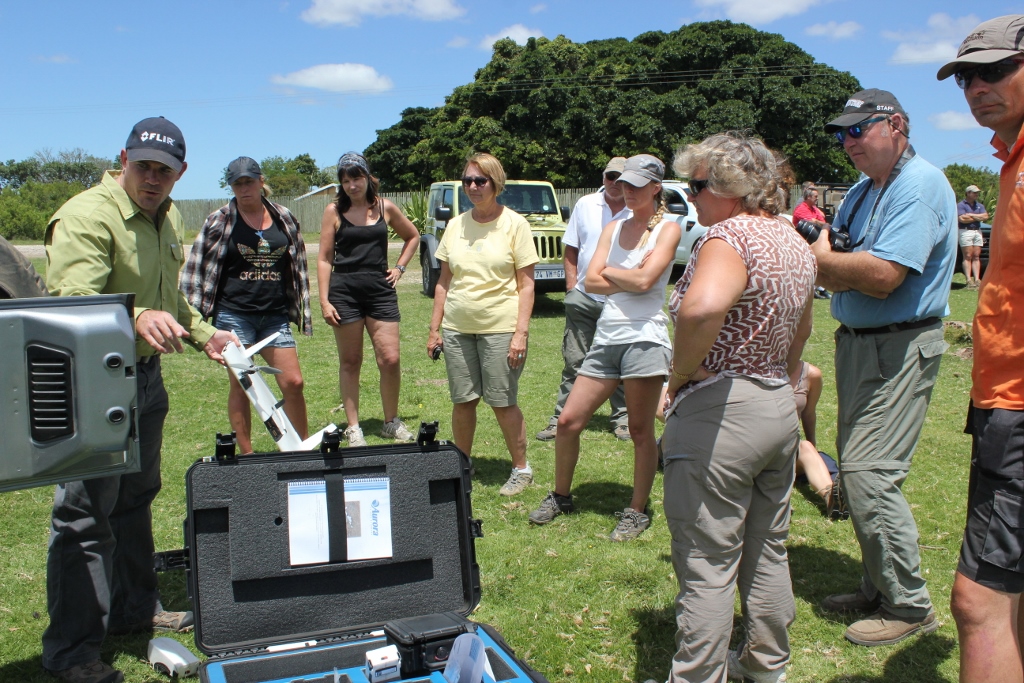 Aussie Group Enjoys a Safari at Kariega
A group from the Australian Hollard Insurance Company visited Kariega Game Reserve as part of their conference tour to South Africa. After a busy schedule leading up to their visit, Kariega was their final port of call. The group required all Kariega vehicles and rangers to be in action - and that included me! My first official guests. Nerves, excitement and anticipation hit me but as I said in my previous blog the Kariega ranger team are totally awesome and they all looked after me! The three days were amazing, I had an awesome group on my cruiser and had some amazing sightings with them. Highlights were the big male lion at sunset, rhinos at sunrise and elephants galore. If you ever want a breathtaking memorable safari experience then Kariega is certainly the place to visit!