Angie Goody: passionate and devoted to saving rhinos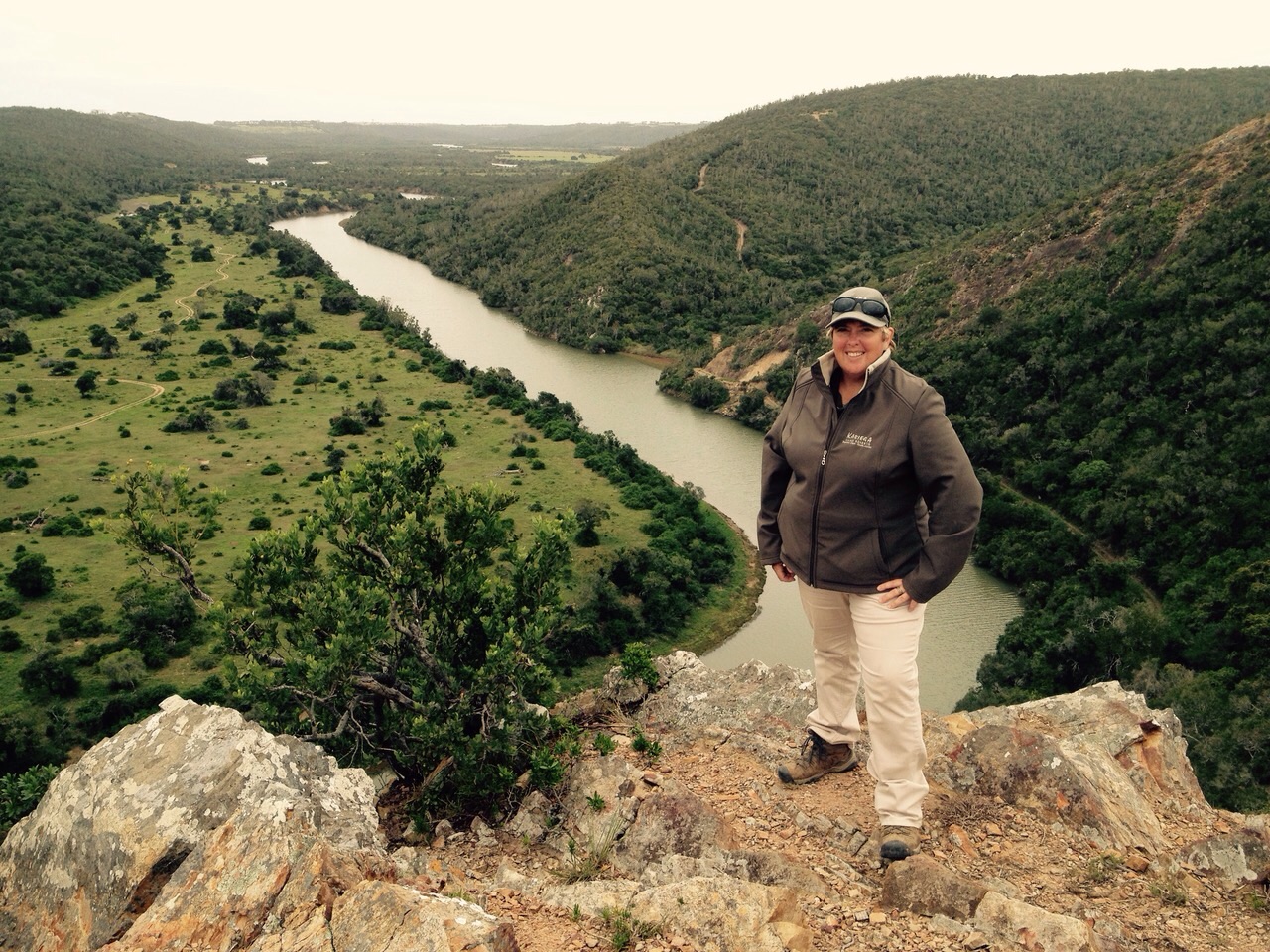 Angie's Conservation Diary is the personal account of rhino conservationist and Kariega intern Angie Goody. Angie usually lives in the Isle of Man and has been running her own own beef and sheep farm for 18 years. Probably the best way to describe her is a person who is passionate and devoted to saving rhinos! 
Her real passion started back in 2012 when she was a volunteer at Kariega Game Reserve and three rhinos were poached on the 2 March 2012. Angie was very fortunate to be a part of the team that helped with the early procedures on Thandi and Themba. When she was told Themba had passed away she was saddened and angry that this poor majestic animal had died at the hands of poachers all because he grew a horn that is made of the same stuff as hair and fingernails. Angie made a promise to Thandi, Themba and those involved that she would do everything in her power to help stop this cruel crime and protect the rhino, and since that day she had devoted my life to conservation, raising awareness and fundraising for the rhinos of South Africa.
In 2012 Angie founded Thandi's Fund Raiser out of respect for Thandi and in memory of Themba. Over the last two years she has raised a substantial amount of money that has gone to rhino conservation throughout South Africa. Her passion for rhinos started at Kariega and she has generously made significant contributions to the Kariega Foundation Save the Rhino Fund as well as other local rhino conservation organisations. 
Thandi's Fund Raiser had a name change and is now a registered Isle of Man charity known as Thandi's Endangered Species Association (T.E.S.A). Find out more on Facebook or visit www.thandisfundraiser.com.
Angie started a three month internship at Kariega in October 2014. She completed her ranger training earlier this year and qualified as a Level 1 FGASA field guide. Angie says, "It is fantastic to be able to finally put my bush skills to the test and it is certainly going to take me on an incredible journey which I wish to share with you all!" Here is her first installment.
---
First week on the job
Job title … well pretty much anything goes, rhino monitor, Anti-Poaching Unit (APU), media, you name it I will get involved and do it!
So my first week has certainly been exciting and busy! I arrived on Friday 24 October and was handed the keys to a little Jeep that will be my vehicle for the next few months. I will use it to drive around the reserve and monitor the rhinos etc. The jeep is on loan thanks to the Reserve Protection Agency (RPA).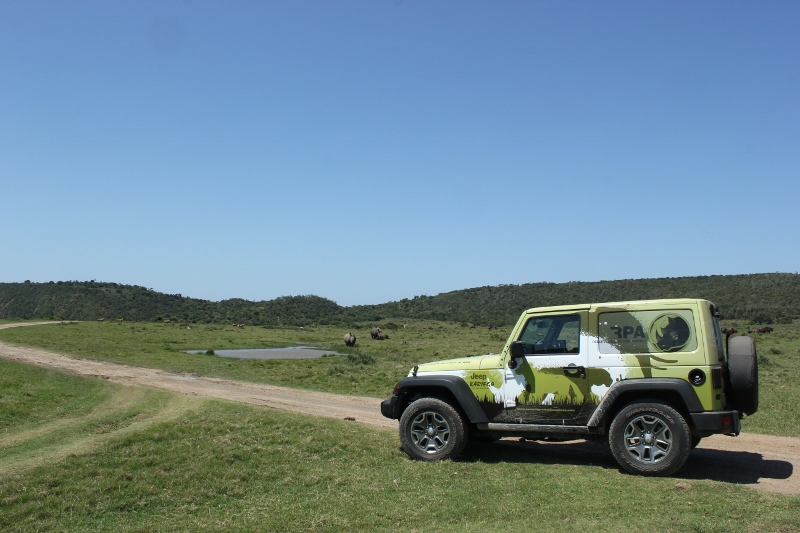 My first trip out in it was to represent Kariega Game Reserve at the Port Elizabeth air show were RPA had a stand to show the public the latest technology in anti-poaching tactics and reserve security to help protect the rhinos. RPA supports several reserves throughout South Africa and Kariega is certainly lucky to have them on board.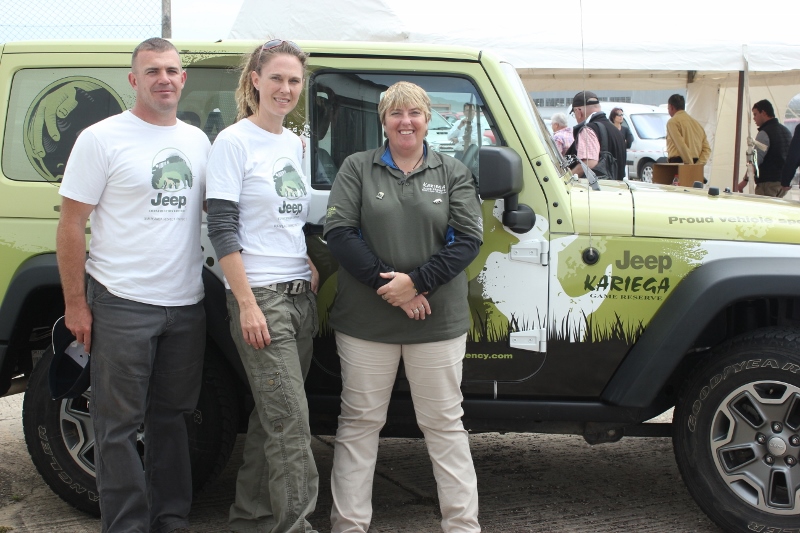 Sunday I spent settling in and unpacking and in between the morning and afternoon game drives had a drive around to recap my bearings. I got to know the reserve quite well when I was a volunteer but that was a few years ago!
Eastern Cape sunrise and Kariega wildlife
As I am my own boss I can decide to start my day at 4.50am - a nice early start! There is something really quite special about heading out just as the sun is coming up and no other vehicles in sight. It's just you and the wildlife. You see the nocturnal animals heading to bed for the day and the others waking up. In the haze you can make out the silhouettes of the zebras, giraffes and wildebeest and then you see that magnificent outline of the rhino and the hairs on the back of my neck just stand up! 
The other morning I had a very precious sighting of one of the male rhinos who is hopefully going to be a daddy soon when Thandi calves. It was still not full light so sadly videoing it wasn't an option. I also wanted to keep my distance so as not to impact on what he was doing. Instead I sat back and just watched this rhino have a good wallow in this pool of mud and then promptly face plant his head in it for a few minutes, you couldn't see his eyes he was that covered. Mud pack wasn't the word for it - his complexion must be beautiful! Once he moved off and went on his way I continued driving around locating the other rhinos. I am looking for health and wellbeing, change in attitude, and keep an eye on Thandi to see if she is starting to develop an udder to give some indication as to when she may calve. I then do a quick drive of the fence line to make sure it is secure and then head back for some breakfast. I will wait a while, catch up on some computer work then head out again a bit later on. 
I am now starting to learn the Kariega roads with the help of one of the APU guys JC. We were also looking for lions! Despite it being a very hot day we managed to locate them and had a lovely sighting of one of the sub-adult females just lying under a bush sunbathing. We knew the others were there but they were deep in the thickets. Later that afternoon some lucky guests got to see the whole pride lying together in the open.
Awesome sighting of rhino Thandi
I had an awesome sighting with Thandi the other day too. It was high 20's and in that midday sun all the animals were heading to the waterholes. Thandi was on a mission so I slowly followed her to this water hole hidden on the plain. She strides through a herd of zebra, they parted like the sea and then promptly flops into the water. I felt her satisfaction and so wanted to join her as I happened to be using one of the open cruisers that day and my arms and legs were burning up… I forget how hot this African sun gets! The zebras looked on in disgust, the water soon went from clear to muddy brown.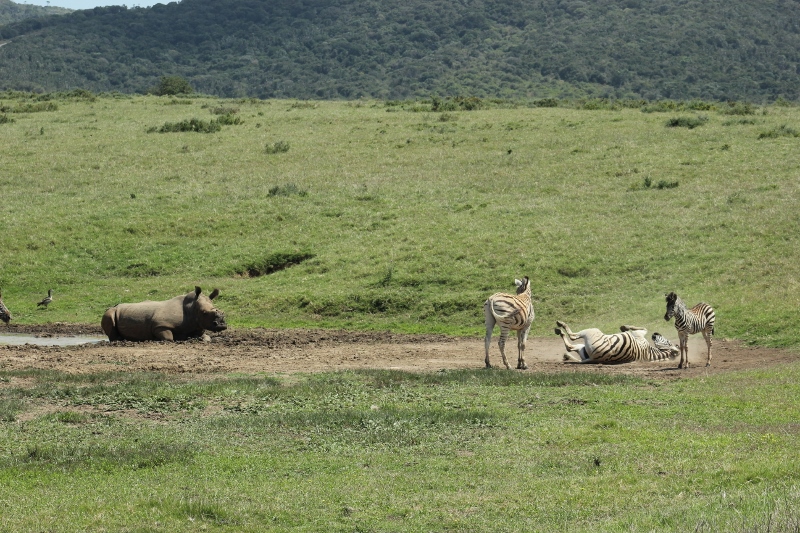 She must have laid there for 15-20 minutes before getting up walking around the other side of the water hole for a drink, I take it that wasn't so dirty! She then walks over to where I am in my vehicle and munches grass just beside me. I think so much of this little rhino and there we were on our own just chilling certainly a dream come true! I often look at her face and remember so vividly what her face was like when she was poached and now it looks amazing.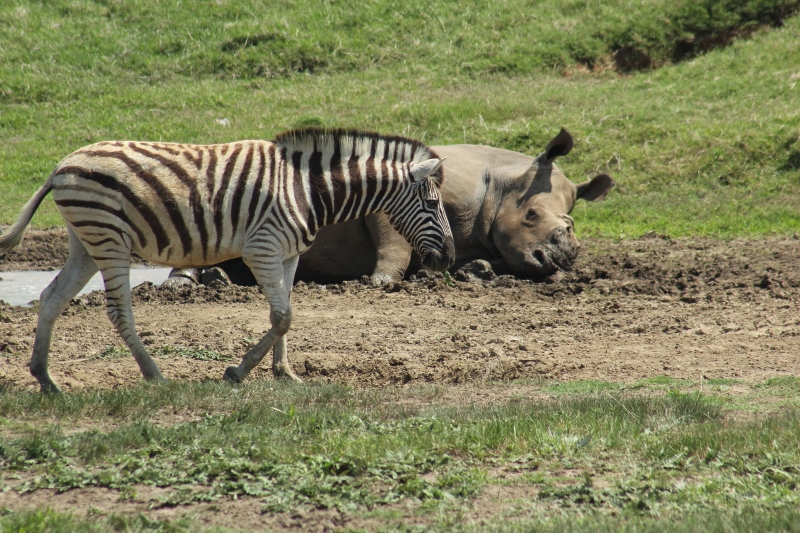 The rangers here are so awesome and have really made me feel very welcome and at home. I am afraid that someone is going to wake me up and this is all going to be a dream! So if this isn't a dream then I will report again soon on what else I have been up to!