Kariega Game Reserve is a privately owned and operated Game Reserve in the Eastern Cape of South Africa. The 11 500 hectare protected wilderness, incorporating two majestic river valleys, is renowned for its incredible beauty, luxurious lodges and sensational game viewing of a plentitude of wild animals including the Big 5.  
It is less well known as a birding destination, even though it is home to over 350 species of birds with diverse habitats, attracting some of South Africa's most beautiful and rare birds!
Kariega's Head Guide, Wayne Howarth, has been guiding on the property for over ten years. During this time his passion for birding has grown exponentially, along with his skill and knowledge. He has inspired a number of Kariega field guides to become Twitches! When they have a spare moment they take the opportunity to go birding on Kariega Game Reserve. 
This blog is a personal account of Wayne's recent birding expedition on Kariega Game Reserve. 
A Personal Account of Birding at Kariega
We woke up minutes before sunrise to the eerie call of the African wood owl, with the bush in absolute silence and not a breath of wind. We knew it's going to be a good morning of birding in the bush.
Our backpacks were all packed and ready with the birding essentials: suncream, water, bird books, camera, a flask filled with freshly made coffee and of course, the most important item, binoculars. Our small group of five field guides, all buzzing with the excitement of not knowing what feathered gems we may come cross in next couple of hours, jumped into the land cruiser and off we went. The aim for the morning was to stick to the valley thickets to try and spot some of the more rare and seldomly seen birds on the reserve, and to do it on foot!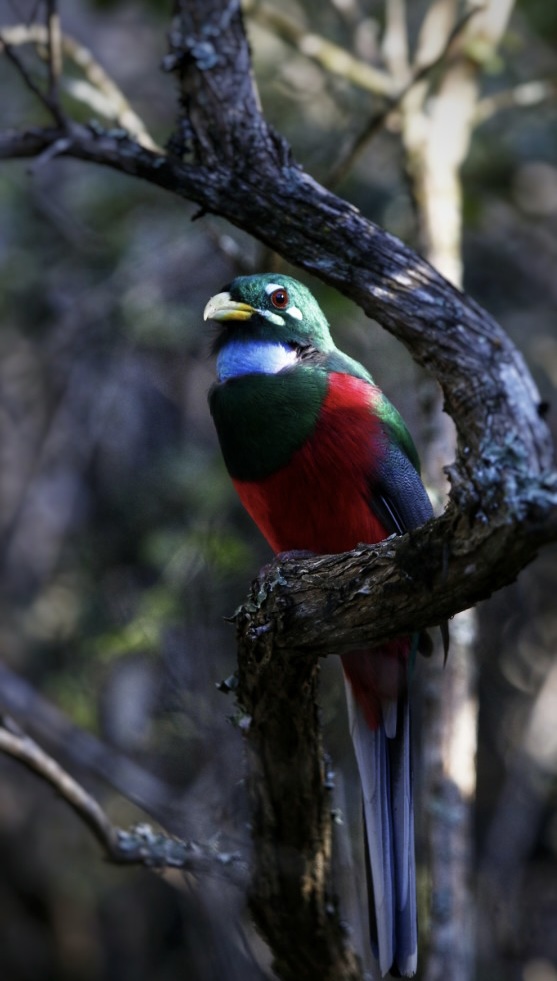 Field Guides Know the Secret Birding Spots
We reached our destination, a secret birding spot on the reserve we call Gardenia. It is in a deep valley with a small freshwater stream running through it. The morning mist was still hanging heavy in the forest valley and the early morning sun had just started to appear through the forest canopy as the birds morning chorus began.
I turned off the engine and we sat in silence. We heard the distant chirp of the African goshawk, it was flying above us going about its morning duties, a pair of dark backed weavers were stripping the bark from a nearby euphorbia tree whilst foraging for insects. Suddenly, we saw two, three ... four flashes of red as a group of Knysna touracos jumped around in a big, old scotia tree just next to us. Birders will know this is a sight you can never tire of.
There were a variety of birds calling around us as we climbed off the land cruiser: a grey headed bush shrike; a pair of mountain wagtails in the stream below and terrestrial brown-bulls. The white browed scrub robins were leading the early morning chorus while Knynsa woodpeckers and blue mantle crested flycatchers chirped away. In the distance we heard the call of the narina trogan, one of Kariega's more rare birds to see!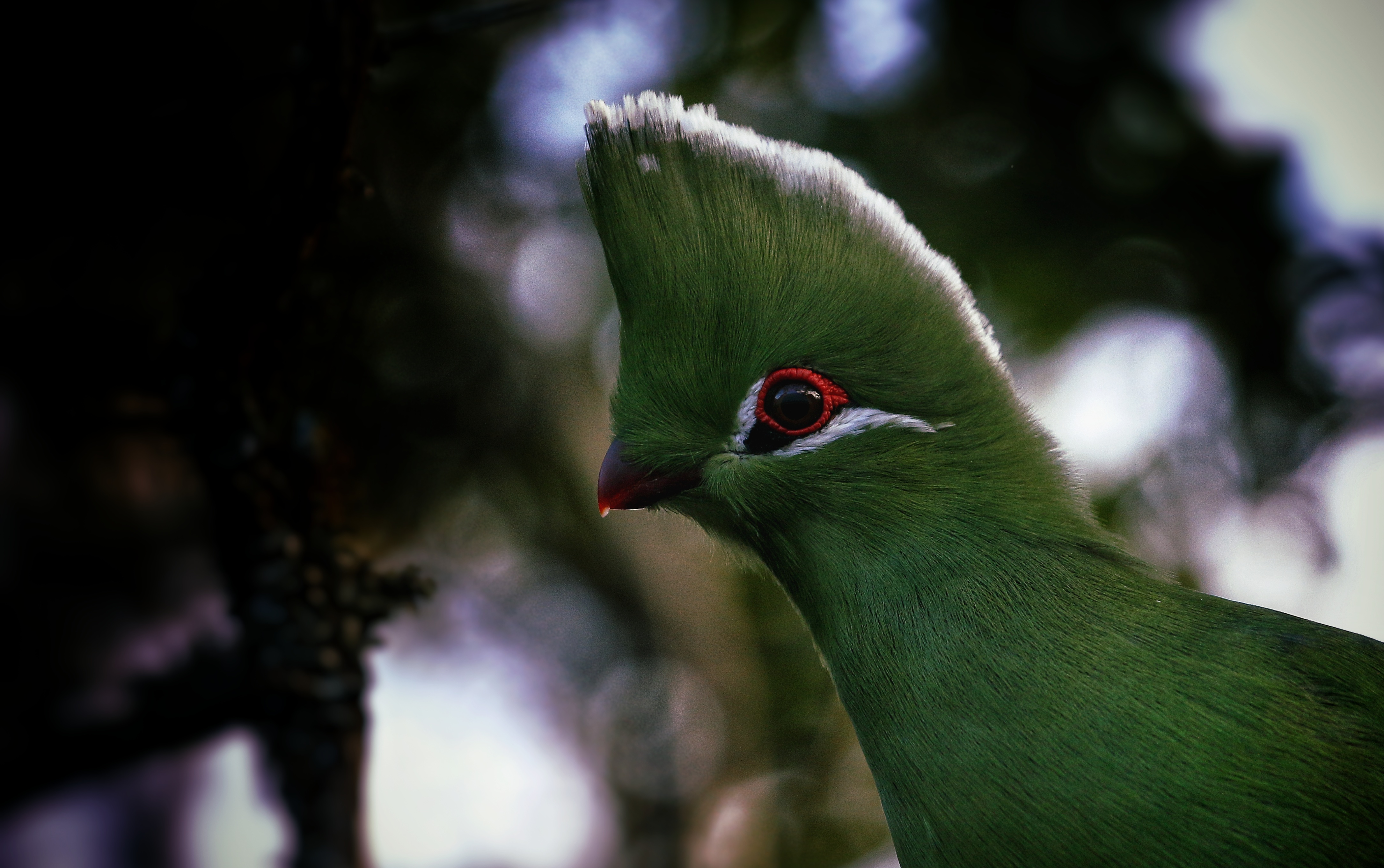 Birding on Foot is Recommended
Birding on foot is something I would always recommend as it gives you more time to appreciate whats around you and to hear the sounds of the bush. We were excited to be on foot. Our backpacks were on, binocs around our necks and off we went.
About an hour into the walk we heard the call of a crowned eagle off to our left. To our surprise it was not a crowned eagle but a little master of mimicry the chorister robin-chat working its magic! They have a wide range of mimicry, meaning they are able to mimic sounds and the calls of other birds. Nature is just amazing!
A few hundred meters down the valley, after having some great bird sightings, we found ourselves walking on the edge of the small flowing stream. Suddenly we noticed a red and green missile like bird fly over us and disappear. We all looked at each other in excitement, as we knew that it could only be one bird with those specific colours and a flight pattern like that! We scanned the area through our binoculars and sitting on the branch of a white ironwood tree, we focused on the emerald green back of a male narina trogon.
For those of you who don't know, the narina trogon will usually turn its back towards any observers or potential predators as it is more camouflaged than his chest which is bright red.  It is often the highlight of a birding outing! After taking a few photos of this feathered gem and we left him in peace.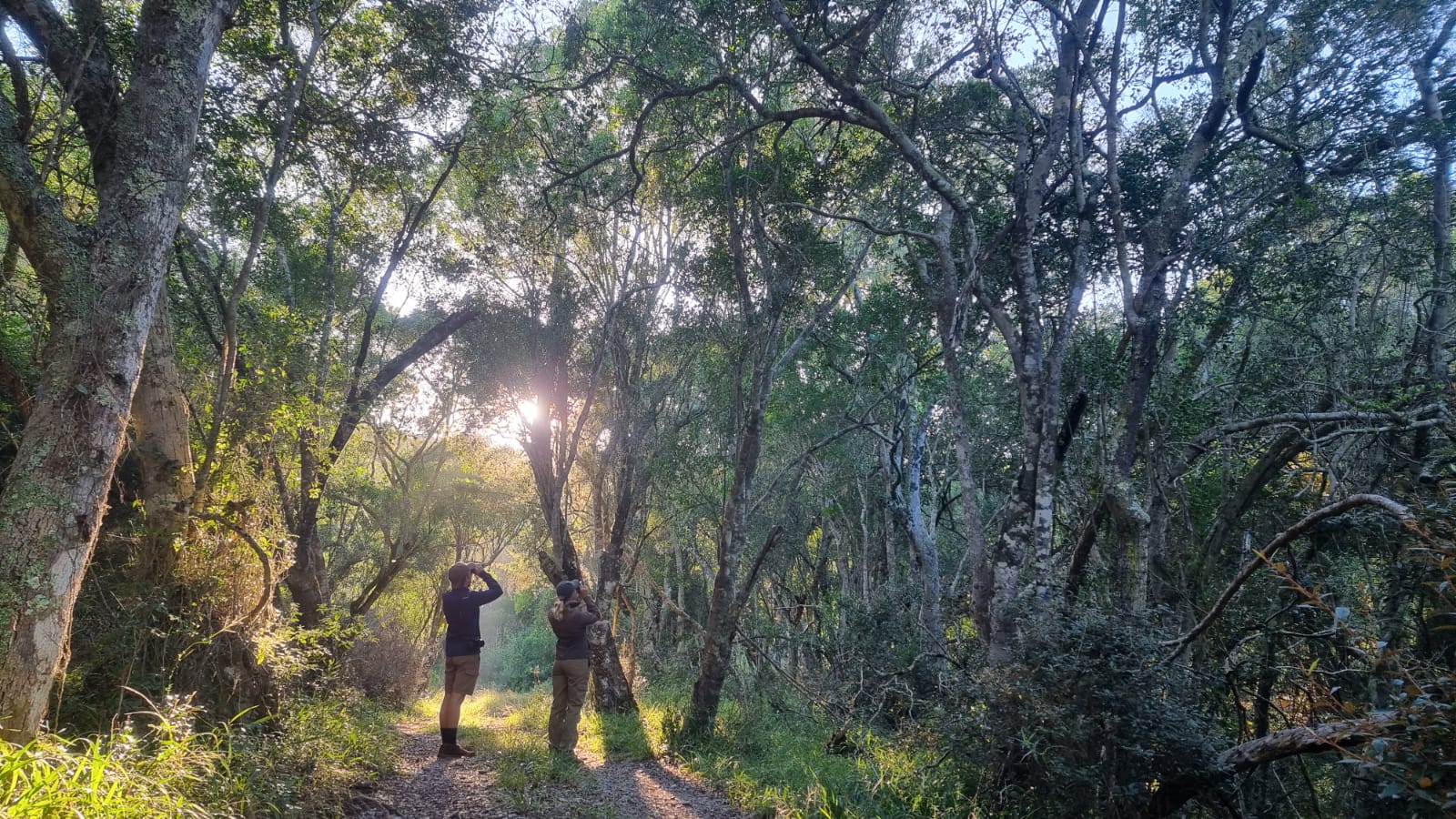 Birding with the Big 5
Birding within a Big 5 game reserve is a truly unique experience!
A short while after our narina trogon sighting we heard a crack of a tree not too far away. Our guiding experience told us elephant were close by! We walked quietly down the valley and came across a herd of roughly twenty elephants feeding silently around us. What an incredible experience to be able to view these gentle giants in such a beautiful environment. 
We decided not to disturb them and started to head back towards the vehicle which was a few kilometres back up the valley. The conditions were still perfect for birding and on the way back we had some more great sightings. 
To mention a few: the little sparrow hawk; yellow breasted apalis; green wood hoepoe; cape batis; green backed cameroptera; paradise fly catcher and a very relaxed giant kingfisher, who had just caught a crab out of the stream below him. 
On Kariega, we have six out of the ten kingfisher species in South Africa with the giant kingfisher being the largest of the ten.
Birding at Kariega is a Thrill
The mornings outing was not only a thrill but a great success too! We arrived back at camp with a few more stories and memories to add to our magic moments spent during our career in the bush at Kariega Game Reserve.
To all avid birders a safari at Kariega Game Reserve is something to add to your twitchers bucket list! Our lovely reservations team are always eager to help you make your safari and birding dreams come true.
For those of you who have already booked your Kariega Safari, perhaps this account of birding at Kariega has inspired you to pack your bird book and binoculars and take advantage of the amazing birding opportunities on our reserve. We would love to be able to share an amazing, birding morning with you.
If you have already visited Kariega, please share your birding stories with us on Facebook or Instagram.
I speak from experience when I say that Kariega has grown my passion for birding. For me its that feeling of never knowing what rare or interesting bird sighting you may see out there which makes birding so much fun!
There are still a few bird species on the reserve that I have yet to see. The white-starred robin is my main nemesis bird that always seems to elude me! Perhaps I will see it with you at Kariega Game Reserve one day soon!