2013/2014 Photo Competition Winners
Congratulations to the winners of our 2013/14 Kariega Facebook photo competition. Amatuer photographer Emanuela Caligiuri won for her perky zebras and professional photographer Grant Atkinson (Atkinson Photography and Safaris) won with his regal lion and cub photo.
The prize is a 2 night stay for 2 people sharing on a fully inclusive basis at Kariega River Lodge.
Emanuela Caligiuri
2013/14 Kariega Facebook photo competition – Amateur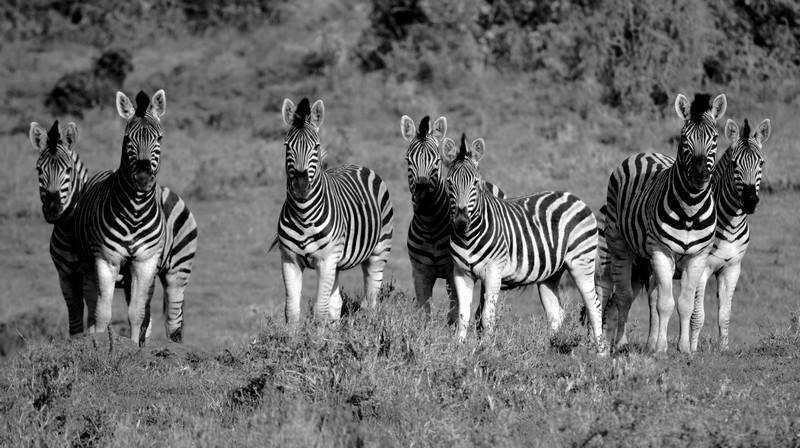 Camera Nikon D3100, f/5.6 t 1/800 sec, ISO 200, focus 300 mm.
This shot was taken by Emanuela when she and her boyfriend visited South Africa on a two week tour of the country in Oct/Nov 2013. The tour began in Cape Town after which the couple travelled down the stunning coastal Garden Route, ending finally at the malaria-free safari destination of Kariega.
"On the second day of safari after seeing rhinos, lions and elephants we finally got to see so many zebras! The first day we had seen just a few for my taste (because I love them for their elegance ... they seem to be painted). I love the expression of all zebras in this photo because they look at me curiously."
Emanuela was hosted by one of Kariega's experienced game rangers: "During the safari he allowed us, given his experience and passion, to take a lot of pictures of animals in the reserve.
"He left me with enthusiasm and desire to revise and re-photograph all the amazing animals in your reserve – lions, elephants, ostrich, rhinos, various birds (unfortunately the leopard has not showed up) and do not forget THE NATURE! 
"My eyes and my heart full of JOY thinking about the wonderful adventure at Kariega. We would certainly recommend Kariega to all those who want to organize a holiday in South Africa and are looking for a malaria free safari with excellent quality/price ratio because with us it was flawless in every aspect."
Congratulations Emanuela and thank you for sharing with us, we look forward to seeing you on the reserve in the near future! 
Grant Atkinson
2013/14 Kariega Facebook photo competition – Professional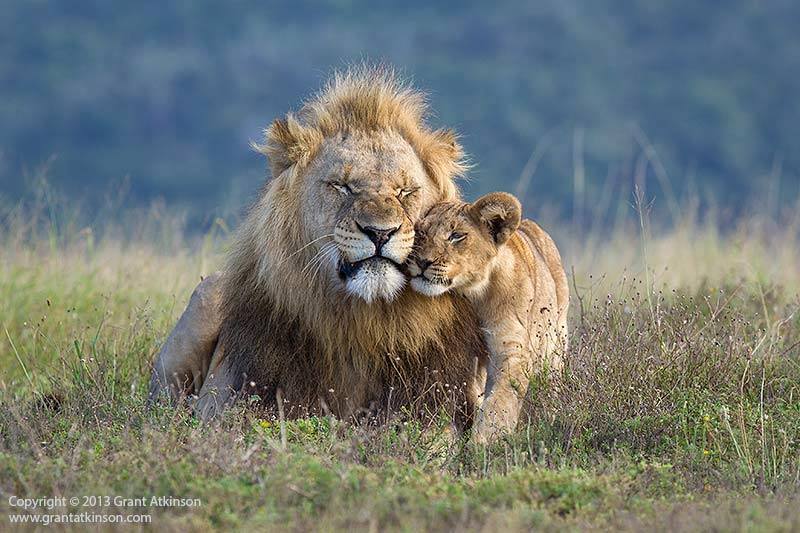 Canon 1Dmk4 and Canon EF 300 L f2.8 IS lens. Shutter speed 1/400 sec at f5.6, ISO 400.
Grant's image was taken in April 2012 in one of Kariega's high-lying areas: "I was already happy with taking some images of the very good-looking male lion, posed as he was on the grassy ridge. When the cub walked right up to him, the moment of interaction that passed between them added something extra. The distant dark-green background also contrasted well with the lion's warm brown colours.
"We had been with the lions from quite early that morning, and they had been on the move, coming up from one of the forested valleys. Whenever there are young lions around, I am always hoping for chances to see interaction between different pride members. On this day the cats kept moving, and went and lay right out on top of a short-grass area. The adult male lion lay down first, and we were photographing him as he looked around. At that point one of the cubs decided to walk up to him, and nuzzle him affectionately."
Grant was born in the Eastern Cape , not far from Kariega: "With so much of the Eastern Cape's grassland and valleys transformed by agriculture and human habitation, I find it very special that Kariega is preserved as an important example of how this area once looked and functioned."
Grant was hosted by former Kariega game ranger and photography whizz, Brendon Jennings: "His expertise at predicting the animal's behaviour, and choosing where we needed to be for good photographs was exceptional. I find the relaxed demeanour of many of the wild animals at Kariega, as well as the varied habitats, with those spectacular backdrops from the tops of the hills, to be an excellent combination for getting good wildlife images. We always enjoy great hospitality there too from all the staff. Several of the rangers/guides are also very skilled photographers, which is an added plus for visitors like myself. Taking these things into account, I always feel that for photographers, Kariega punches above its weight when it comes to getting good images of a variety of charismatic species."
Thank you Grant for the glowing review, we are more than happy to have been able to accommodate your terrific photographic expeditions. Congratulations and we hope you enjoy your weekend away at Kariega River Lodge.