What we need is a Rhino Revolution!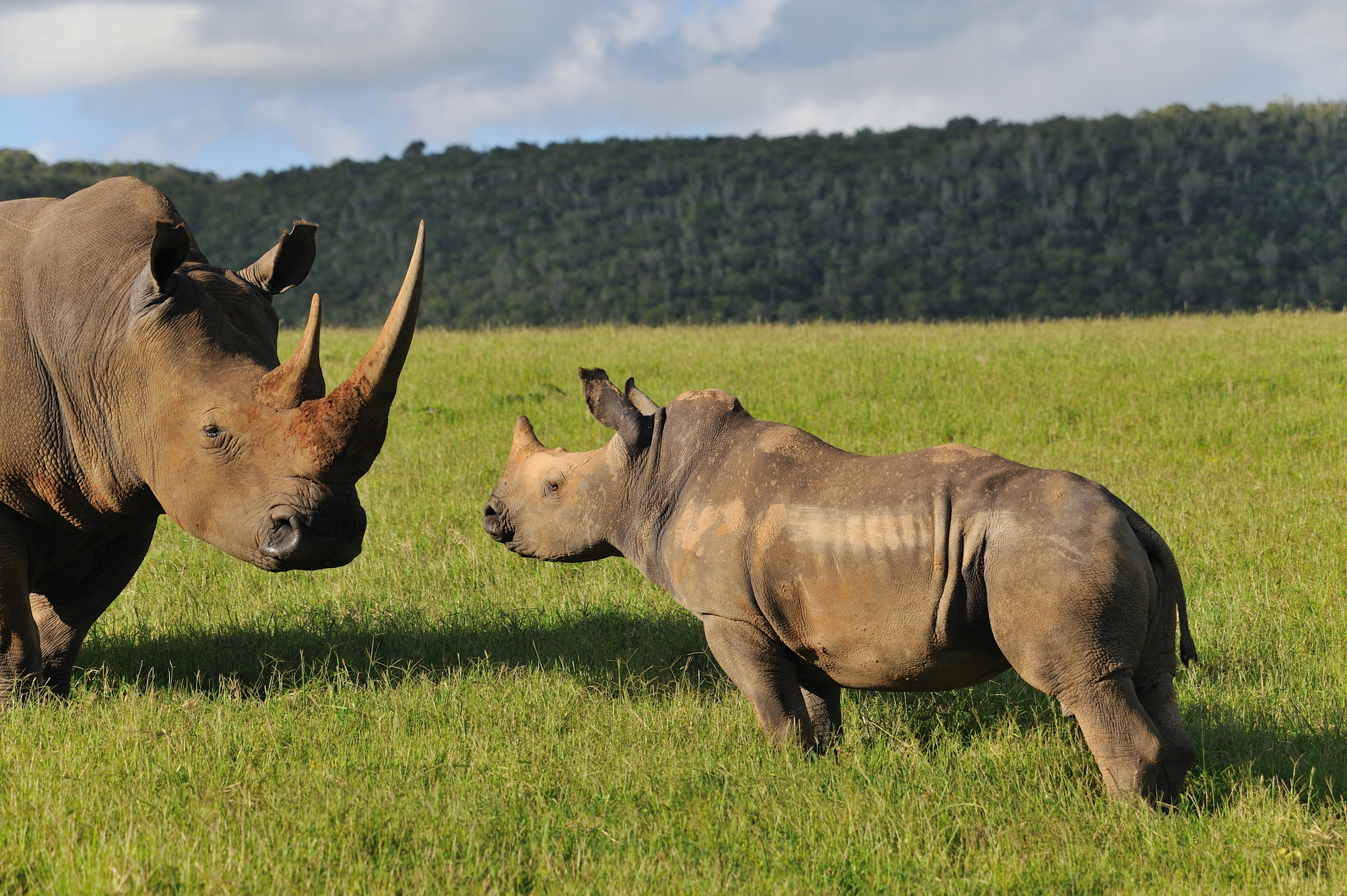 It seemed for a day or two as if we, well rhinos actually, could breathe easily again. At Kariega Thandi was on the mend after her horrific injuries, and there seemed to be a lull in poaching activity. Then at the end of September came the news that in game reserves in South Africa 19 rhinos had been slaughtered in a week, bringing the total for the year to 430. Today as I write – 18 October 2012 – that total has risen to over 463, another 33 rhinos in little more than a fortnight.
With the land torn apart by mining and transport strikes in which there has been a great loss of human life, it is understandable that the death of these rhinos has not hit the headlines. Scenes of mineworkers or police officers lying like bloody rag-dolls spread-eagled on the ground, struck down by pangas or bullets, draw more television news-viewers and sell more newspapers than equally hacked and bloody rhinos. We express horror and shock, and wring our hands and sign petitions, yet the strikes and violence continue. If we are incapable of preventing needless violence in our own society, what hope is there for rhinos or any of the other creatures with which we share this planet?
The strikers claim that unless they burn tyres and destroy property – no mention of hacking scab labourers to death - no one, especially the government, pays any attention to them. They do seem to have a point, and how often do we read of those breaking the law facing prosecution? So there are many others who are now climbing on this particular bandwagon, the latest being John Varty, a controversial South African conservationist best known in this country for his efforts to save the Indian tiger. In an open letter to the world's biggest rhino breeder, John Hume, he has suggested that Hume together with 100 other breeders get together and auction all the horns they have from dead or dehorned rhinos amounting to about 20 tonnes. This action, which under present regulations would be illegal*, would at one stroke focus world attention on rhino poaching, while at the same time making money from the sale to further the anti-poaching campaign. "If you were on your own," he stated in an open letter to Hume, "the government could arrest you. I doubt if the government could arrest 100 high-profile individuals trading openly in rhino horn and advertising the auction globally."
Although having been brought up to have a respect for the law, I must say at once that my sympathies are very much with Varty. The ban on the sale of rhino horn does not seem to have made the slightest difference and despite the government making the right noises I cannot help but question its determination to root out the scourge. There is talk of continuing to "work together with all stakeholders", but we have now spent years talking about the problem, and action is what is required. To my knowledge Varty is the only one so far to make a proposal that would not only draw world-wide attention to the problem, but also raise funds to help fight the poachers. He is quite right to demand dramatic and meaningful action. Has anyone a better, legal proposal? If not there are likely to be another dozen or more dead rhinos by the end of the month.
Lately, however, there has also been some good news. Angie Goody from the Isle of Man, who happened to be working as a volunteer at Kariega when three rhinos were poached (of which Thandi is the sole survivor) organized an auction in Laxey, IOM, which raised over £5000. (See more here) Likewise the boys, staff and parents of St Andrew's Prep in Grahamstown presented the Kariega Foundation Save the Rhino Fund with an amount of R22 956.25. Then on October 9 just over R130 000 was made by a Rhino Run, of which half was handed over to Dr William Fowlds - the vet responsible for saving the life of Thandi – for the Injection Fund, with the balance going to the Endangered Wildlife Trust. Heart-warming as these initiatives are, and indicative that there are still those that care for our fellow creatures, the question remains; how do we draw the plight of the rhino to the attention of the world's leaders?
*A trade ban was instituted in 2009.