My Rhino - ceramic rhinos sell for rhino conservation
Conservation project, My Rhino, donates to Kariega Foundation
My Rhino is an anti-poaching awareness and fundraising initiative that sells beautifully crafted ceramic rhino's with a portion of the proceeds going to the Kariega Foundation Save the Rhino fund. To date, My Rhino has raised R35 000 for the Foundation, and they were also recently part of the St Stithians Girls Prep 'My Rhino Project' which raised over R11 000 for the Kariega Foundation.
The organisation was founded by Heidi and Nicholas Snaith. "We truly believe that by what we are doing – we can make a significant difference. Our aim is to take the My Rhino brand internationally – we are now creating a My Sea Turtle and My Whale Collection that will be launched in 2014" comments Nicholas.
My Rhino has exhibited at many events and conventions around the country since their inception in 2012, and they regularly exhibit at locations in Cape Town and Johannesburg. To find out if they are coming to a centre near you, click here to see upcoming events and exhibitions.
My Rhino introduced 'Paint your own Rhino' this year, and the first project was done at St Stithians Girls Prep in May. All the girls bought and painted their very own rhino's with a portion of the proceeds going to the Kariega Foundation. A big thank you to the St Stithians girls and parents and to all those involved in this fun and creative project for rhino conservation.
---
My Rhino ceramic ornaments
My Rhinos come in all different shapes and sizes, as well as in a range of stunning and creative colours and designs. The collection consists of My Midge Rhino, My Baby Rhino, My Mommy Rhino and My Daddy Rhino, as well as a range of exquisite limited edition My Rhinos. Each Rhino is made in South Africa, is signed and dated by the artist who painted it, are beautifully packaged and come with a certificate of authenticity and pledge to the Kariega Foundation. Click here to view the My Rhino collection.
My Mommy Rhino (left) and My Midge Rhino (right)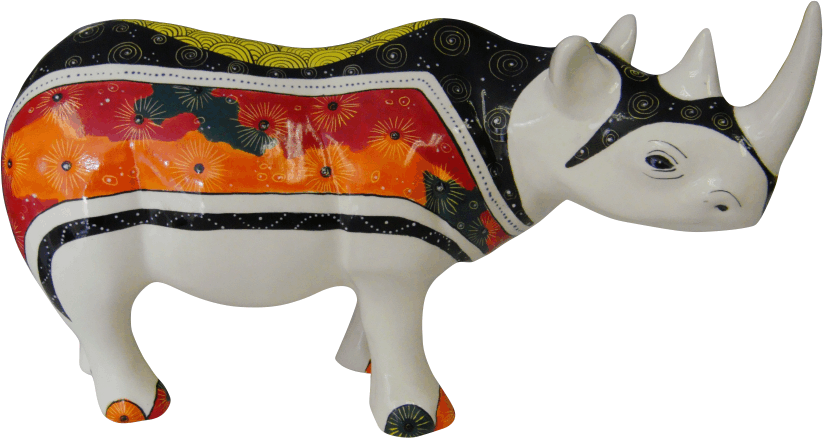 ---
My 'Life-size' Rhino
Most recently My Rhino has collaborated with local painters in creating almost-life-size ceramic sculptures that are painted magnificently by the artists. They are all breathtakingly beautiful and we couldn't help sharing them with you below.
So far there are a total of 7 large rhinos (60% of life size) that have been painted by South African artists. These big rhinos are then replicated and sold as limited editions. The Big Rhinos will be auctioned on the 3 October 2013 – the starting bidding price is R25 000.
Some of the life-size rhinos were fully sponsored by corporates, and 100% of all the funds obtained from their bidding prices will go to the Endangered Wildlife Trust.
You can find out more about My Rhino, or buy Your Rhino online on the My Rhino website, or find them at their next event in Johannesburg or Cape Town. You can also visit the My Rhino Facebook page, or email Nicholas on info@ochreza.com.
GlobeFlights Rhino by Clement Mkhize
The first large-scale rhino, painted by Zimbabwean artist Clement Mkhize, is currently on display at the Hyde Park Shopping Centre. Clement painted the rhino on location, which gathered a huge amount of excitement and interest among shoppers. They have also introduced a baby rhino for kids to sit and play on. For more images of this rhino, click here.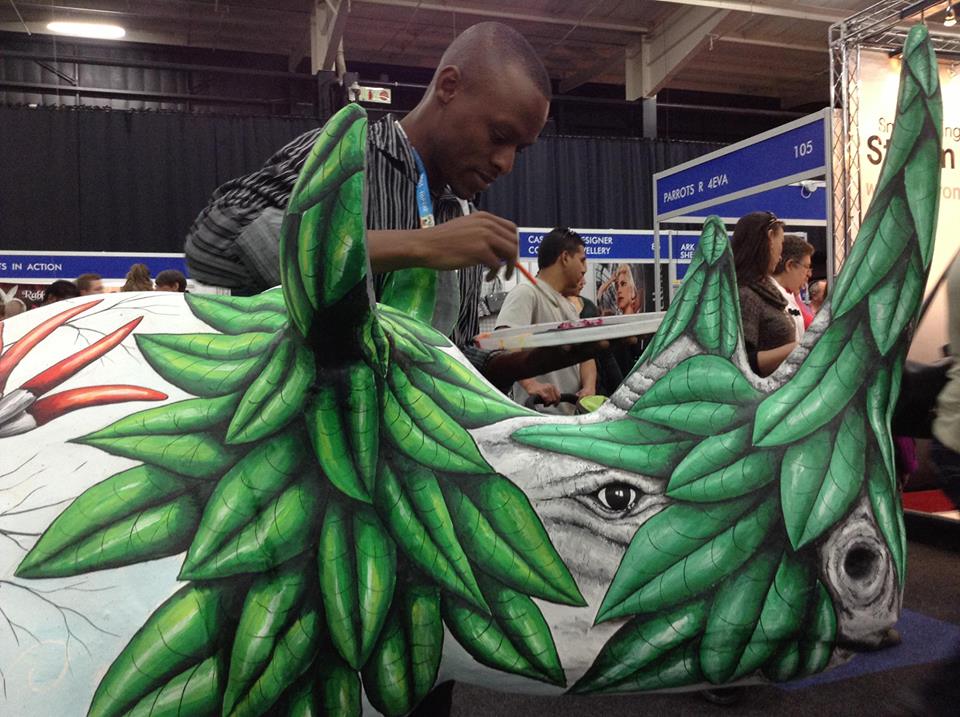 Greeff Properties Rhinos entitled "Greeffie" painted by Clement Mkhize
For more images of this rhino, click here.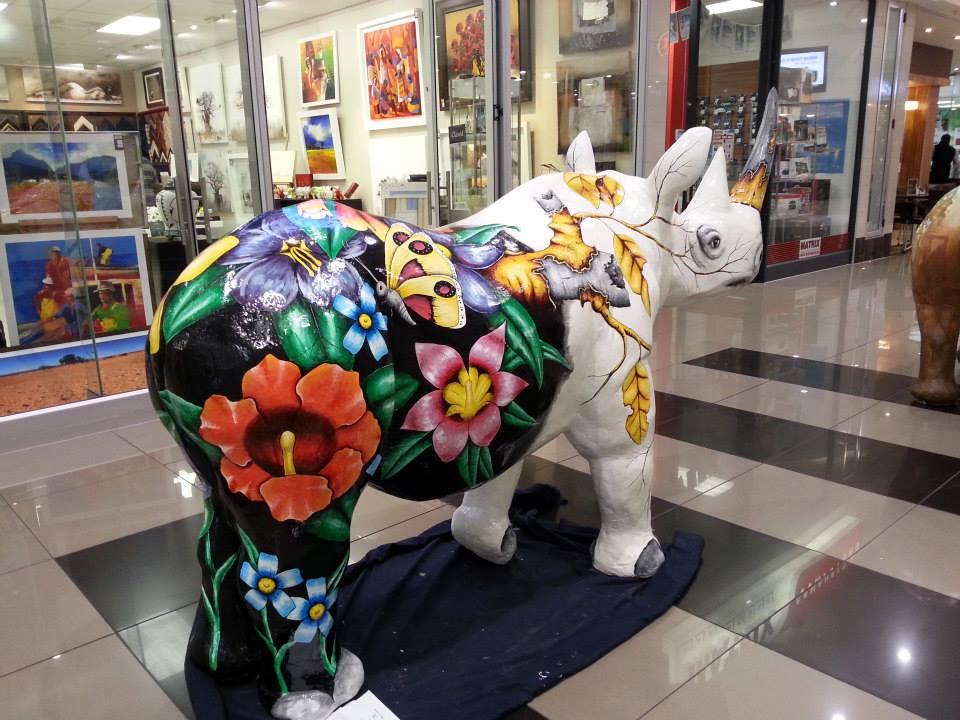 My Rhino painted by leading contemporary South African artist, Glen Josselsohn. 
For more images of this Rhino click here.
My Rhino painted by renowned artist, Giorgio Trobec.
For more images of this Rhino click here.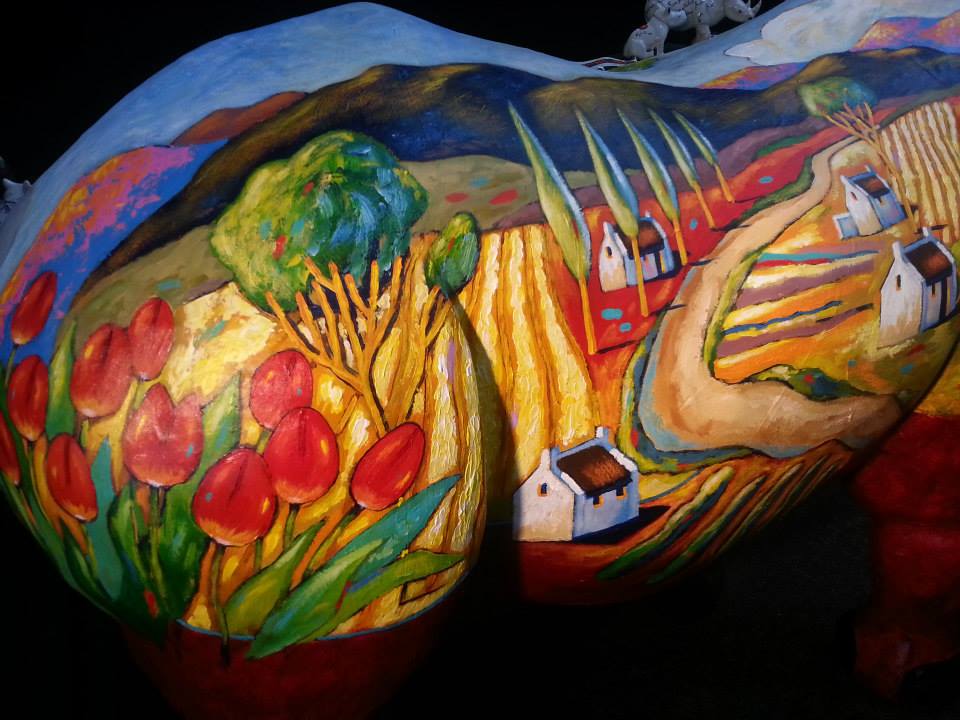 Painted by Brian Rolfe entitled "Good Buy Africa"
For more images of this Rhino click here.