Kariega Conservation Volunteer Update: March 2015
Summer is slowly but surely coming to an end. The days are getting shorter and we can feel the mornings and evenings getting cooler on our open game drive vehicle. Here is what our amazing volunteers have been up to during the month of March.
Research Projects
Elephant impact study
Data collected includes the GPS position, number of elephants present and their activities. The image below shows some of the elephant movement patterns recorded during March.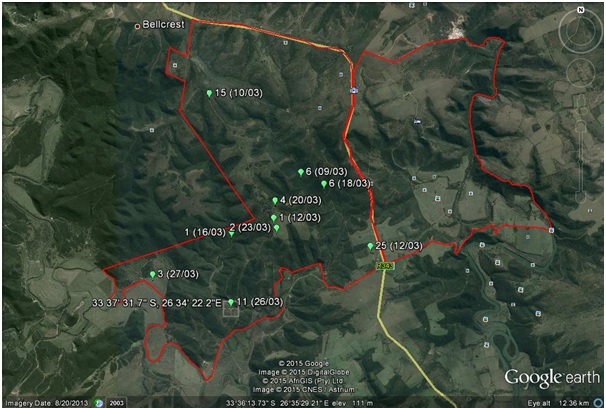 The below graph shows what the elephants were observed consuming during March 2015.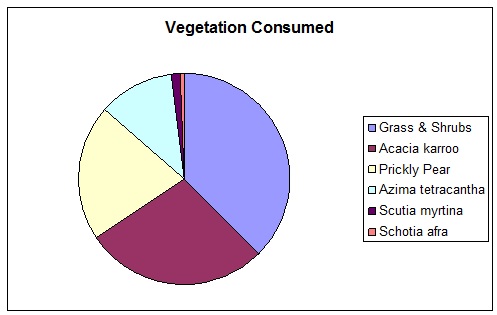 Lion prey study
The volunteers witnessed a fair amount of lion activity this month, especially considering that lions can sleep up to 20 hours a day. We observed lions feeding on blue wildebeest, two warthogs and two impalas. The image below illustrates the areas where lions were monitored during March.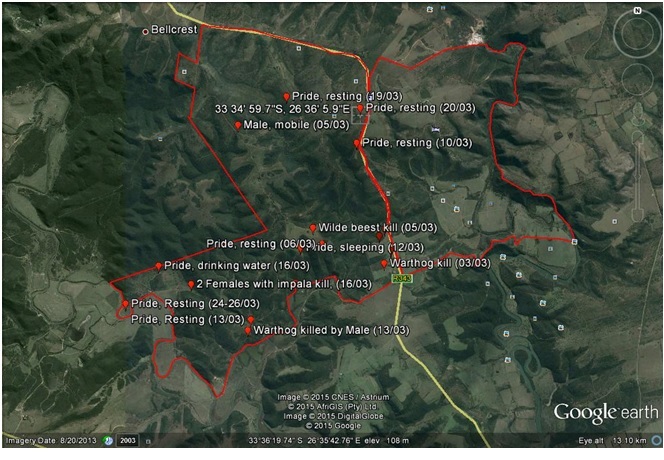 Rhino spatial movement study
We have had several special sightings of rhino this month. For those of you who haven't heard the exciting news yet – our brave white rhino cow, Thandi, gave birth to a healthy calf. We named the calf Thembi, meaning Hope in Xhosa. Wildlife vet Dr William Fowlds said, "The name Thembi seemed to fit best given that this little calf has brought fresh hope and energy to those who struggle to secure the future of our rhino. She is a new generation of life, one I hope will never experience a poaching incident like her mother and namesake Themba."
Movement sensor cameras
We received two new sensor cameras and have set these up to to take high quality images. We have findound the playback setting very useful to check images taken whilst we have been out in the field. This means that we don't need to remove the SD card and check on a PC. Unfortunately no images of leopard has been captured yet, although more brown hyena, black backed jackal, several antelope and elephant have been captured.
Other Activities
Invasive species control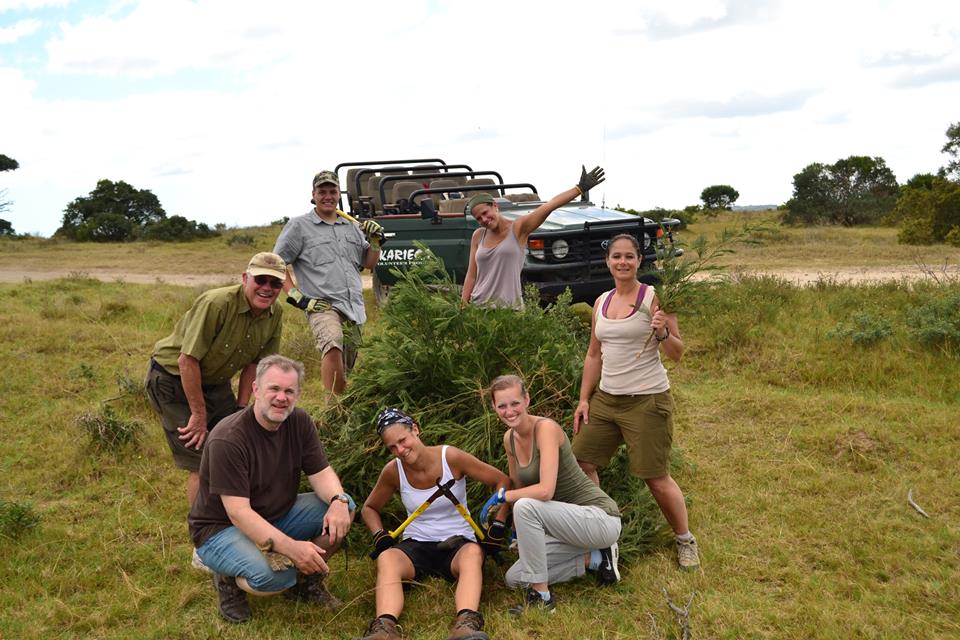 During March we got rid of 134 Pine trees on the north western side of the Homestead. This included large trees that has been ring barked and smaller trees that were chopped down completely. The volunteers are also still busy getting rid of more Black wattle seedlings and a few big trees. After the much appreciated rain we had over the last few days of March, pulling Black wattle seedlings out is always much easier. We mostly concentrated on the areas south of reception.
Habitat management
The volunteers poisoned Rhus sp in the pump-house loop area, concentrating on the sections a bit further away from the road itself.
Plant nursery work
During March we helped with the garden around reception and were able to plant some of the trees that were potted last year in our nursery. We also continued our work with planting Euphorbia clava plants in nursery bags and filled up more bags for more plants to be planted. These are all indigenous plants that require little water and low maintenance.
Road clearing
Physical work started to get a bit easier this month as day time maximum temperatures were not quite so high anymore. The sunset road has been cleared properly with machetes, clippers and hand saws. The roads along the Kariega River just below day centre were also cleared with the help of some rangers and their chainsaws.
School and community projects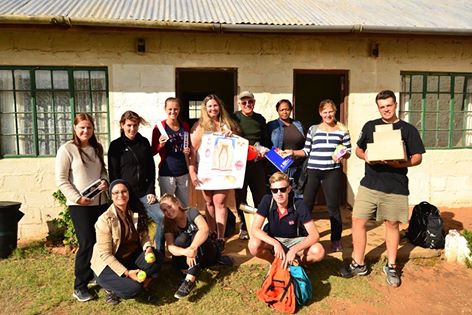 The volunteers went to Farmerfield school three times during March. With the help of the Pack for a Purpose campaign we gave the school about 10kg of supplies, including educational maps and posters, paint, crayons, pencils, exercise books, flashcards and sport equipment. The school really appreciates these supplies. School holidays are coming up until the 13 April and we remind all volunteers that we do not visit Farmerfield school during the South African school holidays. If you would really like to assist with this project, please enquire when the SA school holidays are when you make your booking.
Come and be part of the Kariega Volunteer Programme and be the change you want to see!
Yours in Conservation
Frances van Pletzen
Kariega Volunteer Coordinator