Miracle Rhino Calf at Kariega is 3 Months Old
It was with much excitement that the Kariega team welcomed back rhino warrior and intern Angie Goody in late January 2015. Angie had important business to attend to as rhino Thandi is now a proud mum of a beautiful female calf. In this account Angie shares the immense emotions that she felt on meeting little Thembi.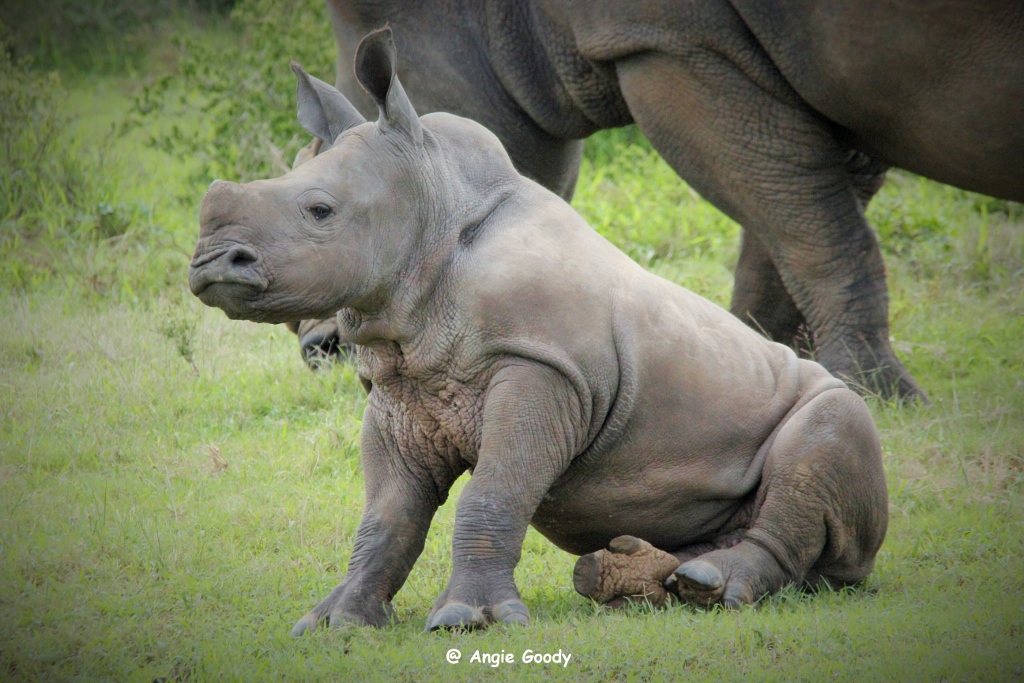 Nearly 3 months ago I returned to Kariega after a short trip home to the Isle of Man. Whilst I was gone Thandi gave birth to her calf Thembi on 13 January 2015. It was a day of mixed emotions for me, elated happiness that after everything she had finally given birth to a healthy calf but yet one of sadness I wasn't there to witness the birth and see Thembi from day one. 
Fortunately when I did return on 8 February I immediately went out to find Thandi. I wasn't overly hopeful as she had only been seen twice in the open in the three weeks since the birth of her calf. Kariega ranger JC and I sat for over half an hour and patiently waited. Then, all of a sudden, Thandi and Thembi appeared through the bushes. I could barely see through my camera lens as tears filled my eyes. Both Thandi and Thembi came right up to the cruiser as if to say hello. It was unbelievable! We just sat there as they continued to graze around us. I couldn't believe that after being next to Thandi's side in 2012 when she was fighting for her life that I was here with her now, nearly three years on, with her and her miracle baby.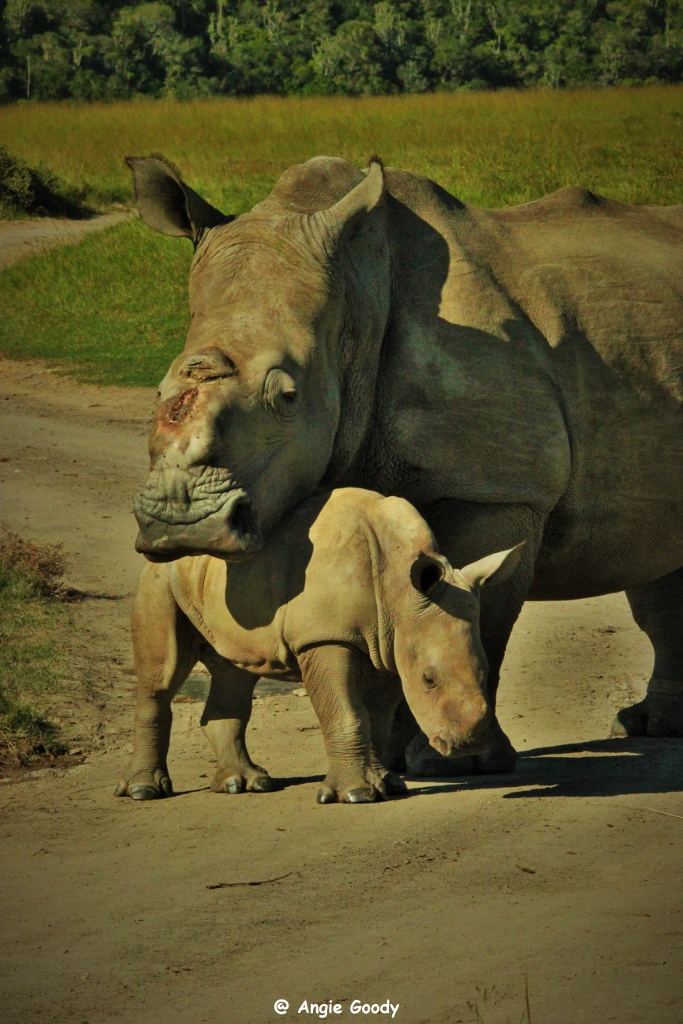 Rhino Thandi Presents her Calf
It was at least another week before I saw Thandi and Thembi again as they continued to live in the thickets. Then one day it was as if she had decided that it was time to present her baby to the world and get back to her old habits. Since then mum and calf have continued to spend time both in and out of the bush. Sometimes Thandi and Thembi remain hidden for several days at a time. I say it's her way of going on holiday, away from vehicles and people. Perhaps it is to teach little Thembi a lesson as she is very curious and will come right up to vehicles away from her mum with no fear whatsoever. I think mum just gives her a bit of a check and teaches young Thembi that she is a rhino and she should act like one!
Three Years on from Poaching Commemoration and Thembi's Naming
On the 2 March a small ceremony that took place at Kariega to mark the three year anniversary of the rhino poaching on the reserve and to announce the name of Thandi's calf. We decided to call her Thembi, meaning Hope in the local language of isiXhosa. A perfect name for a perfect calf. At the ceremony there was a small collection of people who have contributed to Thandi's recovery in so many ways including medical expertise, donating funds, writing poetry and making necklaces. Members of the press also attended. 
Unfortunately we didn't get to see Thandi and Thembi that day. Thankfully everyone understood and appreciated that they were in the same vicinity as the rhinos. At the end of the day, they are wild rhino and do what they like when they like!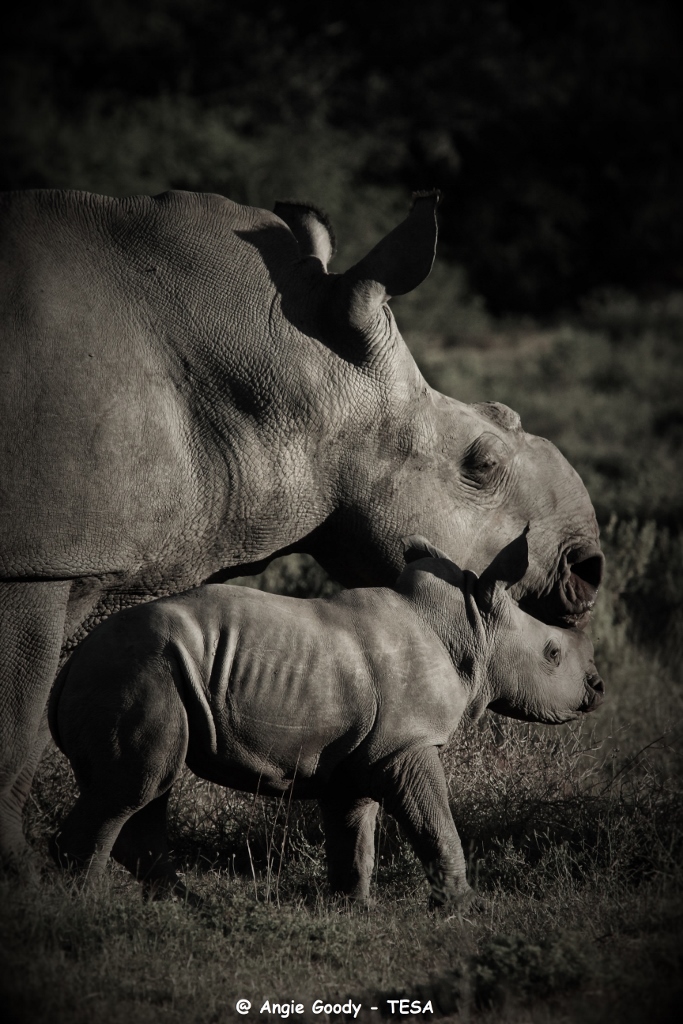 Rhinos have Amazing Personalities
I remember reading an article on conservation once that said that rhinos are the most boring creatures of the bush and have no personalities, all they ever do is eat and sleep! This guy obviously never properly studied rhino because, believe you me, all rhinos have amazing personalities and certainly in my mind are far from boring. 
Thembi certainly takes after her mum with her boldness. She is often seen chasing the impalas, wildebeest and even the old male buffaloes. The other day I watched her try and take on her own father! He was coming too close and so Thandi snorted at him to tell him to back off. Thembi ran right up to him and gave him a proper big snort, a head shake and then promptly runs straight back to mum feeling very pleased with herself. Of course dad just looked on with utter confusion and continued to graze, probably thinking to himself, "What is my child on about?"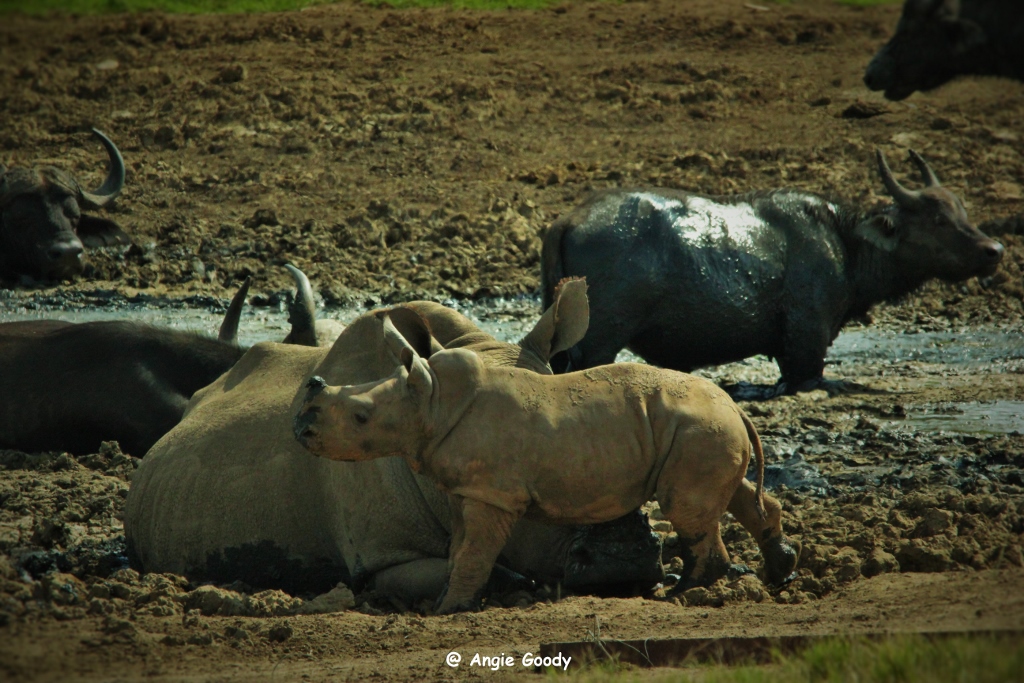 Rhino Poaching Awareness and Hosting International Media
Since being back, I continue to spend most of my time monitoring Thandi, Thembi and the other rhinos at Kariega. I also have to take up the role as role as Thandi's personal PA! Several media groups, film crews and journalists have visited and it has been my job to to be their host and ranger. It has been pretty intense at times and of course a huge responsibility to try to make sure we find Thandi and get the footage required. Thandi and Thembi have been absolute divas and we have managed to capture beautiful footage. The pair are natural celebrities and they seem to thrive on it! We are so grateful that these rhino can help to spread awareness of the poaching crisis and are hopeful that the more people that see their story, the more chance the rhino species has to survive.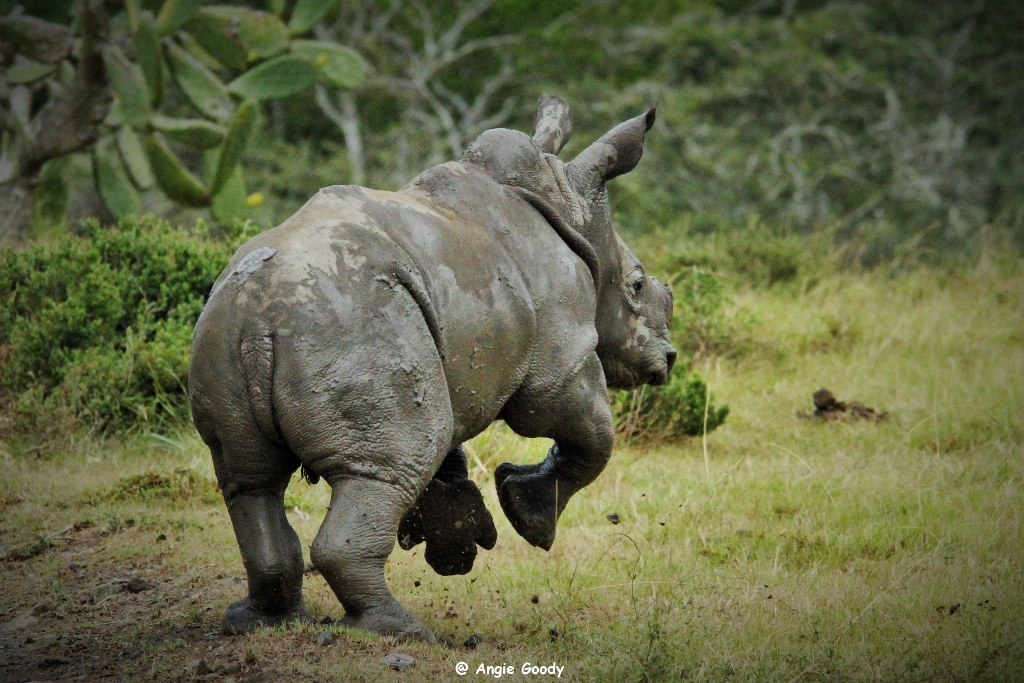 Thandi is a Wonderful Mum
It has, yet again, been an absolute honour and privilege to spend the last three months at Kariega observing and documenting Thembi's growth. It is awesome to see what a wonderful mum Thandi has become. Every day I spend with them is an everlasting memory. Every day I spend with them is completely different to the day before.
I have learnt that when Thembi starts squeaking a lot and nuzzling her mum it is because she wants ti suckle. After she has suckled she will sit on her bum and then FLOP on the floor and lay there for a while. Ten minutes later she will be hooling around and causing trouble! I have seen Thandi sometimes using Thembi as a scratching post when she has an itch. I have watched as Thandi seemingly deliberately splashes Thembi in mud when she walks past her. The looks on their faces are priceless. Don't believe me? Well you must come and book a few days at Kariega Game Reserve and come and see these two amazing rhinos along with all the other amazing animals and scenery Kariega has to offer.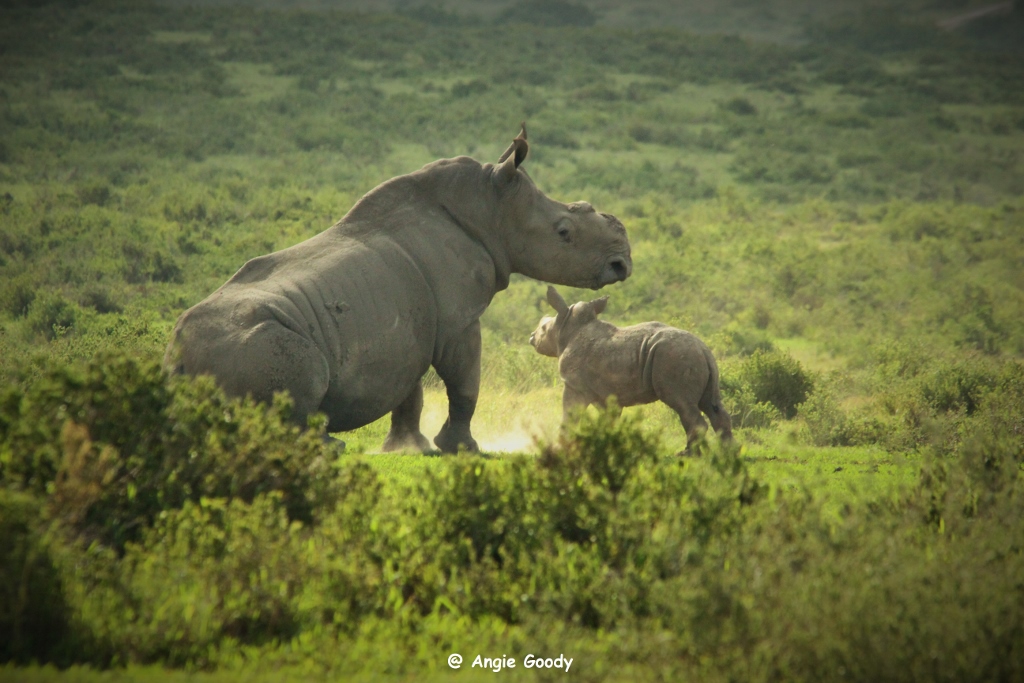 Happy three month birthday Thembi and here is to many more.
Read all of Angie's Conservation Diary updates.