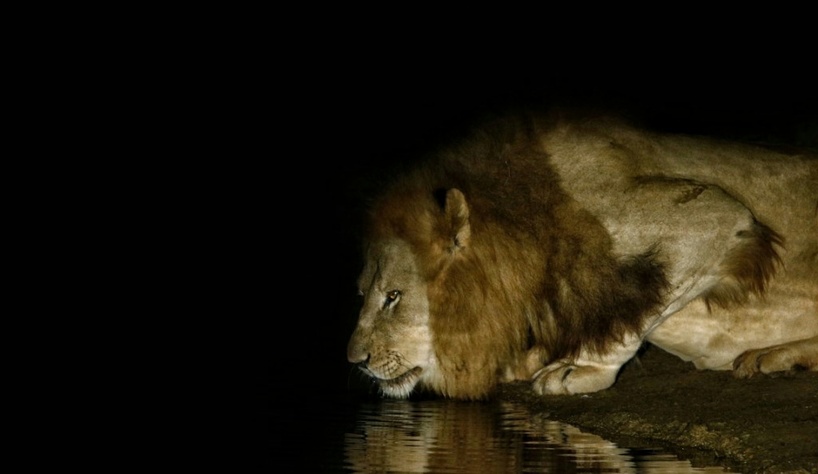 As dusk falls over the Kariega wilderness, the nightlife starts to awaken in the African bush. The shy and elusive nocturnal creatures begin to move around and predators such as lion and hyena become active. This is the time to experience an awesome African safari night drive.
Night drives offer very different experiences to morning and afternoon safaris. During a safari night drive you will experience the wilderness in complete darkness, often with the most amazing stars, sometimes with the natural light of the moon and a silence that creates a special and unique atmosphere. Safari night drives also offer guests the opportunity to spot some of the most rare and secretive African animals. The image below is of one such shy creature, a brown hyena at a giraffe kill.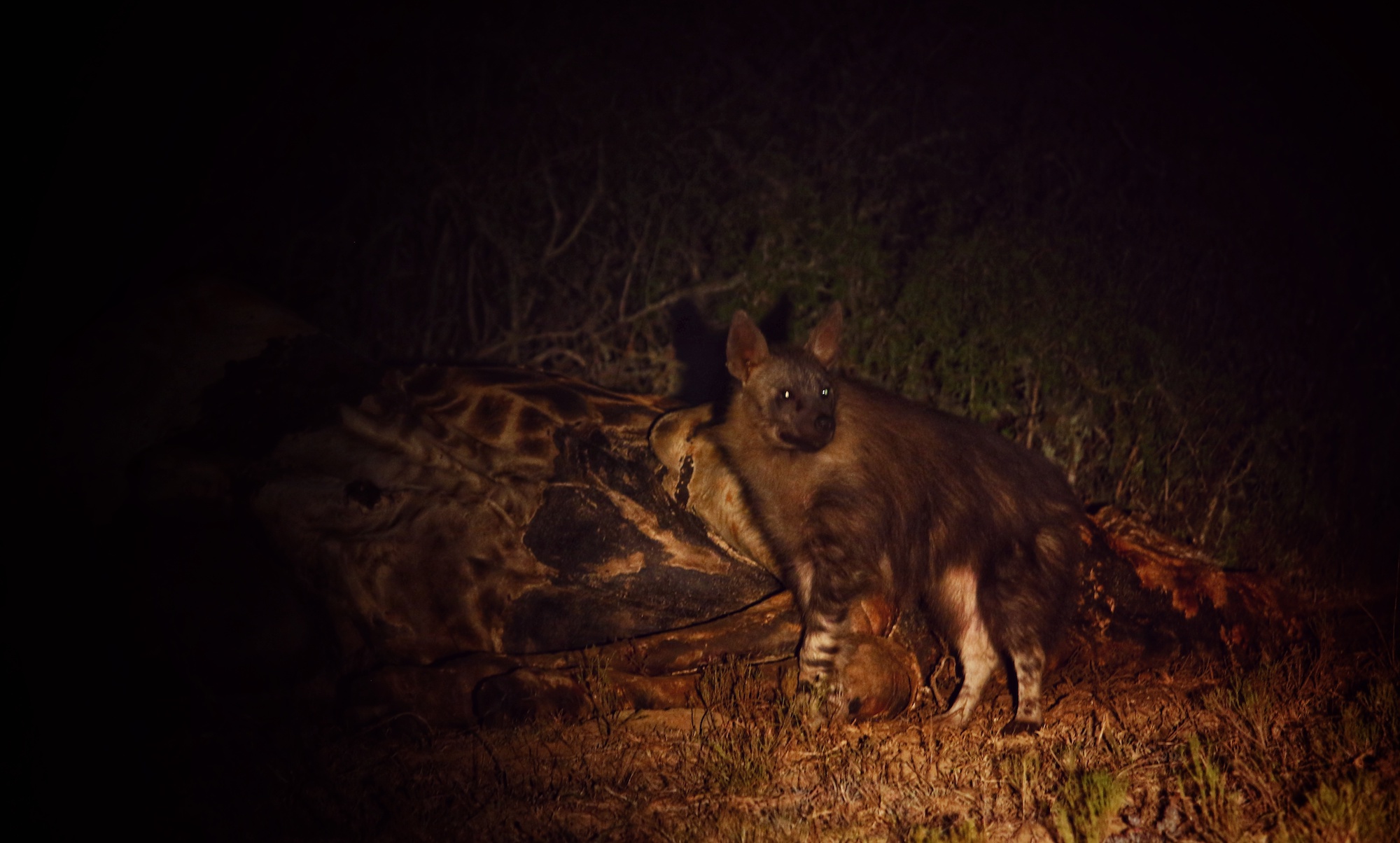 Why Do Animal's Eyes Shine on African Safari Night Drives?
Safari guides use a hand-held spotlight and the headlights of the game vehicle to find animals at night. Fortunately the eyes of most animals light up and appear to shine when they are exposed to a glimpse of light. This can be seen in the picture of the impala below. Guests are often interested in the mystery of why the animal's eyes shine. The shine is caused by a reflective layer situated within the animal's eye. This helps to increase the flow and amount of light that reaches the eye and thus improves their night vision. These shining eyes are helpful to those on a night safari as it makes them easier to spot!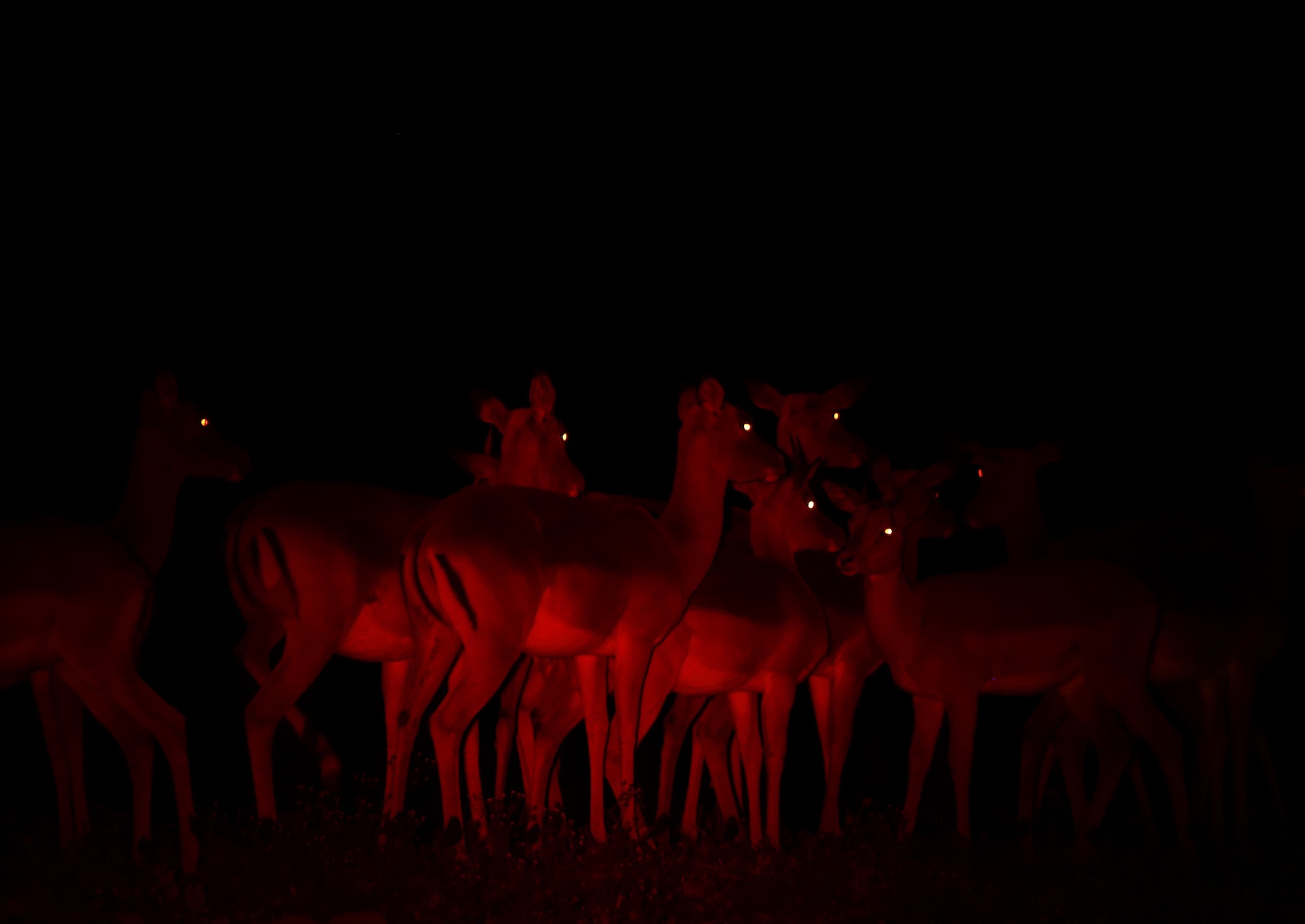 The beam created by the spotlight is extremely powerful and in order to safeguard the animals you will notice that guides will make every attempt to keep the main beam away from the animal's face as we view and admire their beauty. Guides will try to ensure that the beam is kept away from the animal's eyes so that they are not temporarily blinded. In addition, a red filter is used to cover the spotlight during a sighting as this is a more gentle light and thus better for the animals. Depending on the situation guides may remove the red filters to provide guests with better light to take photographs. Our experienced Kariega safari guides often use a red filter when viewing lions, elephants and giraffe, and even while observing hippos as they are feeding out of the water.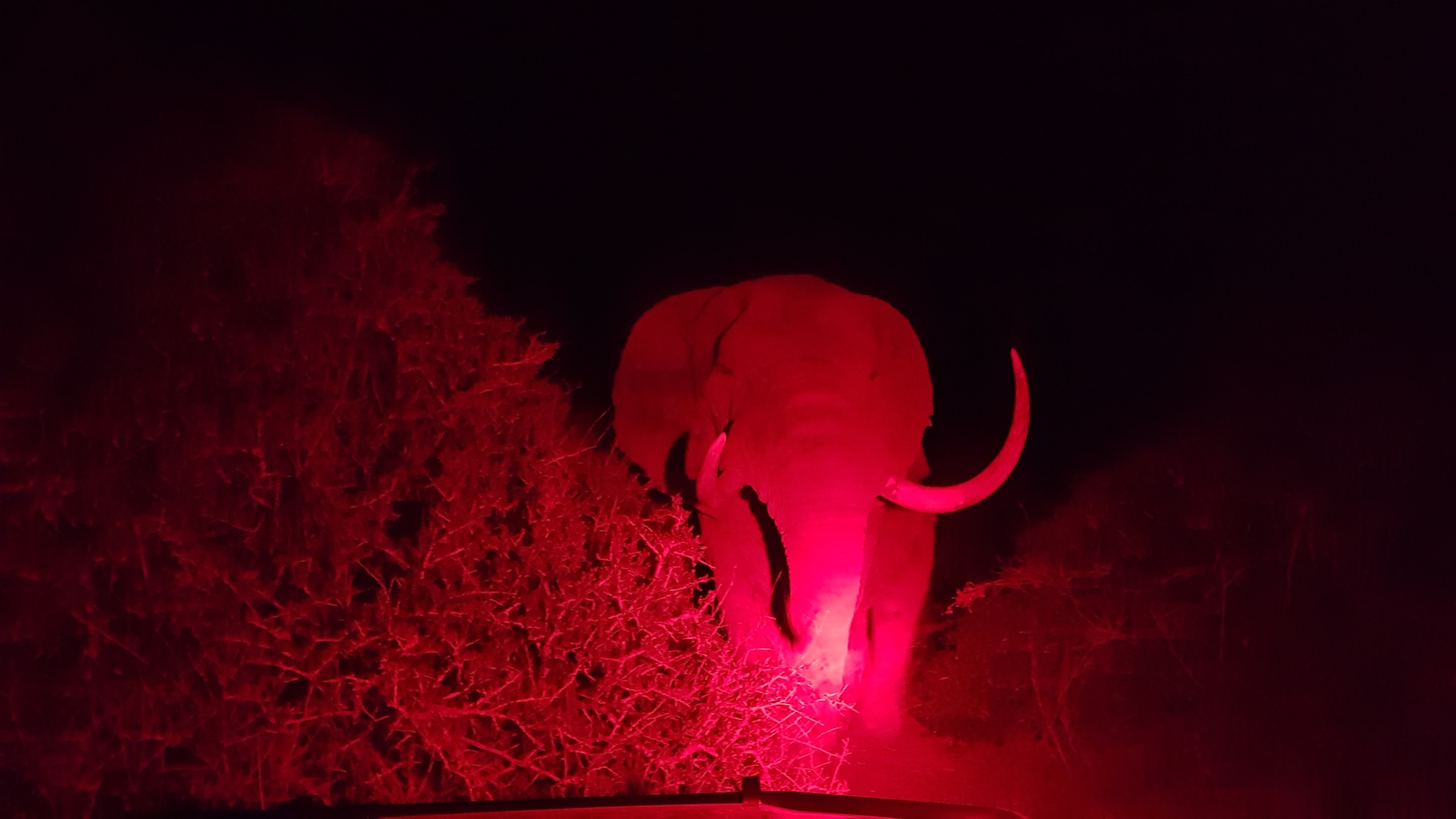 Animals Seen on African Safari Night Drives
Porcupines, springhares, aardvarks, genets, bush pigs, brown hyenas and honey badgers are some of the nocturnal creatures you could see during a night game drive. If luck is on your side a chameleon, different owl species and nightjars may also be spotted. However, it must be noted that these species can be very difficult to find and see as most nocturnal animals tend to be very shy and will often disappear before being spotted.
We often compare an African safari night drive to a fishing trip, with some luck the fish are on the bite, but sometimes you catch nothing! On an African safari night drive you may get lucky and see loads of exciting things in the bush and on other nights it may be very quiet. That's what makes it so much fun. You never know what to expect each time!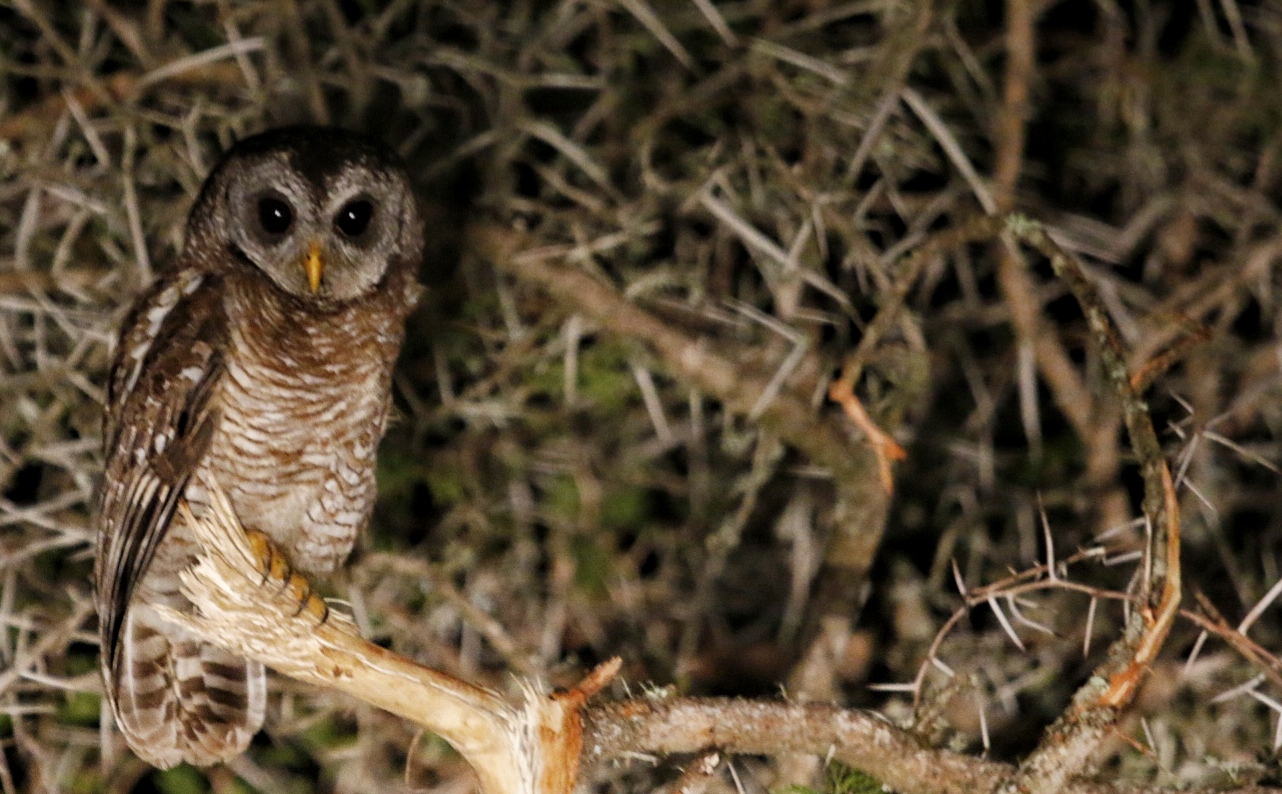 Incredible African Night Skies on Safari
Being out at night is not only about the animals. Some of the most incredible night skies can be seen while out in the bush on an African safari night drive. Our passionate guides will often stop in the darkness, turn off all the artificial lights and allow guests to gaze up at the stars. The Milky Way, Southern Cross, Scorpio and Orion the Hunter are a few of the constellations visible in the African night sky. Planets such as Venus, Jupiter, Mars and Saturn are also sometimes visible with the naked eye at different times of year.
When you come on a safari at Kariega we hope that you will be able to enjoy a safari night drive. This will hopefully be an experience of a lifetime and something that you will never forget. We are looking forward to sharing these experiences with you.
If you experienced a safari night drive or if Wayne was your safari guide please share your comments, photos and videos with us via Facebook, Instagram and Twitter or in the comments below. We look forward to hearing from you.
Blog and photos thanks to Kariega Settlers Drift guide Wayne Howarth.