Kariega Game Reserve is a malaria free, Big 5, safari park in the heart of the Eastern Cape, South Africa.  It stretches across 11 500 hectares of biodiverse wilderness with two pristine tidal rivers that flow through the reserve, making it one the most beautiful and popular safari destinations in South Africa. 
The spring, summer and autumn months, between September and April, are the most sought after months to visit the reserve and enjoy a typical summer safari with long, hot summer days. 
However, we believe that there is much to be said for a winter safari in the Eastern Cape during the less popular autumn and winter months of May, June and July. Even though the days are shorter, the weather patterns are generally consistent with crisp, clear, winter days reaching temperature highs that average between 19 and 25 degrees celsius and very little wind or rain. This creates an environment for spectacular game viewing as the animals stay out and about for much of the day as the heat is not too harsh; but it is still warm enough for guests to enjoy relaxing in the winter sun after a safari drive and even taking a refreshing dip in the pool!
At Kariega Game Reserve, whether you book a summer or winter safari, our guests are our top priority and we strive to deliver on a truly magical safari experience: from exceptional game viewing; attentive, engaging staff; delicious cuisine; immersive safari activities including bush walks, river cruises, canoeing, fishing or birding and all the indulgent extra's from spa's to sparkling pools with breathtaking views and Boma dinners with African singing and dancing, while sitting under the stars, near a crackling fire to keep warm.
For all guests staying at one of our five luxury lodges we aspire to making their safari dreams come true. To get the full Kariega Game Reserve experience we recommend a three night stay.  
This is what a typical day on safari at Kariega Game Reserve, during the South African winter months of June, July and August might look like!
Morning Safari Activities
Your winter safari will start with a 06h30 wake up call from your friendly and knowledgable field guide. It is a good idea to dress in layers for your morning safari actives as the early morning start will be quite chilly, but by 09h00 you will start stripping off your outer layers and by noon you might be in a t-shirt! 
Your field guide will meet you in the lodge for a warm cup of tea or coffee, before heading out on the game viewing cruiser into the African sunrise.  The fresh morning breeze on your face; the smells and sounds of the bush along with the changing colours of the sky, are hugely invigorating and there is a huge sense of excitement as to what wild animals might be spotted! 
At Kariega Game Reserve we go on safari drives come rain or sunshine! Each experience is quite different, but equally enjoyable! All our game drive vehicles are packed with rain ponchos and blankets, so nothing gets in the way of a great safari!
After a couple hours of driving, which can deliver sightings of any of the Big 5 and a plentitude of other wild animals including zebra, giraffe, wildebeest, hippo, warthog, ostriches and many different species of antelope, your field guide will chose a scenic spot in the bush to stop and enjoy a warm beverage and snack. This is a pleasant and tranquil time of the morning with the birds chirping and the gentle morning light.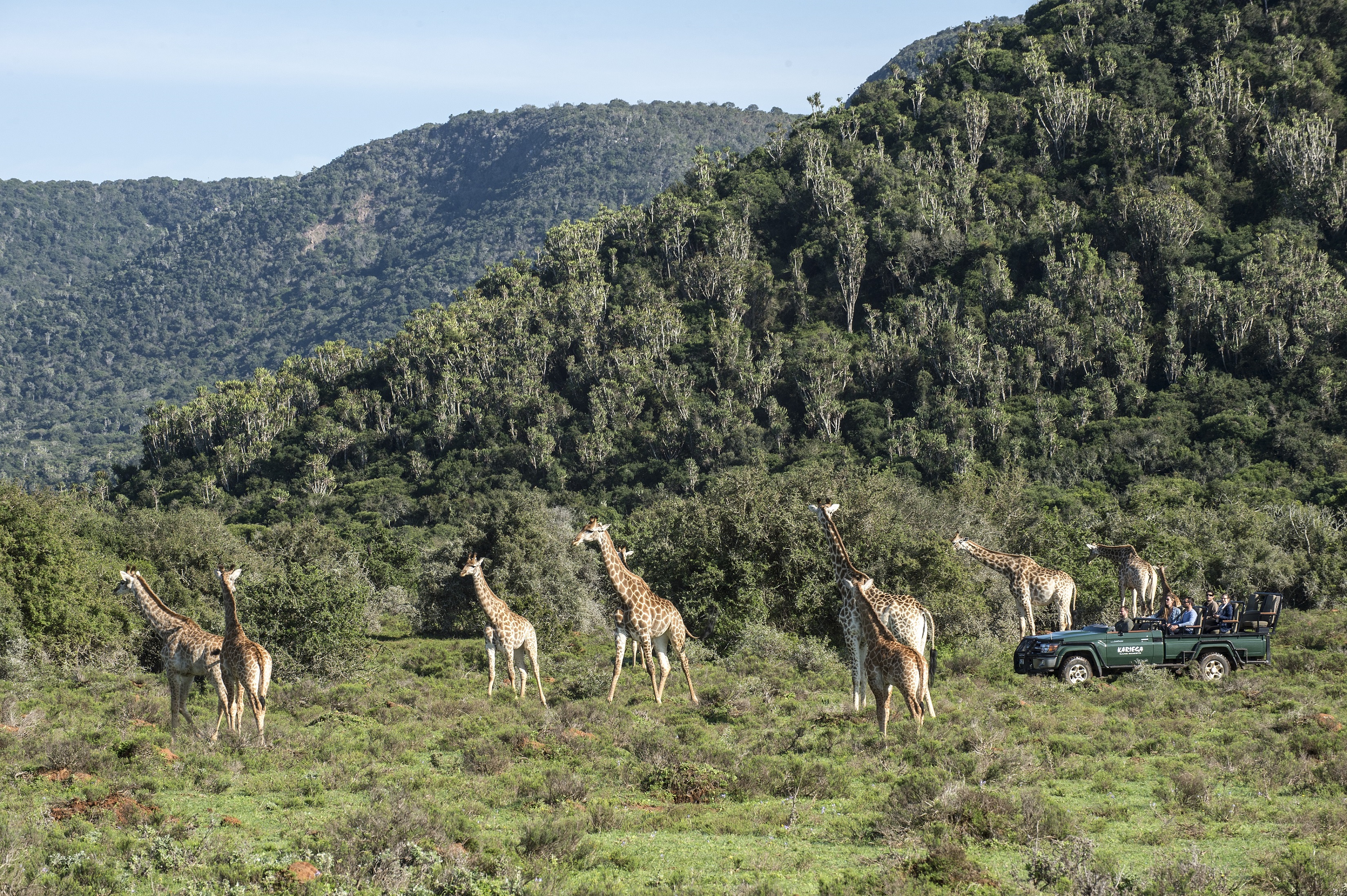 You will arrive back to the lodge around 09h30 after having worked up a heathy appetite and eager to enjoy the wholesome, delicious breakfast that awaits.  
Kariega Game Reserve offers a diverse range of safari actives which can be arranged with your field guide and enjoyed in the mornings after breakfast. These activities include bush walks, fishing or canoeing. For guests staying at River Lodge you can also take a boat trip to visit the beautiful beaches at Kenton on Sea. All lodges at Kariega Game Reserve boast beautiful swimming pools and many guests love the relaxing option of reading a book by the pool or booking an indulgent spa treatment.
Afternoon to Sunset Safari Activities
After enjoying a busy or relaxing morning, a leisurely lunch is served at 14h00 before departing on the afternoon safari drive at 15h30. There is an option to combine either the morning or afternoon safari drive with a river cruise.
Kariega Game Reserve has two tidal rivers that flow through our 11 500 hectare protected wilderness: The Bushmans River and the Kariega River. Each of our five lodges are able to access one of these rivers to offer guests water activities and the safari drive and boat cruise combination. A boat cruise is a very tranquil experience. The beauty is breath taking and bird-watching spectacular with regular sightings of many water birds including kingfisher, fish eagles, cormorants, grebes and ducks.
A highlight of the afternoon safari activities is the sunset, drinks break which South Africans call 'sundowners'. It is a moment to pause and appreciate the beauty of the moment and memories of the day.
After sundowners you will continue with the safari drive, which at this time of the year turns quickly into a night drive offering a completely different experience of the African bush and wild animals.  Remember to take a look up at the stars!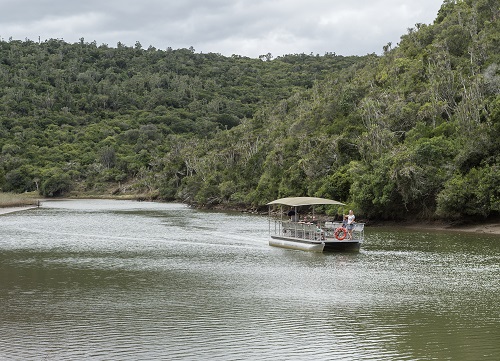 A Cosy Winter Evening 
You will be welcomed back to the lodge at around 19h00, with roaring fires and smiling staff eager to serve you a 'before dinner drink'. There is also time to retreat to your luxury suite to freshen up before sitting for dinner. We try and ensure that all of our guests have the opportunity to enjoy a Boma dinner, where we sit under the stars and share traditional South African cuisine cooked on open fires, which South Africans call a 'braai'! A Boma experience often includes traditional African dancing and singing.
After a full and exhilarating day, you will be satisfyingly tired and ready for a good sleep, before waking up to the 06h30 call from your field guide ... to do it all over again!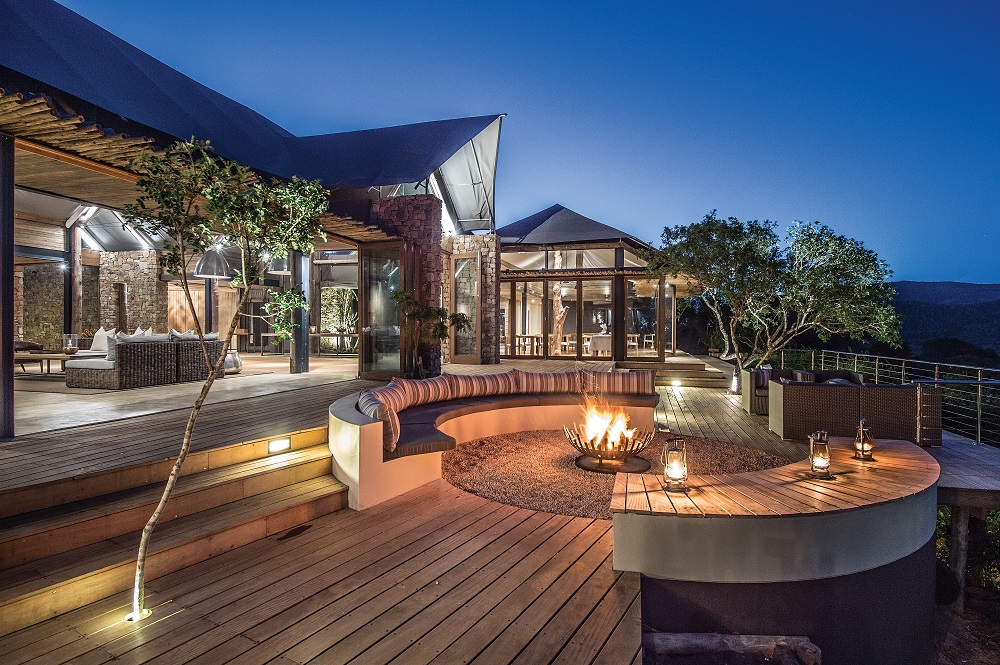 Have you experienced a Kariega Game Reserve winter safari? If so please share your stories and photographs with us on Facebook or Instagram, 
If this blog has inspired you to embark on a winter safari at Kariega Game Reserve please contact our friendly reservations team who are always eager to help make your safari dreams come true!