When a Crisis Arises - Heroes Appear.
Help our Community Heroes Feed those in Need.
The Kariega Foundation invites you to join our campaign to keep 1,000 people fed each month during 2021.

---
#CommunityHeroes
Join hands with us to make a difference to the lives of South African people that are facing huge challenges.

---
When a Crisis Arises - Heroes Appear
While COVID-19 has wreaked havoc on all our lives, the impact is more devastating on the poor and vulnerable. Many families in the communities surrounding Kariega Game Reserve are struggling to put food on the table. Yet, amidst this crisis, there are people that have stood up to take action. These are our local heroes who refuse to sit by and watch people suffer.
The Kariega Foundation is proud to be a partner to five Community Kitchens and three Age-in-Action Centres run by our community heroes. Together, we are feeding over 1,000 people who have no means to feed themselves.
Thanks to your generous donations we have met our fundraising target of R40,000 to keep these facilities running for December and January. We still need more funds to continue through February and beyond.
R2,500 (US$160, €135 or £121) = 1 month of supplies for 1 facility feeding 60 people.
R600 (US$39, €33 or £30) = 1 week of supplies for 1 facility feeding 60 people.
R200 (US$13, €11 or £10) = 1 day of supplies for 1 facility feeding 60 people.
Funds raised will ensure the continuity of essential supplies including soup mix, soya mince mix, fortified porridge and fresh fruit. All donations, large or small, will make a BIG difference. Please email us on foundation@kariega.co.za if you would like to know more.

---
Meet Our Local Heroes
We would like to introduce you to four of our community heroes. There are many more who work tirelessly to support those in need.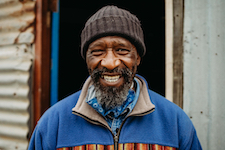 Thomas Nkohla
Thomas is a pastor who was so moved by the suffering he saw during lockdown that he began a community kitchen in a tin shack that was already being used as a church. Thomas is also passionate about growing vegetables as a sustainable solution to feeding those in need. With the help of the Kariega Foundation, Thomas and others have fenced an area and created a vegetable garden. The produce will be used for the community kitchen and elsewhere in the community.
---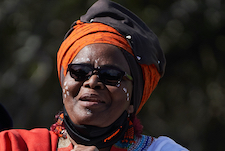 Gladys Hani
Gladys has been a pillar of strength in the community for 22 years. She is a mother, a grandmother, and an amazing social worker who runs an education centre in her yard for school children to play, do their homework and receive a hot meal in the afternoons. Her dream is to start a full time foster home in the community. Although the lockdown brought her after school program to a halt, she continues to provide food to the children in her community at the Helping Hands Soup Kitchen.
---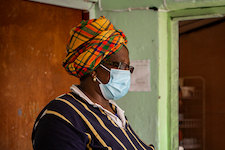 Daphne Yapi
Daphne is a community angel! She runs an Age-in-Action centre which provides food and activities for the elderly members of her community. Usually when you enter her little cream house you will find a wonderful array of people playing games, singing, beading, and almost always teasing one another. However, when lockdown began, this came to an abrupt halt, along with the state funding for food.
---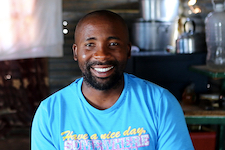 Cedric Sandi
Cedric's church runs a play school, but lockdown meant this had to temporarily close. Cedric and others chose to use the building as a venue for a community kitchen to feed the children and unemployed in the area. Cedric and his team are in the process of creating a vegetable garden to grow fresh vegetables for the community kitchen. They currently provide lunch for 60 children.
---
How to Donate
The Kariega Foundation is a non-profit trust and can accept donations from around the world. Please select that best option for your location. Donating is as simple as clicking the donate link, but the hope you give is immeasurable.
Based in the USA? Make a credit card donation via the GVNG platform, a registered 501(c)(3) organisation.
Based in the rest of the world? Make a credit card donation via the GivenGain payment platform.
Would you like to create a linked fundraiser? Set up your fundraising page by visiting www.givengain.com/c/kariegafoundation. Your donation will automatically be transferred to the Kariega Foundation.
Prefer to make a direct deposit? Use our bank details below.
KARIEGA FOUNDATION TRUST BANK DETAILS
First National Bank (or FirstRand Bank)
Account No: 62275606526
Branch: Newton Park
Branch code: 261050
Swift/IBAN: FIRNZAJJ or FIRNZAJJXXX
Bank Head Office Address:
FNB Bank City,
Simmonds Street,
Johannesburg, 2000
Reference: Yourname_Heroes
If you're a South African taxpayer or the organisation on whose behalf the donation is being made is a South African taxpayer, please email Cindy on marketing1@kariega.co.za to request your 18A tax exemption certificate.
---
A Message from the Kariega Family
Our sustainable ecotourism enterprise is a delicate balance between commercial stability, community collaboration, wildlife management and conservation. Along with our Kariega Foundation, we have created support for our people, animals and environment for over 30 years.
The Kariega family remain unwavering in our resolve to care for our staff, support our community heroes and rural neighbours through this Covid-19 crisis and beyond.
With creativity, positivity, collaboration and your help we will survive… and succeed to keep the people we care for supported.

#CommunityHeroes
Join the Cause
Support us by donating via GivenGain.
How can you Help?
Any help and support we get from anyone is hugely appreciated.
You can help in many ways:
First National Bank
(or FirstRand Bank)
Account no: 62275606526
Branch:Newton Park
Branch code: 261050
Swift/IBAN: FIRNZAJJ or FIRNZAJJXXX
Bank Head Office Address: FNB Bank City, Simmonds Street, Johannesburg, 2000
Contact us regarding other ways to donate and support a project of your choice.
Kariega Foundation
Everything in nature exists in perfect harmony and balance.
Kariega Game Reserve and the Kariega Foundation aspire to emulate a similar and mutually beneficial balance and harmony between commercial success and stability; community collaboration and activation; and sustainable wildlife management and conservation.
Follow the link below to discover more about the Kariega Foundation and how you can help.
---
Stay Updated on Kariega's Latest News
Follow our blog to make sure you get the latest updates on Kariega Game Reserve and the various projects we have ongoing.
---
Donate