COVID-19 Protocols
After carefully assessing risks and tailoring preventative measures that ensure the health and safety of our guests and staff, Kariega is delighted to welcome guests to our lodges once again. Our mantra to "Touch the Freedom of Africa" has never been more fitting but the health and safety of our guests and staff is our top priority. 
Kariega's well planned and informed measures address all COVID-19 concerns guests may have and are in line with the latest recommendations from leading authorities like the World Health Organization. Our protocols aim to ensure safe environments at our lodges and during activities and form a seamless part of our new operational procedures – safeguarding you and our staff.
Our COVID-19 Pledge
Kariega pledges to adhere to the applicable COVID-19 protocols, recommendations, guidelines and regulations of the South African government, relevant tourism authorities and the World Health Organisation (WHO). These protocols and measures will be revised as and when new regulations or guidelines are issued at any time.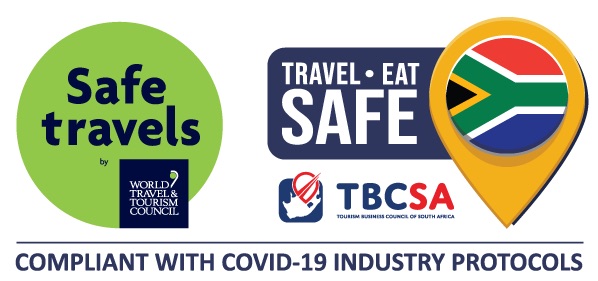 ---
Proactive and Preventative Measures
General and Sanitizers
Alcohol based sanitizer (70%) will be available in all lodges, rooms, shared areas and game drive vehicles.
Extensive and enhanced cleaning and disinfection of all suites, lodges and shared spaces.
COVID-19 Health and Safety officer appointed in each lodge and operation to ensure adherence.
Signage and information to inform and educate.
Arrival and Guest Health Checks
Enquiry of guest travel history prior to arrival.
Guests and all luggage treated with sanitizer on arrival.
Guest temperatures checked on arrival and logged for reference.
Medical contacts informed of any high temperatures.
Contactless check-in.
Game Drives
Maximum of 6 guests per vehicle, unless party is travelling together.
All vehicles are extensively sanitized between game drives.
Dining
Tables spaced at least 1.5 metres apart.
Groups travelling together will be seated together.
Chefs prepare food wearing face masks and following applicable safety measures.
No buffets unless lodge is booked for exclusive use.
Snacks individually packaged where possible.
Suites and Laundry
Extensive and enhanced cleaning and disinfection of all suites, especially on check-out.
Extra cleaning protocols in suites with focus on high-contact areas and items like keys, door handles, remotes, coffee machines and the like.
Guests may choose to minimise housekeeping during their stay.
No turn-down service.
Non essential and spare items removed from rooms and will be available on request.
In-house and outsourced laundry protocols will comply with regulations and ensure efficient disinfecting.
Guest Actions and Social Distancing
We recommend that guests follow stringent hygiene practices of regular hand washing and sanitization, limited hand face contact, social distancing and the wearing of face masks* (*optional but subject to government legislation).
We recommend that guests adhere to good and effective social distancing wherever possible in all public guest areas.
Staff Education and Training
Staff will be educated and trained on COVID-19 facts, protocols and required measures.
Practices include regular hand washing, social distancing/isolation after contact with a COVID-19 patient/symptoms, no handshaking or hugging.
Staff Monitoring and Measures
Staff will be wearing cloth face masks at all times.
Daily temperature checks and screening.
Incidents of high temperatures immediately isolated.
Should a member of staff display any COVID-19 symptoms, they will be removed from site and quarantined.
Staff will practice social distancing with other staff and guests.
Strict hygiene protocols apply to all suppliers and deliveries.
---
Supportive and Medical Measures
On-site Incident Responses
Dedicated protocols in place for positive cases - applicable to guests and staff.
Separate isolation suites in place.
On-site Medical Assistance
Staff have on-site first-aid skills.
We have set up telephone access to a doctor on call who will take over in dispensing advice in a professional capacity.
We have set up a clear procedure with our local medical emergency suppliers if required.
Regional Private Health Care
South Africa boasts the highest standard of healthcare in Africa.
Private hospitals and healthcare are available in Port Elizabeth within 1 hour 30 minutes drive from Kariega.
---
Click here to download a PDF of our Kariega Game Reserve COVID-19 protocols.
Please contact us if you need any further information on our COVID-19 protocols and support. Email our General Manager Shelley Fuller on res3@kariega.co.za or call +27 (0)46 636-7904. We look forward to welcoming you.