Freedom To Roam Adventures
Phil Liggett's African Safari Peloton
"Throughout our 50 years of marriage we have enjoyed the natural world with walking and cycling as our primary modes of transport! The decline we have witnessed over these years is truly heart-breaking. We feel an over-whelming need to do something.

Freedom to Roam Adventures (NPO) is an expression of this passion and our dedication to keeping Africa's wildlife protected and roaming freely in their natural habitat." Phil and Trish Liggett.
Freedom To Roam Adventures, in partnership with FulGaz and Kariega Game Reserve, started Phil Liggett's African Safari Peloton. 
In June 2021 the international team created an exclusive opportunity to join Phil, the voice of cycling, on four exhilarating virtual safari cycle routes through dramatic African wilderness teeming with wild animals.
These events connected a group of like-minded people in a fundraising collaboration to rejuvenate our planet, people and wildlife. The feedback and enthusiasm from these inaugural members has encouraged Freedom to Roam Adventures, FulGaz and the Kariega Foundation to keep the momentum of the peloton going.
---
---
Phil Liggett's Safari Peloton | Stage 2
We are preparing to host four more virtual rides through the beautiful Kariega Game Reserve in Stage 2 of Phil's African Safari Peloton. There will be one ride per month, starting in September and running through to December. Dates, times and routes will be announced soon.
Smart trainers are not essential. A comfy armchair or sofa, a cup of coffee or something stronger in the hand is all that is needed. Inspiration for the cause is assured with expert guests, who work in the world of wildlife and conservation, joining each ride to share their depth of knowledge, interesting perspectives and to answer any of your questions. 
The legendary Phil Liggett and his beautiful wife, Trish (Founder of Freedom to Roam Adventures), will be your hosts. 
Entry into Stage 2 is automatic and FREE for existing peloton members. New participants can join for a minimum donation of $25.
Join the Freedom to Roam Adventures legacy and share in Phil and Trish Liggett's two great loves, cycling and conservation.
---
Funds Raised Support Holistic Conservation
The beneficiary of Phil's African Safari Peloton is the Kariega Foundation, a non-profit trust working in partnership with Kariega Game Reserve to deliver on a broad and holistic conservation mandate. All funds raised support projects with the core motive to protect, preserve and educate so that we may reform that which threatens our natural world and build a greater conservation community that works collectively to rejuvenate our planet, people and wildlife.
For further information please email Lindy Sutherland, Kariega Foundation director on foundation@kariega.co.za or Trish Liggett, founder of Freedom to Roam Adventures on trish.ftra@gmail.com.
---
Incredible Safari Give-Backs
The aim of Phil's African Safari Peloton, Stage 2, is to continue to raise funds for the Kariega Foundation and the amazing conservation work they are doing. We are now over halfway to raising the target of $35,000 that will activate the exceptional prize draw to win a complimentary all-inclusive four night safari for two people sharing in one luxury suite at Kariega Game Reserve's Settlers Drift in the Eastern Cape of South Africa.
All peloton members who donate a minimum of $120 are entered into the prize draw.
The safari prize is valued at US$7,000 and is fully inclusive of accommodation, all meals, selected beverages, morning and evening game drives and other game activities. Airfares, road transfers and the Kariega Foundation conservation & community levy are not included.
And…
All donors will receive a 15% discount code to book a Kariega safari trip for up to four people before 18 December 2022. The code is valid for direct booking made via the Kariega website only.
Improve Your Chance of Winning
Any new participants who donate a minimum of $120 will automatically qualify for an entry into the prize draw. If they name an existing peloton member as their referrer,  the referrer, will also get an additional entry into the draw!
The more people you bring into the peloton, who donate $120, the greater your chance of winning the Kariega safari at Settlers Drift Lodge.
New participants must remember to name their referrer in the comments section when they make their donation.
---
Initial Virtual Safari Rides & Discussions
To give you a taste of what awaits in Stage 2 of Phil's African Safari Peloton, here is a summary of what happened in Stage1.
These rides are accessible to those who subscribe to the FulGaz virtual riding platform.
VIRTUAL SAFARI CYCLE 1: KARIEGA HARVESTVALE
A virtual ride through the open plains leads to the only major climb on the route called Red Road with a gradient of 8.3%. Keep an eye out for the giraffe while you climb before you turn left down a steep descent known as Serpentine Road. Travel along the Bushman's river before meandering back to Settlers Drift which offers Kariega guests a unique tented safari experience combined with 5-star luxury. 20.38km. 345m elevation gain.
PROTECTION – Anti-Poaching and Canine Unit.  The Kariega Game Reserve Anti-Poaching and Canine Unit are a professional, well trained and resourced unit that work 24/7 to ensure the wild animals within the protected area are safe from poachers and other threats. Their daily duties include daily walking patrols and fence line checks, night patrols and 24-hour camera surveillance.
VIRTUAL SAFARI CYCLE 2: KARIEGA SUNSET LOOP
Start the virtual ride with a loop before descending onto the large open African plains. On your journey, keep an eye out for plenty of wildlife including various antelope, giraffes and a single white rhino. You will travel past the Main Lodge before finishing where you started. Main Lodge offers 24 log chalets, some with their own private pools. 21.54km. 419m elevation gain.
PROTECTION – Community Food Support to eliminate hunger as a motivation to poach.  Hunger and poverty are two primary motivators for poaching. The Kariega Foundation Community Food Support programme provides basic food supplies to five community kitchens and three Age in Action Centres with 600 direct beneficiaries. Each beneficiary shares food with their families making the total reach of the initiative over 1,500 children and elderly. It is the intention of all stakeholders to find sustainable solutions through community gardening initiatives.
VIRTUAL SAFARI CYCLE 3: KARIEGA PLAINS LOOP
Starting on the Blesbok Plains keep an eye out for three sleeping rhinos on your right not long after you start. This ride has the most amount of climbing in our safari series. The steepest climb is known as Lancedale, which you will tackle towards the end of the ride before looping back around to Blesbok Plains to finish. 31.66km. 529 elevation gain.
PRESERVATION – Rhino translocations, habitat expansion and genetic preservation.  Habitat expansion and restoration is essential to the survival of many wild and endangered species and the current focus for many conservationists. Kariega Game Reserve has recently received the donation of a critical piece of habitat carrying significant conservation benefits for elephant and rhino in particular. Funds are required to facilitate the translocation of a crash of rhino to the new habitat.
VIRTUAL SAFARI CYCLE 4: RIVER ROUTE
A relatively flat ride which begins in the open plains before moving into a forest. You will follow some animal tracks back to the Bushman's river before circling back around to River Lodge. The thatched River Lodge connects the Big 5 game reserve with the Indian Ocean and offers ten luxury suites. 14.6km. 251m elevation gain.
EDUCATION – Community Wildlife and Ecology Camps (10 pax / 4 nights).  Environmental education is a critical element of sustainable conservation efforts. While protection is essential in the short to medium term, environmental education and reconnecting people to nature is essential to the long term survival of many species and our planet. The Kariega Foundation is committed to changing the hearts and minds of the youth in our neighbouring communities and encouraging them to join our conservation efforts, through immersive and inspiring wildlife and ecology camps.
We look forward to welcoming you into Phil Liggett's African Safari Peloton, Stage 2. Please click on any of the JOIN US buttons to make a donation. We look forward to connecting with you and other like-minded people on our conservation and community journey.
---
Donate to Join
Video: Rhino Horn is not Medicine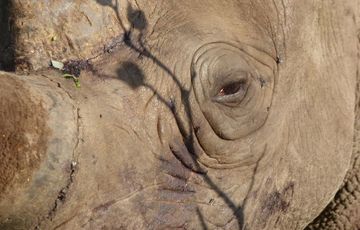 Video: Why Rhino Need Protection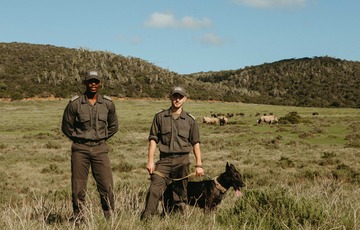 Settlers Drift Video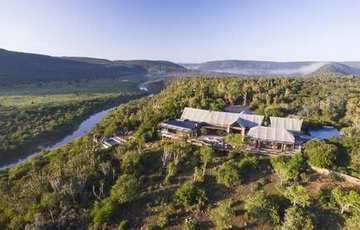 Kariega Foundation
Everything in nature exists in perfect harmony and balance.
Kariega Game Reserve and the Kariega Foundation aspire to emulate a similar and mutually beneficial balance and harmony between commercial success and stability; community collaboration and activation; and sustainable wildlife management and conservation.
Follow the link below to discover more about the Kariega Foundation and how you can help.
---
Any Questions?
Get in touch! We are happy to help.